Complete guide to Wind Cave National Park Camping including Elk Mountain Campground and Backcountry Camping.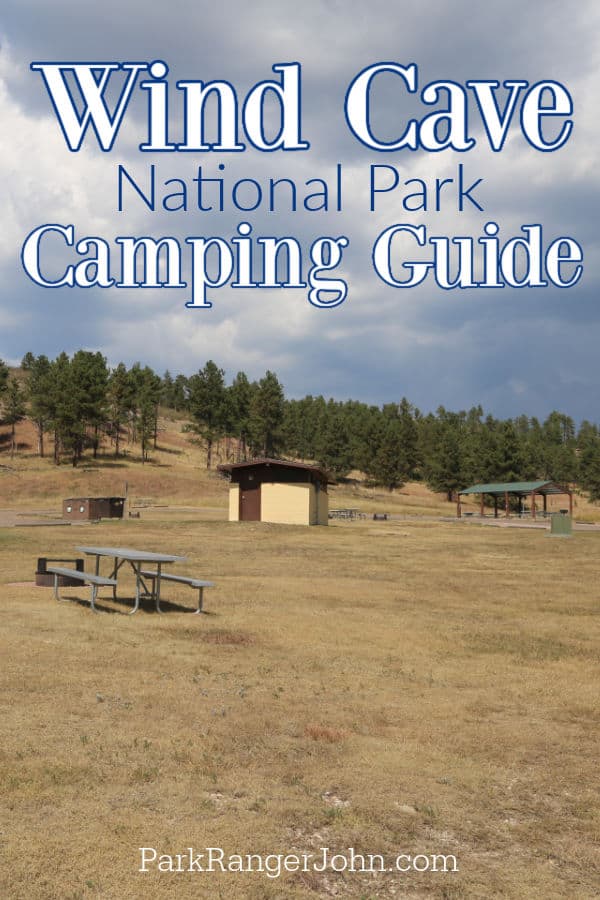 Wind Cave National Park Camping Guide
January 9, 1903, Wind Cave became America's sixth U.S. National Park. The parks main feature is Wind Cave and has a beautiful feature rarely seen in other caves known as boxwork.
Outside the cave is equally as beautiful! It is fairly easy to locate Prairie Dogs, Elk, and Bison roaming around.
The scenery is spectacular as the park is situated in the Black Hills of South Dakota. Combine this with several other iconic parks in the area and you have found a fantastic place to visit!
Camping in Wind Cave NP provides easy access to taking a guided cave tour, park hiking trails, and epic views.
The mixed grass prairie of South Dakota is absolutely beautiful. Wind Cave is one of the longest caves in the world.
Planning a National Park vacation? America the Beautiful/National Park Pass covers entrance fees for an entire year to all US National Park Sites and over 2,000 Federal Recreation Fee Sites.
The park pass covers everyone in the car for per vehicle sites and for up to 4 adults for per-person sites.
Buy on REI.com and REI will donate 10% of pass proceeds to the National Forest Foundation, National Park Foundation and the U.S. Endowment for Forestry & Communities.
Let's start planning your ultimate trip with my guide to Wind Cave National Park camping.
Elk Mountain Campground
Number of Sites: 65 Campsites
Location in the park: 1/4 mile north of the visitor center
Campsite Cost: $24
Campground Fees are half-price when water is not available.
Senior/Access Camping Fee: $12
Payments accepted: Cash, check
Reservations: No, all campsites are first-come, first served.
Elk Mountain Campground does take reservations for its two group campsites. Call the park for reservations/information on the group sites at (605)745-4600.
Campground Address: 26611 Hwy 385, Hot Springs, SD 57747
Latitude/Longitude:
Latitude
43° 33' 55.6956" N
Longitude
103° 29' 17.6460" W
Campground Elevation: 4,250 Feet
Accessible Sites: Yes, Sites B2 and D3 are accessible.
The Campground amphitheater is wheelchair accessible with parking nearby. There are wheelchair accessible vault toilets in B loop and seasonal accessible flush toilets in D loop.
Pets Allowed: Pets are allowed in the campground on a leash. Wind Cave has a couple of trails where you can take your pet also!
These trails are the Elk Mountain Nature Trail and the Prairie Vista Nature Trail near the picnic area at the park visitor center.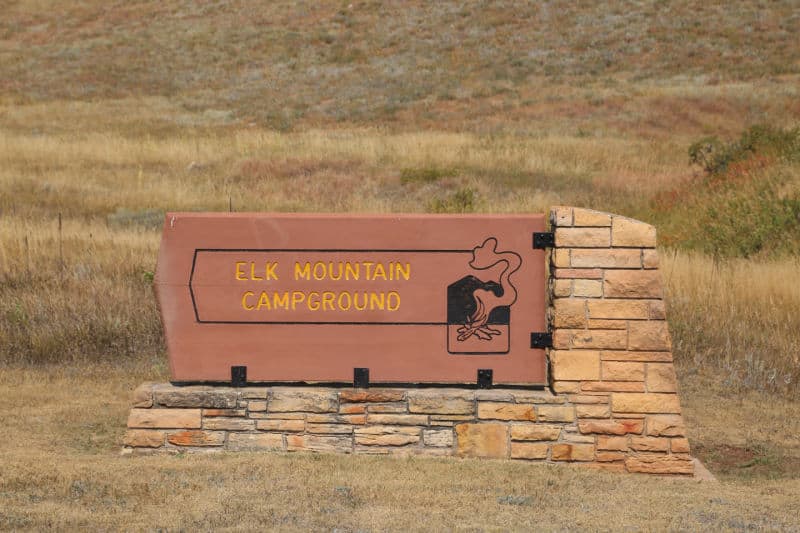 Campground Reservations
Are campground Reservations Available? No
First Come, First Served? All sites are first come first served.
Campground Amenities
There is no WIFI available in the campground. You can go down to the parks visitor center and get WIFI.
Cellular service is spotty at best with Verizon and AT&T. I had no service with T-Mobile.
There is a campground host on site when the position is filled.
Each campsite has a picnic table and fire pit. Make sure to know fire restrictions as the area is frequently at High and extreme for fire danger.
Firewood is occasionally available in a bin by the pay station. The firewood is by donation.
There is potable water in the campground, there will be water available in the parks visitor center in the winter when the water is turned off.
Dump Station: No, There is no dump station within the campground. The closest dump station is in either Custer State Park or the town of Hot Springs.
Bear Boxes: There are no food storage lockers available in the campground. We suggest packing your food in sealable plastic tubs.
Flush Toilets: Flush Toilets are available in the warmer months.
Payphone: No
Is wifi available? No
Is cellular Phone Service Available? No
Is camp host available on site? Unknown
Is firewood available for purchase? Yes, Firewood is available for sale year-round near the registration board.
Amenities at each campsite:
Fire pit in the site? Yes, Fires are allowed in designated fire rings only and must not be left unattended.
Picnic Table in the site? Yes
Potable Water? Drinking water are available late spring through early fall.
Insect Repellent: Insect repellent is always a great idea when outdoors, especially if you are around any body of water.
We use Permethrin Spray on our clothes before our park trips.
Drones: Drones are not permitted to be flown within the National Park Sites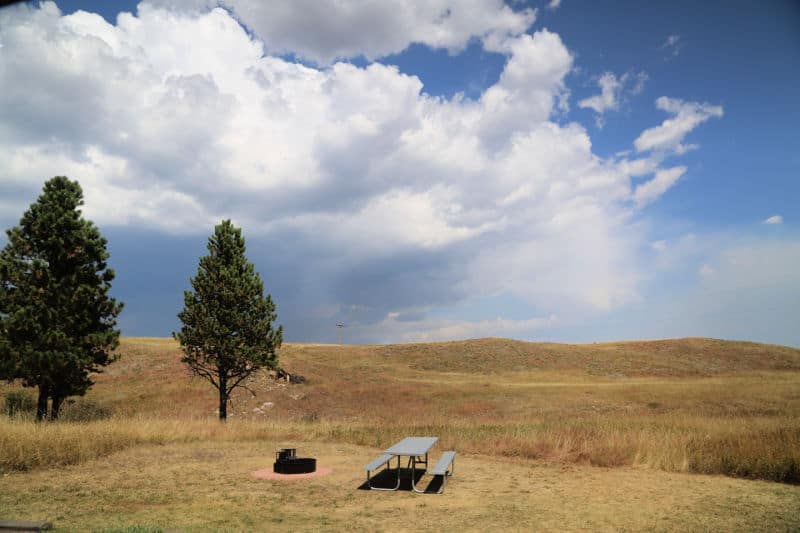 RV Camping at Elk Mountain Campground
RV Length: Maximum Length is 40 feet. RV and trailers are allowed in the campground, however, drivers should be mindful of site selection. While there are sites which will accommodate a large RV or trailer, not all sites can do so.
Parking is along side of the campsites. There are no designated pull through sites.
Generators: Generators are allowed in the campground between 8:00am - 8:00 pm.
How to get to Elk Mountain Campground
The Elk Mountain Campground is located about 11 miles north of Hot Springs, or 22 miles south of Custer, off U.S. Hwy 385, about 1/2 mile west of the highway.
The campground entrance is approximately 1/4 mile north of the visitor center.
Wind Cave National Park Address
Wind Cave National Park
26611 US Highway 385
Hot Springs, SD.57747
Wind Cave National Park Phone Number
The phone number to Wind Cave National Park is (605)745-4600
Campground Regulations
The maximum number of people in a campsite: 8
The number of cars per campsite: up to 2 vehicles per campsite and up to 2 tents per campsite
Checkout time: 12 pm
Quiet Hours: Park Quiet Hours are between 10 pm - 6 am.
Elk Mountain Campground Map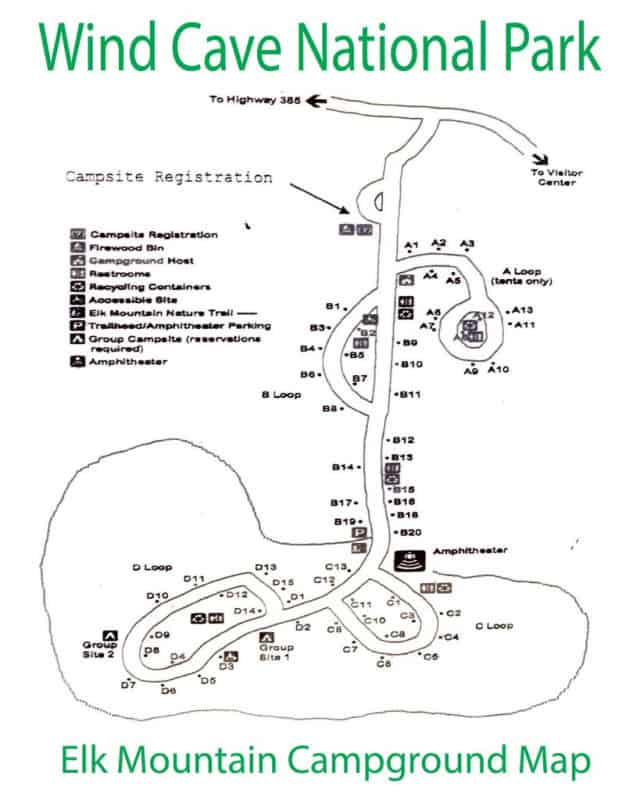 Photos of Elk Mountain Campground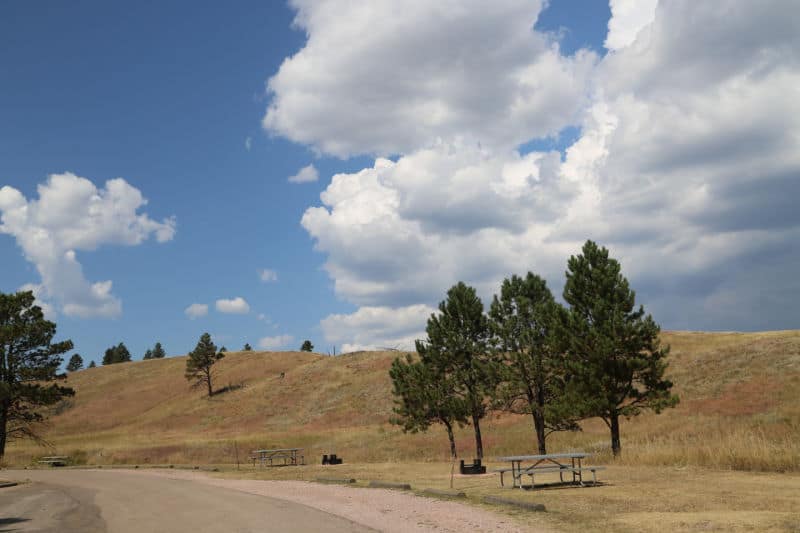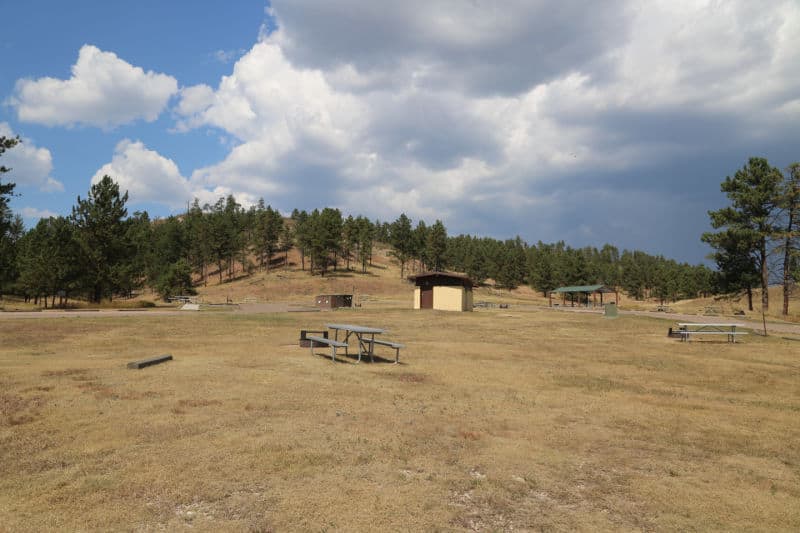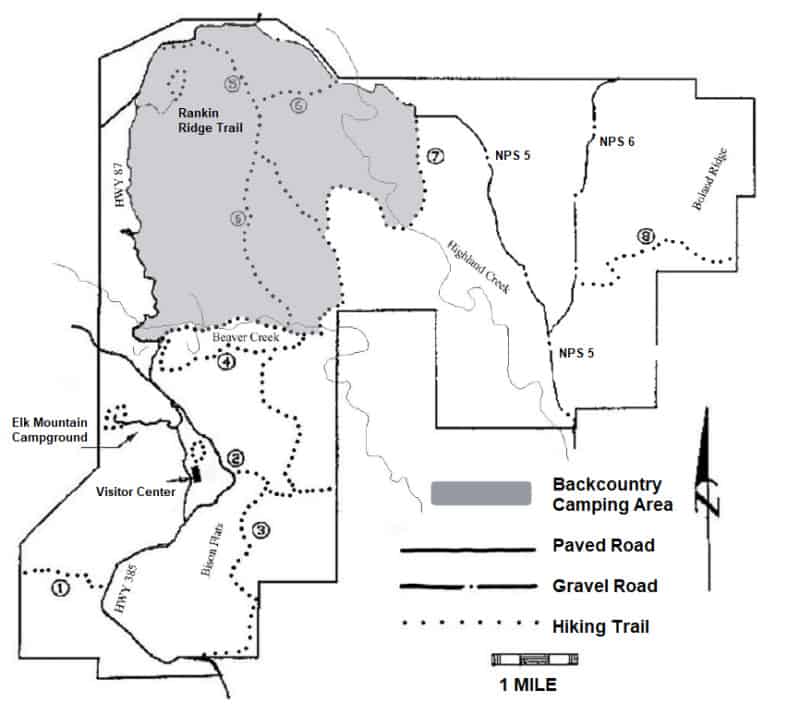 Backcountry Camping Wind Cave National Park
Backcountry camping is allowed in the northwest area of the park.
Location - north of Beaver Creek, east of Hwy. 87, south of NPS 5 and west of Highland Creek Trail
Permit - A free permit is required for backcountry camping. The free permit is issued at the visitor center.
All backcountry sites must be at least 1/4 mile from and out of site of any road. Campsites also need to be 100 feet away from any trail or water source.
All food, cooking utensils, and garbage must be stored in containers so wildlife can not get into it.
Stay limits - 2 nights per site, 7 nights per trip
Water - Make sure to bring all of the drinking water you will need as there are few water sources in the park. Make sure to boil or filter any water obtained in the backcountry.
Fires - Open fires are not allowed. Self-contained fuel stoves mut be used for cooking.
Car camping is not permitted in the backcountry.
Wildlife - Do not approach bison! Prairie rattlesnakes and ticks are common throughout the park in the summer months.
Poison Ivy - Poison ivy is common throughout the park, particularly in wetter areas.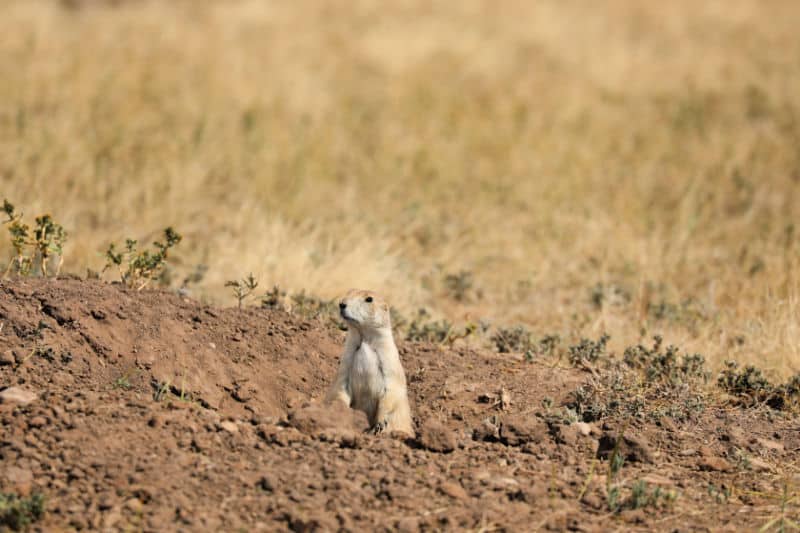 Campgrounds near Wind Cave NP
Campgrounds near Wind Cave include
Hidden Lake Campground and Resort - 7 miles away in Hot Springs, SD
This campground has RV and Tent Sites with waterfront views.
Larsson's Crooked Creek Resort - 24 miles away Hill City, SD
This campground offers tent and RV sites along with lodging
Sturgis Hideaway Campground - 59 miles away in Sturgis, SD
This campground offers RV and Tent Sites along with lodging.
Check out additional campgrounds near Wind Cave here.
Lodging near Wind Cave NP
There are no National Park Lodges within Wind Cave NP.
There is lodging nearby in Custer State Park.
Click on the map below to see current rates for hotels and vacation rentals near Wind Cave NP
Parks near Wind Cave National Park
There is a wealth of recreational activities in the Black Hills region of South Dakota! You can easily spend a couple weeks here and just get a taste of what makes this area special.
Make sure to check the links below for information on these fantastic parks.
Minuteman Missile National Historic Site
Devils Tower National Monument
Mount Rushmore National Memorial
Check out all of the National Parks in South Dakota along with neighboring National Parks in Iowa, National Parks in Minnesota, National Parks in Montana, Nebraska National Parks, North Dakota National Parks, and Wyoming National Parks