A visit to Acadia National Park in Maine is truly amazing! There is so much to see and do in the park. Today we are sharing our Acadia National Park Travel Tips! The things we wished we would have known before our first visit to this gorgeous park!
Acadia NP is a park you can easily visit multiple times and see something new each time. From the changing of the leaves to the sunrise from Cadillac Mountain you can't go wrong with a visit to this gorgeous Maine National Park!
Acadia National Park Travel Tips
Watch out for suicidal squirrels while driving! They will throw their bodies in front of cars more than you expect.
It gets dark really fast so be prepared if you are out hiking
Give yourself more time than you think you will need to the scenic loop and to find parking.
Make reservations as early as you can! Hotels and restaurants fill up quickly.
The visitor center is crazy busy! You can buy a National Park Pass if you don't have one in town or online to save time.
Bug spray is your friend! We use Permethrin Clothing Insect Repellent to pre-treat our clothes before we visit the park.
1 day really is only a tease of the park, make sure you give yourself time to enjoy yourself and not be running all over the place to squeeze it all in.
If you are renting a car in Boston or NY check to see if you can get an EZ Toll Pass for the rental car. This will save you time and money.
The rising sun touches the slopes of the Cadillac Mountains before anyplace else in the USA.
Acadia has 130 miles of hiking trails, ranging from easy to strenuous.
Make sure to have a popover at Jordan Pond House restaurant! They have been served for over 100 years.
Acadia National Park Visitor Center
There are 52 steps from the parking lot up to the Acadia National Park Visitor Center. The bathroom is at the top of these stairs within the visitor center. Be prepared for it to be crazy busy.
Please do not do what we did and arrive having to go to the bathroom and have to make it up 52 stairs, through a crowd of people and into the visitor center. Trust me this is not how you want to start your visit to Acadia!
The visitor center has a 15ish minute video that overviews the national park. It is an ok video but not life-changing. If you are short on time or just don't feel like watching it you will be just fine!
How much does it cost to visit Acadia National Park?
All park visitors are required to pay an entrance fee upon entry May–October!
7-day private car pass - $30
7-day motorcycle pass - $25
7-day individual with no car - $15
You can also use your National Park Pass!
America the Beautiful—National Parks and Federal Recreational Lands Annual Pass: $80
Annual pass covering entrance and standard amenity fees for national parks and other federal fee areas. This replaces the National Parks Pass and Golden Eagle Pass.
Annual 4th Grade Pass: Free
Annual pass covering entrance fees for 4th-grade students for the 2018-2019 school year.
Annual Pass for US Military: Free
Annual pass covering entrance and standard amenity fees for all active military personnel and their dependents. (For active duty military personnel and dependents with proper identification (CAC Card or DD Form 1173).)
Access Pass: Free
Lifetime admission and discount pass for US citizens or permanent residents with permanent disabilities.
Senior Pass: $10
Lifetime admission and discount pass for US citizens or permanent residents who are age 62 or older.
Free Entrance Days
The National Park Service offers the following Entrance Fee Free Days this year:
January 21: Birthday of Martin Luther King, Jr.
April 20: First day of National Park Week
August 25: National Park Service Birthday
September 28: National Public Lands Day
November 11: Veterans Day
Other fees such as reservation, camping, lodging, tours, concession and fees collected by third parties are not included unless stated otherwise.
The following locations issue all park passes
Hulls Cove Visitor Center
Sand Beach Entrance Station
Thompson Island Information Center
Bar Harbor Village Green
Blackwoods Campground
Schoodic Woods Campground
Seawall Campground
These locations only issue some park passes - Please call ahead for details
Cadillac Mountain Gift Shop
Jordan Pond Gift Shop
Mount Desert Town Office, Northeast Harbor
Bar Harbor Chamber of Commerce, Cottage Street
Bar Harbor Chamber of Commerce in Trenton
Southwest Harbor/Tremont Chamber of Commerce
Ellsworth Chamber of Commerce
Schoodic Institute, Rockefeller Hall (Welcome Center)
LL Bean in Freeport, ME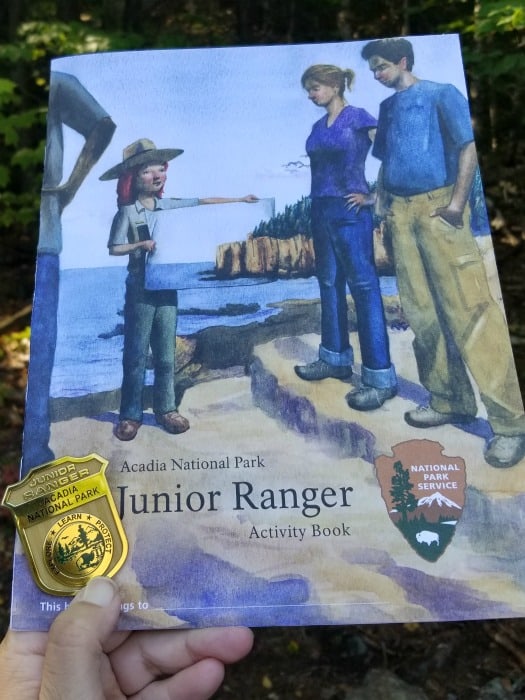 Is there a Junior Ranger Program at Acadia National Park?
YES! The Junior Ranger Program can be picked up at the visitor center.
Can I bring my Dog/Pet with me to Acadia National Park?
You can bring your pet with you to Acadia NP! All pets must be on a leash that is less than 6 feet in length. There are 100 miles of hiking trails and 45 miles of carriage roads that pets are permitted on.
These park trails are closed to pets
Precipice
Beehive
Ladder Trail to Dorr Mountain
Beech Cliffs Trail
Perpendicular Trail (Mansell Mountain)
Jordan Cliffs Trail between Penobscot East Trail and the carriage road
You can even sign up to be a Bark Ranger at Acadia NP! Stop by a campground ranger station, the Sieur de Monts Nature Center, or the Hulls Cove Visitor Center to pick up a copy of an activity checklist and learn more about Acadia's Bark Ranger program.
Dogs completing this short program can be sworn in as Bark Rangers and their owners will be eligible to purchase a special Bark Ranger collar tag at the Eastern National Bookstore at the Hulls Cove Visitor Center.
Ticks are prevalent in Acadia, mostly active late spring to early fall. Check yourself and your dog thoroughly after a visit.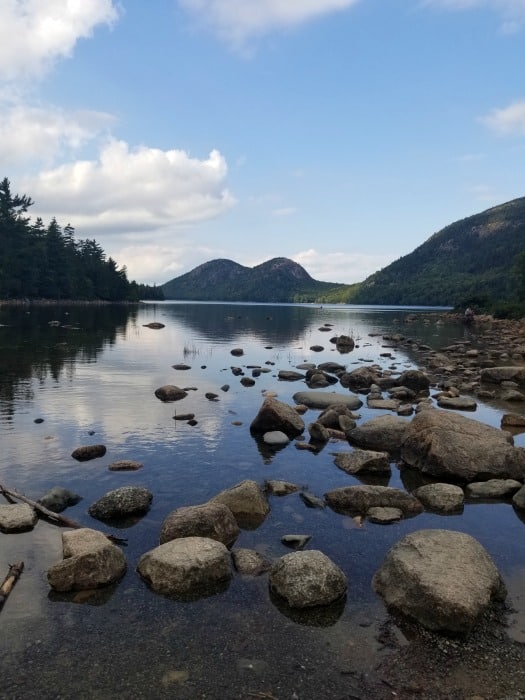 Acadia NP Rules/Regulations to be aware of
All-terrain vehicles are not allowed anywhere in the park.
Acadia National Park Camping is permitted only in designated campsites at Blackwoods, Seawall, Schoodic Woods, and Duck Harbor (Isle au Haut) Campgrounds.
Launching, landing, and operation of unmanned aircraft, or drones, is prohibited in Acadia National Park.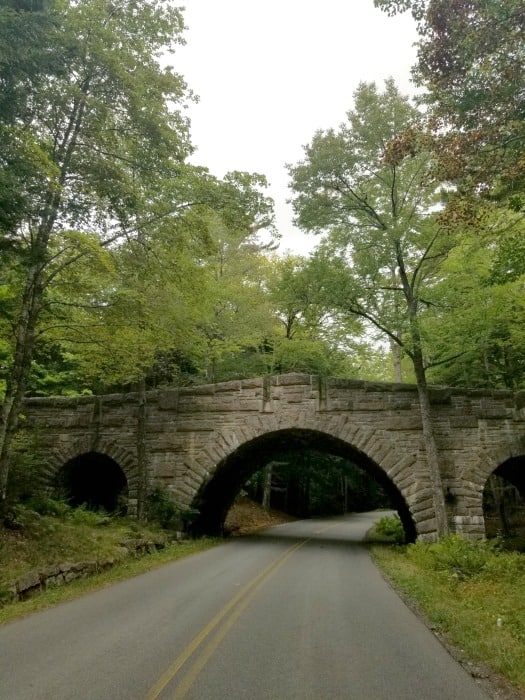 Acadia National Park Facts
Acadia is unique because it was created from donated land, most notably 11,000 acres donated by John D. Rockefeller Jr. He also built about 45 miles of the carriage roads in the park.
The Cadillac Mountains are also the highest points on the North Atlantic Seaboard.
Size - 47,389 Acres
Visitors - 2,563,129 in 2014
Established in 1919, as Lafayette National Park, the name was changed to Acadia National Park in 1929
Acadia National Park Additional Resources Information
Acadia: The Complete Guide: Acadia National Park & Mount Desert Island (Color Travel Guide)
Acadia National Park: A Centennial Celebration
Hiking Acadia National Park: A Guide To The Park's Greatest Hiking Adventures
Moon Coastal Maine: Including Acadia National Park
Acadia National Park Waterproof Trail Map
The Photographer's Guide to Acadia National Park: Where to Find Perfect Shots and How to Take Them
Check out all of our posts on Acadia National Park!