Gallo Campground is located within Chaco Culture National Historical Park in New Mexico. This front-country campground offers the opportunity to camp right next to amazing ruins, enjoy the amazing Dark Sky, and savor being away from crowds.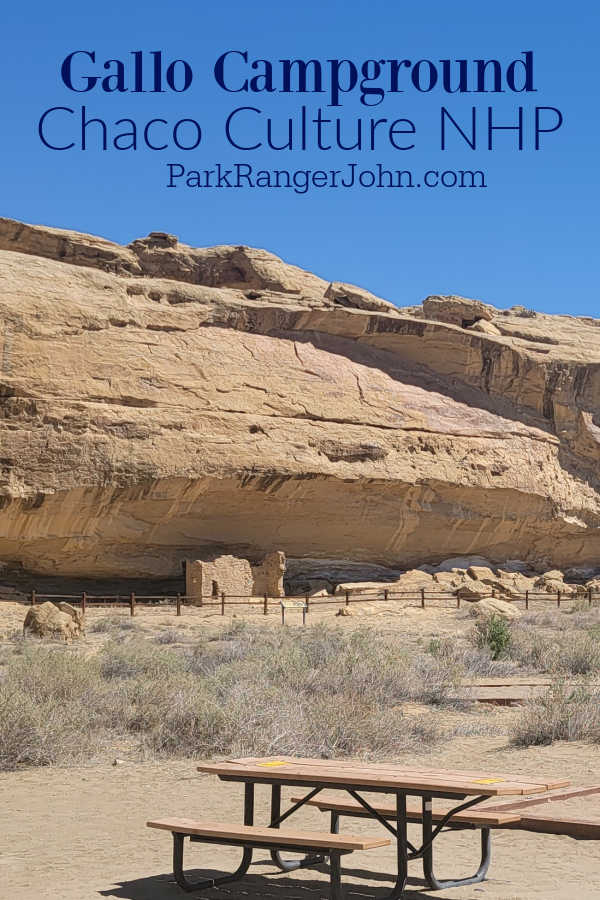 Getting to the Chaco Culture NHP campground is an adventure! When we talked with the camp host about what it is like to bring an RV to the park she said it is an adventure and you need to be prepared.
It is pretty common for RVs and trailers to have tire damage and everything tossed around a bit just from driving the dirt roads to reach the park.
The roads range from rutted and super bumpy to impassible depending on the weather.
If you are planning to camp in Chaco Culture you will want to prepare ahead of time so you are prepared for the drive into the park.
Number of Sites: 48 regular sites and 2 group sites. There are five campsites for RV ONLY and the remaining 27 campsites allow either tent, small RV or travel trailer.
Location in the park: located one mile east of the Visitor Center
Campsite Cost: $20, There is an additional charge for Park entry separate from the camping fees. All campers are required to pay entrance fee at the Visitor Center.
Senior/Access Camping Fee: $10.00 per site, per night
Payments accepted: Cash, Credit
Reservations: Yes, reservations can be booked on Recreation.gov
Latitude/Longitude:
Latitude
36° 1' 40.0001" N
Longitude
107° 57' 29.9999" W
Accessible Sites: Yes,
Pets Allowed: Pets are permitted but must be kept on a leash at all times.
Campground Reservations
Are campground Reservations Available? Yes
Phone Number? 1-877-444-6777
Online? Recreation.gov
How Far Ahead can you make a reservation? individual sites at this campground operate on a 3-month rolling basis
First Come, First Served? Not really, The park is on a reservation system and you will want to get your reservation in as soon as you can.
Campground Amenities
There are no services available, bring plenty of food and water for your visit.
Dump Station: Yes
Bear Boxes: No
Flush Toilets: Yes
Payphone: No
Firewood: Firewood and charcoal are not available in the park.
Is wifi available? No
Is cellular Phone Service Available? No
Is camp host available on site? Yes, There were 2 camp hosts in the campground when we visited.
Amenities at each campsite: The campsites are out in the open and you will want to be prepared for the sun and heat. Each campsites has a picnic table and fire grate.
Fire ring in the site? Yes
Picnic Table in the site? Yes
Potable Water? Yes
RV Camping at Gallo Campground
I want to mention one more time that you will want to be prepared for the dirt roads on the way to the park. They are not smooth!
Please make sure that everything is secure in your RV or trailer before heading to the park. We hit a bump that came out of the blue and our cooler caught air in the back of our SUV.
RV Length: Trailers and RVs over 35 feet in length cannot be accommodated.
Generators: Generators may be operated one hour at a time between 8 AM and 8 PM.
How to get to Campground
From the North: Driving from Albuquerque or Farmington, NM, drive on Highway 550, exit to County Road (CR)7900 at mile marker 112; drive CR 7900 then turn westbound to CR 7950 which will turn into a dirt road after three miles. Drive 13 miles of dirt road to reach Chaco Culture NHP.
From the South: Exit Highway 9 to State Road 57. State Road 57 is a rough dirt road for about 20 miles before reaching Chaco Culture NHP. The south entrance is not recommended during inclement weather.
Campground Regulations
The maximum number of people in a campsite: 6
The number of cars per campsite: 2
Checkout time: 11 am
Quiet Hours:
Camping is limited to 14 days
Campground Map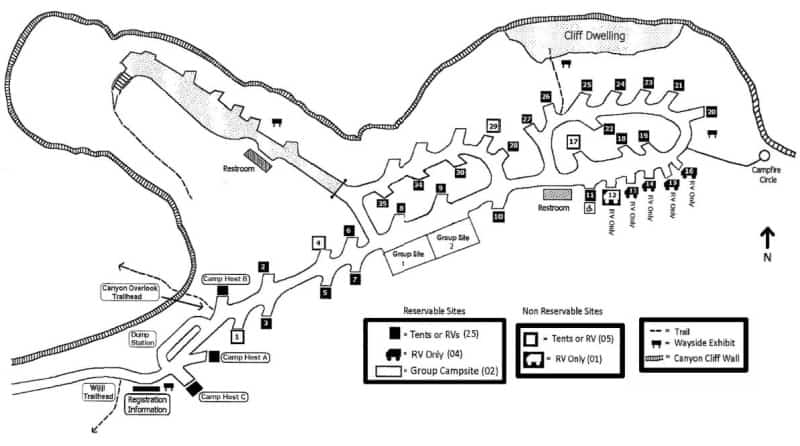 Photos of Gallo Campground
Check out the ruins tucked among the fallen boulders and cliffs that are right next to these campsites.
There are two (02) group campsites available to accommodate groups with 10-30 people, tent camping only. Each group campsite has picnic tables and a fire grate.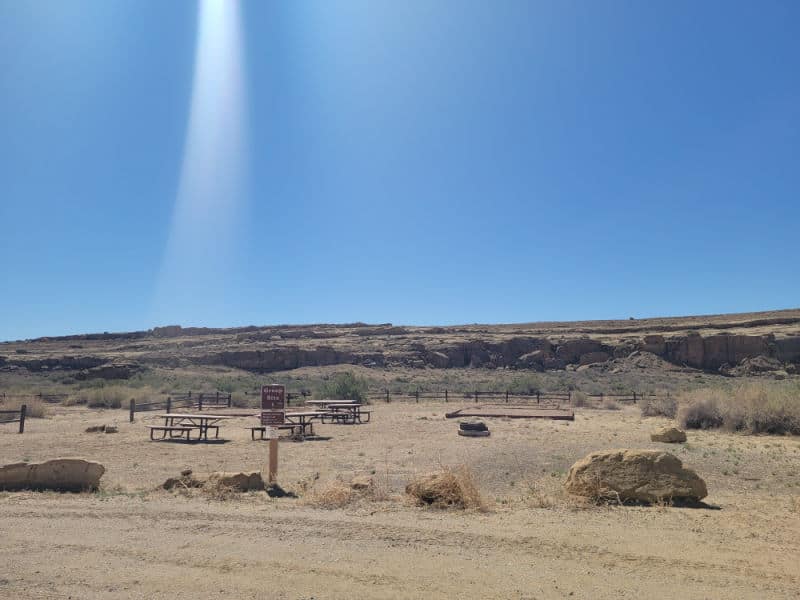 Great Park Sites near Chaco Culture NHP
Valles Caldera National Preserve
Pecos National Historical Park
Canyon De Chelly National Monument
Capulin Volcano National Monument
Check out all of the National Parks in New Mexico and neighboring Arizona National Parks, Texas National Parks, Oklahoma National Parks, Colorado National Parks, and National Parks in Utah.