Staircase Campground in Olympic National Park is a small quiet campground located near Lake Cushman. This front country campground is shaded with gorgeous big trees offering a great place to relax during the summer.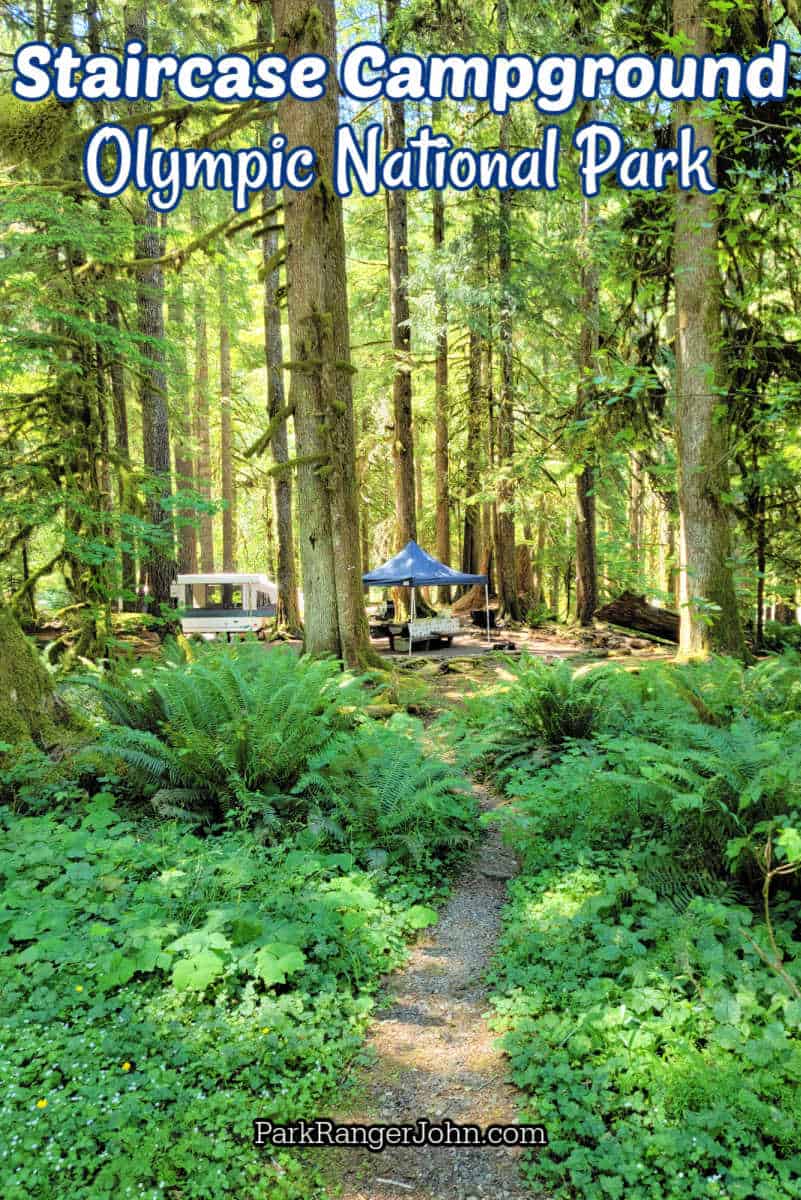 Staircase Campground - Olympic National Park
The campground is located across the street from the Staircase Ranger Station. There is a pay station near the entrance to the campground along with a restroom.
There are multiple hiking trails in the area including the Staircase Rapids Loop, Four Streams, Wagon Wheel Lake, Shady Lane, Flapjack Lakes, and the longer North Fork Skokomish River trail.
Staying in the campground offers the perfect opportunity to explore old-growth forests and the Skokomish River.
Season: open Year-round, but primitive in winter. The access road may be closed at the gate depending on the winter weather.
Number of Sites: 49 total sites, 5 walk-ins only
Location in the park: near the Skokomish River
Campsite Cost: $20
Reservations: No
Latitude/Longitude:
Latitude:

47.80392754

Longitude:

-123.6663848
Accessible Sites: Yes, Loop A
Pets Allowed: Pets are allowed but they must be on a leash less than 6 feet long.
Pets are not allowed inside park buildings or on specific trails.
Pets can be on the following trails: Rialto (to Ellen Creek) and Kalaloch beaches, Peabody Creek, Madison Falls, and Spruce Railroad trails only
Campground Reservations
Are campground Reservations Available? No
First Come, First Served? Yes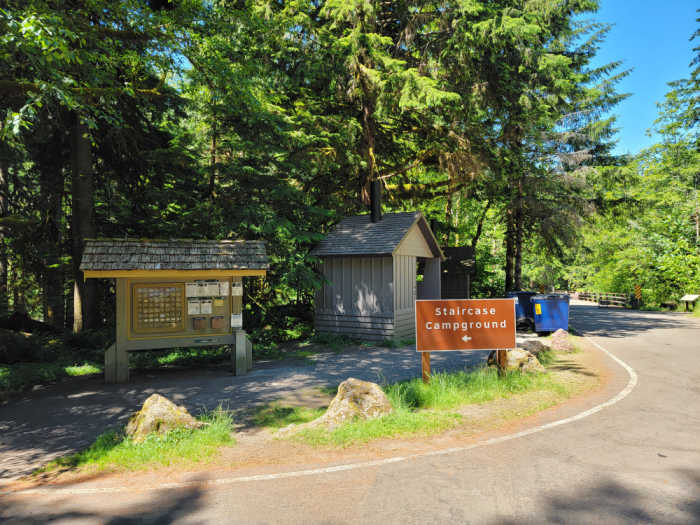 Campground Amenities
Flush Toilets: Yes, during summer only. Pit toilets the rest of the year
Payphone: We did not see a payphone during our visit
Is wifi available? No
Is cellular Phone Service Available? No, we did not have service with T-Mobile while in the campground
Is camp host available on site? No, We did not see a camp host during our visit.
Is firewood available for purchase? Firewood is not available within the campground.
Amenities at each campsite:
Fire Ring in the site? Yes
Picnic Table in the site? Yes
Bear Box in site/area? Yes, There are food storage boxes spread throughout the campground.
Potable Water? Yes, summer only
RV Camping at Staircase Campground
RV Length: Sites for 21 feet, a few for 35 feet.
Dump Station: No
Generators:
Hookups: There are no hookups
How to get to Campground
The campground can be reached off of Highway 119 N. Lake Cushman Road. Be prepared for road construction and for some areas of the road to be really congested.
This is a popular road for reaching Lake Cushman.
Campground Regulations
The maximum number of people in a campsite: Per site limit is 8 people
The number of cars per campsite:
Checkout time: 11:00 am
Quiet Hours: Quiet hours are 10:00 p.m. to 6:00 a.m
Maximum Stay: 7 day maximum stay limit.
Staircase Campground Map

Photos of Staircase Campground
Additional Olympic National Park Resources
Check out all of the Olympic National Park Camping options. There are 14 campgrounds within the park
Olympic National Park Lodging - Check out our complete guide of all the places to stay within the park
Things to do in Olympic NP - Find out all of the top things to do in this great park.
Free National Park Days - Check out the 5 days a year the National Park Service waives entrance fees.
Most visited National Parks - Check out all of the top-visited parks in the United States
Moon Olympic Peninsula Guide Book
Olympic National Park trails map
Check out all of the Washington National Parks along with neighboring Oregon National Parks, Idaho National Parks, National Parks in Hawaii, and National Parks in Alaska