Complete Guide to Antietam National Battlefield located in Maryland! This guide includes history, things to do, where to stay, nearby camping, and so much more!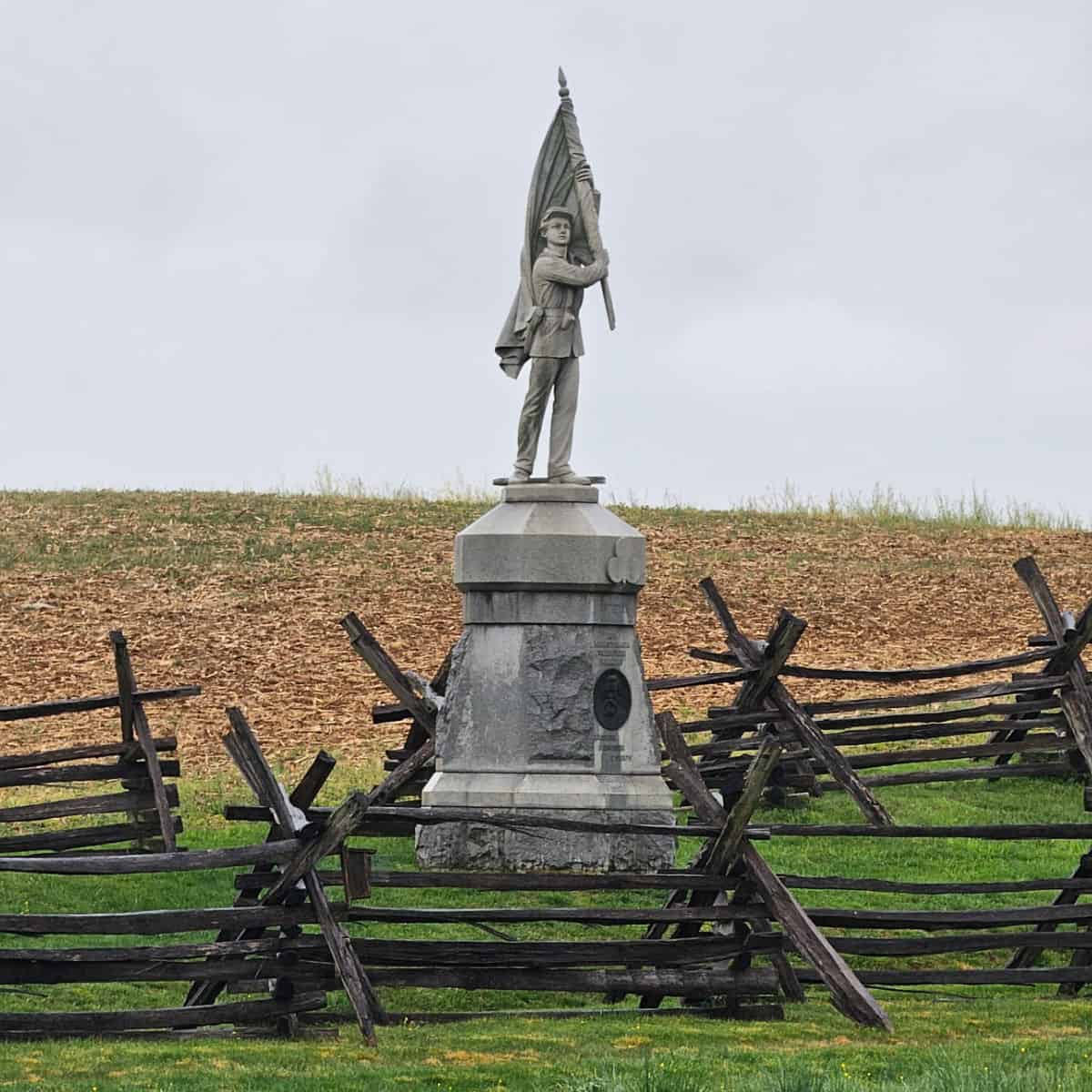 Antietam National Battlefield
Antietam NB protects and interprets a key battle during the US Civil War. The park gives visitors the opportunity to explore an auto route, hiking trails through the battlefield, and a large visitor center.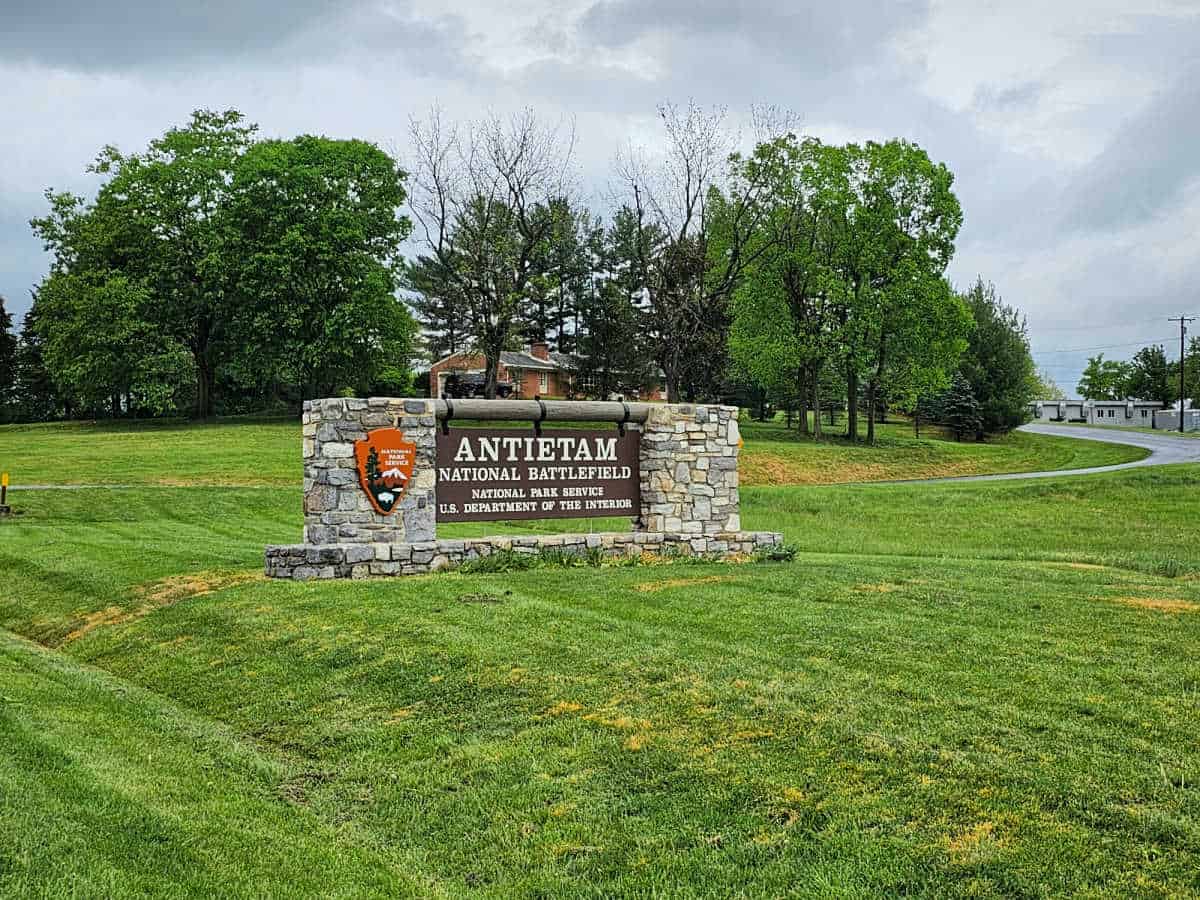 Is Antietam National Battlefield worth visiting?
Yes, Antietam is a key battlefield during the Civil War. Being able to drive the auto route gives you the opportunity to see where the battle happened.
The visitor center is under construction currently but it looks like they will be adding a ton of great information for the future.
We really enjoyed our time in Antietam even in the pouring rain.
History of Antietam National Battlefield
The Antietam Battlefield National Park is where the most lethal single-day battle in American History took place. The Civil War Battle of Antietam took place on September 17th, 1862, and left 23,000 men dead or wounded.
The battle happened at a crucial time during the American Civil War. Before the Battle of Antietam, the Union had suffered several defeats against the Confederates. The most recent of which happened just before the Battle of Antietam, at the Second Battle of Manassas. The Union defeat sent General McClellan retreating to Washington.
When the battle occurred, Union President Abraham Lincoln needed a win to announce his Emancipation Proclamation. France and Britain were watching the developments of the Civil War, in particular, the string of Confederate victories. The European powers were considering recognizing the Confederacy as legitimate.
The Politics at the Time
Antietam took place during a time of uncertainty for the Union. A string of Union defeats seemed to tilt the Civil War in favor of the Confederacy. Many within the Union government were beginning to turn against their President's policies and the war.
Lincoln wanted to announce his Emancipation Proclamation, which would free all enslaved people within the rebel states. The release of the proclamation was put on hold, for fear it would look like a desperate act to win public favor.
On the Side of the Confederates
While the Union government appeared to be in a state of crisis, the Confederates were celebrating. They had proved victorious against the Union Army in several battles. Confederate General Robert E. Lee had successfully defended the Confederate capital of Richmond from the Union.
General Lee wanted to weaken Lincoln's cabinet further by taking the battle to the north. Lee believed that a Confederate win on northern soil would further fan the flames of dissension in the Union government.
The French and British governments were beginning to question whether or not to recognize the Confederate states as legitimate. A win for the Confederates in the north would surely sway the Europeans into accepting the Confederacy and help to secure their independence.
Before the Battle
General Lee moved his Army of Northern Virginia into Maryland in September 1862, beginning Lee's northern invasion and his Maryland Campaign. Lee made his base at Fredricksburg, and split his army, sending divisions to occupy four different towns.
The campaign did not go as Lee had anticipated. As Lee's forces marched on their targets, two Union soldiers made a lucky discovery. The soldiers had stumbled upon a document that would doom Lee's invasion of the north, Special Order 191.
Confederate Movements Exposed
Two Union soldiers under McClellan's command figuratively struck gold when they found a copy of Robert E. Lee's troop movements. Special Order 191 detailed Lee's plan for the Maryland Campaign.
When Lee learned that a copy of the order was missing, he knew it was only a matter of time before the Union used it against him. Lee quickly rushed to reunite his army. Lee ordered his forces to move to Sharpsburg at a strategically selected location along Antietam Creek.
The Battle of Antietam
On September 16th, 1862, Union forces under the command of General George B. McClellan ran into the Confederates camped at Antietam Creek. The two sides skirmished, but McClellan did not engage fully. He planned to attack the Confederate position on September 17th.
Over 130,000 soldiers faced each other on the cornfield at Antietam. The Union outnumbered the Confederate forces with over 87,000 men on the field. The Battle of Antietam began at sunrise when the Union Army assembled on the eastern side of the creek and attacked Lee's left flank.
The Union attack on the Confederate line was brutal, as was the Confederate counterattack. However, the Confederates held their ground during the initial Union assault. Stonewall Jackson held his position near the Dunker Church with his forces. All the while, Confederate General D.H Hill awaited the inevitable Union onslaught at their position on the "Sunken Road".
Union Victory
When over 5,000 Union soldiers attacked General Hill's position, carnage ensued. The Confederates held out for three hours until they were driven back, leaving 5,000 dead or injured on the field.
After eight hours of fighting, David Miller's cornfield was strewn with over 15,000 bodies. The last Confederate defensive line was at Burnside Bridge. The Confederates managed to hold the bridge despite being desperately outmanned, with only five hundred men holding the line for three hours.
When night fell on September 17th, over 23,000 men had been wounded or killed. On September 18th, Lee turned the Army of Northern Virginia back to the South. The battle may have been indecisive, but Lee knew his invasion of the north had failed.
The Aftermath
McClellan did not follow Lee, much to President Lincoln's dismay. For refusing to pursue Lee at this crucial moment, McClellan was removed from command of the Army of the Potomac.
The Union victory on Antietam Battlefield came when the Union and President Lincoln needed it the most. This victory enabled Lincoln to pass the Emancipation Proclamation and deterred the French and British from acknowledging the plight of the Confederates as legitimate.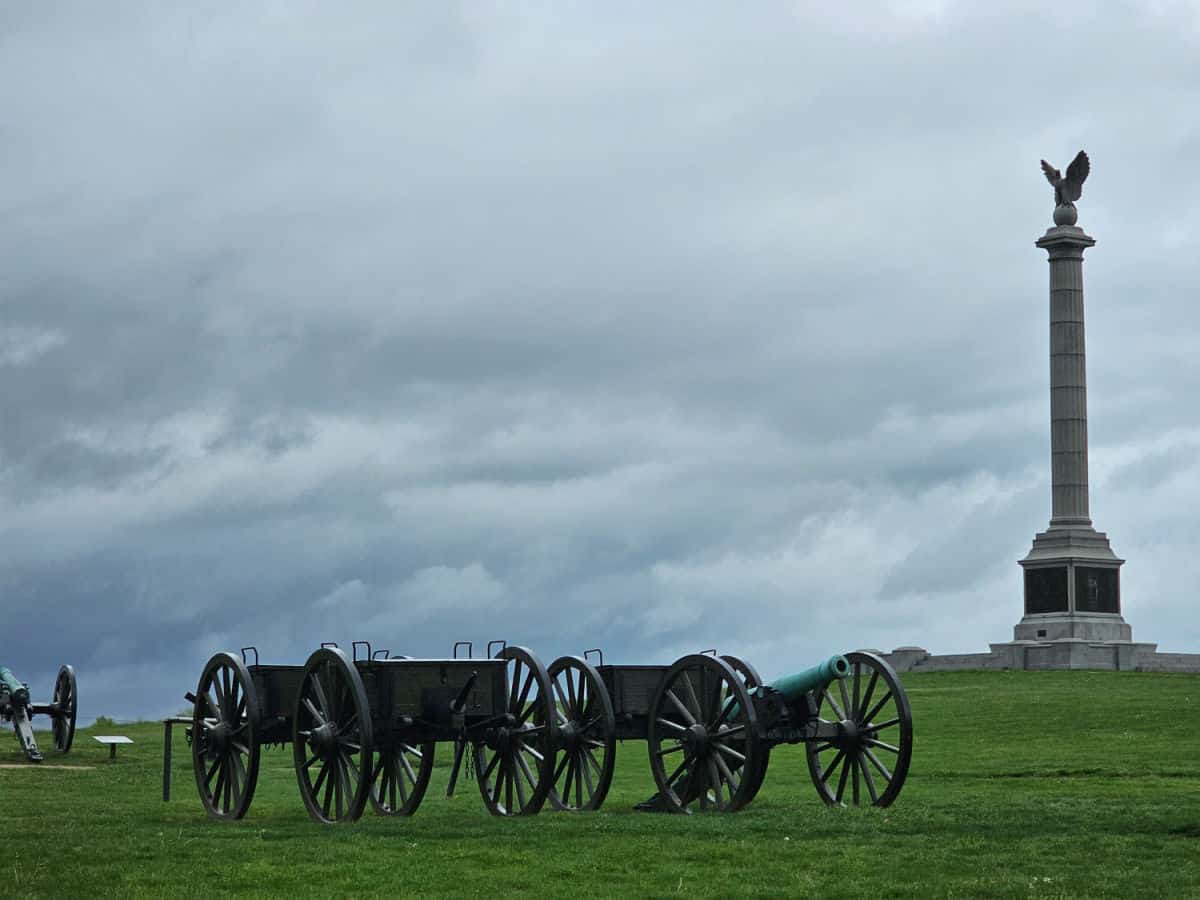 Things to know before your visit to Antietam National Battlefield
Entrance fee
Antietam National Battlefield Entrance Fee - $10.00
3 day pass - This is the entry fee to the battlefield proper, museum, movie, and ranger programs.
Antietam National Battlefield Entrance Fee - $20.00
3 day vehicle pass. This pass covers everyone in a vehicle, ie. family. The pass covers entry to the battlefield proper, museum, movie, and ranger programs.
Group Entrance Fees - $0.00
$100 Motor Coach/Commercial Tour Groups with 26 or more people
$40 per passenger bus with 7-25 people
$25 per passenger bus with 1-6 people Bus drivers (1 per vehicle) FREE Step on guides can be hired through our bookstore, which is operated by Eastern National. Please call (301) 432-4329 to schedule a guide.
Planning a National Park vacation? America the Beautiful/National Park Pass covers entrance fees for an entire year to all US National Park Sites and over 2,000 Federal Recreation Fee Sites.
The park pass covers everyone in the car for per vehicle sites and for up to 4 adults for per-person sites.
Buy on REI.com and REI will donate 10% of pass proceeds to the National Forest Foundation, National Park Foundation and the U.S. Endowment for Forestry & Communities.
Free Entrance Days -Mark your calendars with the five free entrance days the National Park Service offers annually.
Time Zone
Eastern Time Zone
Pets
Pets on leashes of no longer than 6 feet in length are allowed at the park, except inside the buildings and national cemetery.
Cell Service
Cell service at Antietam National Battlefield can vary depending on your service provider and the specific location within the park.
In general, you should expect to have at least some cell reception in most areas of the battlefield, particularly near the Visitor Center and main roads. However, as you venture further into the park and explore more remote areas, cell service might become spotty or unreliable.
Park Hours
The park is open daily from 9 AM to 5 PM except Thanksgiving, Christmas, and New Year's Day.
Wi-Fi
There is no public Wi-Fi available at the park.
Insect Repellent
Insect repellent is always a great idea when outdoors, especially if you are around any body of water.
We use Permethrin Spray on our clothes before our park trips.
Water Bottle
Make sure to bring your own water bottle and plenty of water with you. Plastic water bottles are not sold in the park.
Parking
There is a large parking lot at the Visitor Center.
Food/Restaurants
There are no restaurants directly within the boundaries of Antietam National Battlefield. However, you can find food options in the nearby town of Sharpsburg, Maryland, just a short drive from the battlefield.
Gas
There are no gas stations in Antietam National Battlefield but there are few gas stations in the nearby town of Shepherdstown and Boonsboro.
Drones
Drones are not permitted within National Park Sites.
National Park Passport Stamps
National Park Passport stamps can be found in the visitor center.
Make sure to bring your National Park Passport Book with you or we like to pack these circle stickers so we don't have to bring our entire book with us.
Antietam NB is part of the 2005 Passport Stamp Set.
Electric Vehicle Charging
There are currently 12 electric vehicle (EV) charging stations within a 10-mile radius of the center of Sharpsburg, MD.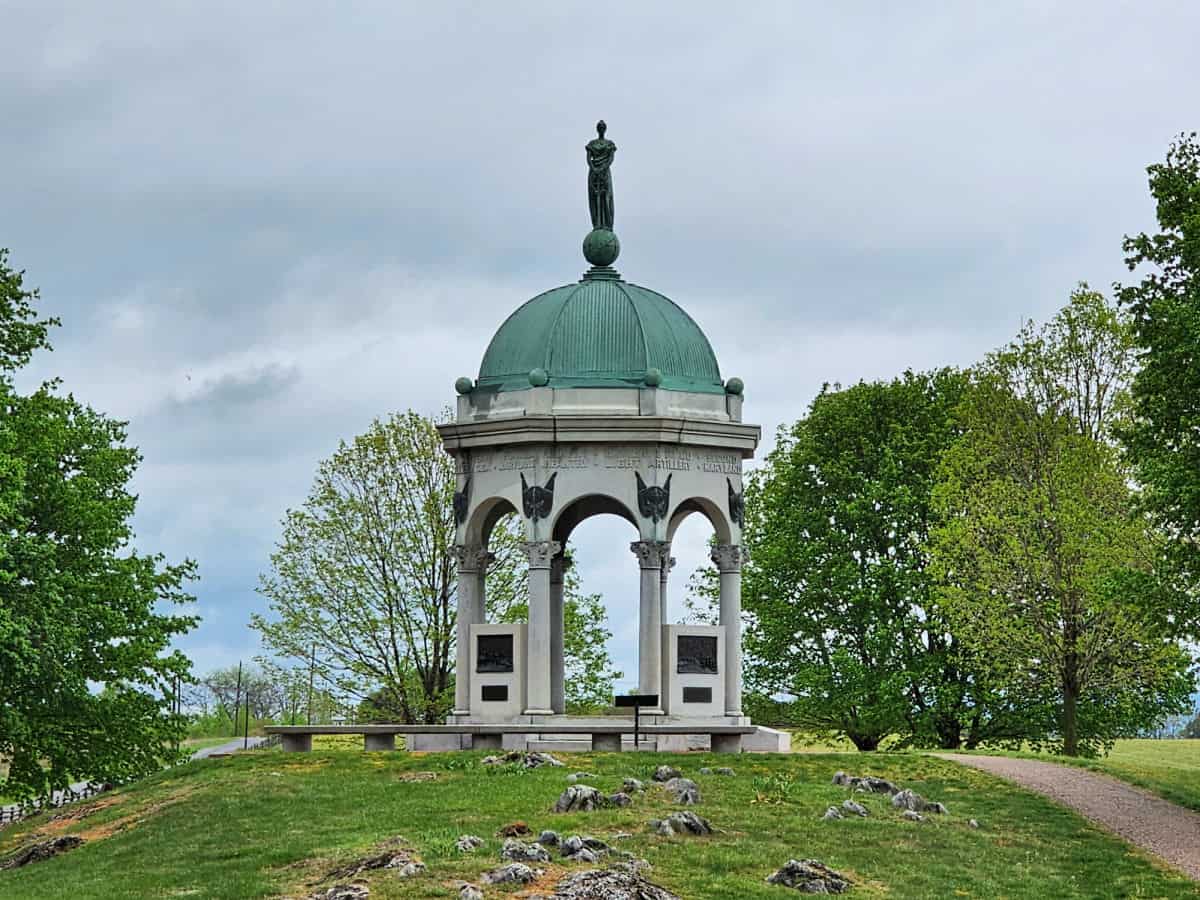 Details about Antietam National Battlefield
Size - Approximately 3,000 acres
Check out how the park compares to other National Parks by Size.
Date Established
August 30, 1890
Visitation
In 2022, Antietam NB had 115,619 park visitors.
In 2021, Antietam NB had 110,544 park visitors.
In 2020, Antietam NB had 85,884 park visitors.
In 2019, Antietam NB had 287,343 park visitors.
Learn more about the most visited and least visited National Parks in the US
National Park Address
5831 Dunker Church Rd.
Sharpsburg, MD 21782
National Park Map
Where is Antietam National Battlefield
Antietam National Battlefield is located in Sharpsburg, Maryland, United States. It is situated in Washington County in the northwestern part of the state.
Estimated distance from major cities nearby
Washington, DC - 75 miles
Baltimore, MD - 68 miles
Pittsburgh, PA - 184 miles
Philadelphia, PA - 174 miles
Norfolk, VA - 254 miles
Chesapeake, VA - 259 miles
Virginia Beach, VA - 268 miles
Newark, NJ - 246 miles
Jersey City, NJ - 254 mile
New York, NY - 257 miles
Estimated Distance from nearby National Park
Shenandoah National Park - 65 miles
New River Gorge National Park - 131 miles
Mammoth Cave National Park - 602 miles
Great Smoky Mountains National Park - 457 miles
Acadia National Park - 737 miles
Cuyahoga Valley National Park - 289 miles
Where is the National Park Visitor Center?
The Antietam National Battlefield Visitor Center is located in a rural setting near the town of Sharpsburg, Maryland. It is situated on Dunker Church Road, just off Maryland State Route 65.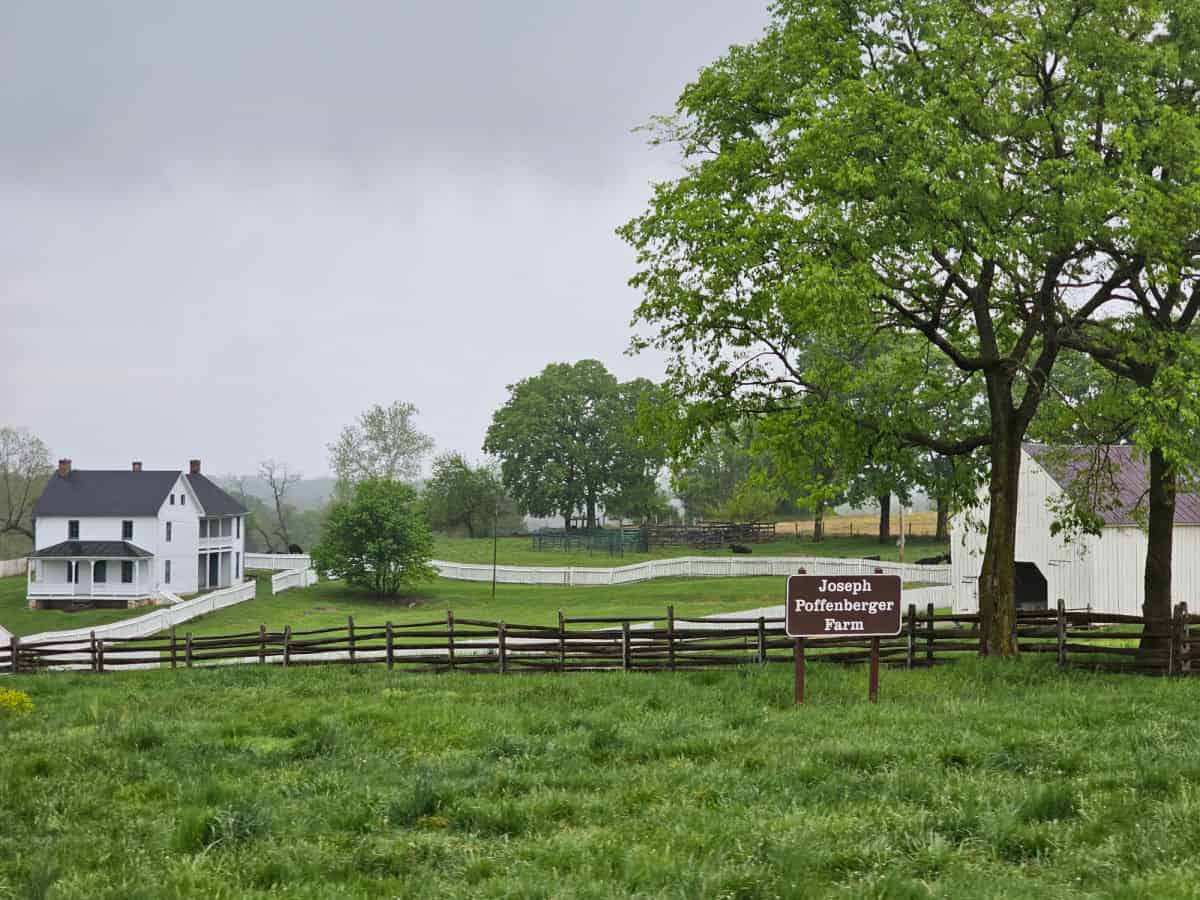 Getting to Antietam National Battlefield
Closest Airports
Eastern WV Regional Airport (MRB/KMRB)
Hagerstown Regional Airport (HGR/KHGR)
International Airports
Washington Dulles International Airport (IAD/KIAD)
Baltimore/Washington International Thurgood Marshall Airport (BWI/KBWI)
Harrisburg International Airport (MDT/KMDT)
Regional Airports
Winchester Regional Airport (WGO)
Driving Directions
Traveling East on Interstate 70:
Exit 29A onto Rt. 65 south. Ten miles south on the left is the Visitor Center.
Traveling West on Interstate 70 from the Baltimore/Washington area:
Exit 29 onto Rt. 65 South towards Sharpsburg. Travel about 10 miles south to the Park Visitor Center entrance which will be on your left side.
Optional Route: Exit 49 onto Alternate Rt. 40 West towards Middletown. Continue through Middletown, over South Mountain to Boonsboro. Turn left onto Rt. 34 to Sharpsburg. When you enter town, turn right (north) onto Rt. 65 and the Park Visitor Center will be on your right a mile north of Sharpsburg.
Traveling North-South on Interstate 81:
Exit 1, Rt. 68, six miles east to Rt. 65. Turn RIGHT at light on Rt. 65. Five miles south on the left is the Visitor Center.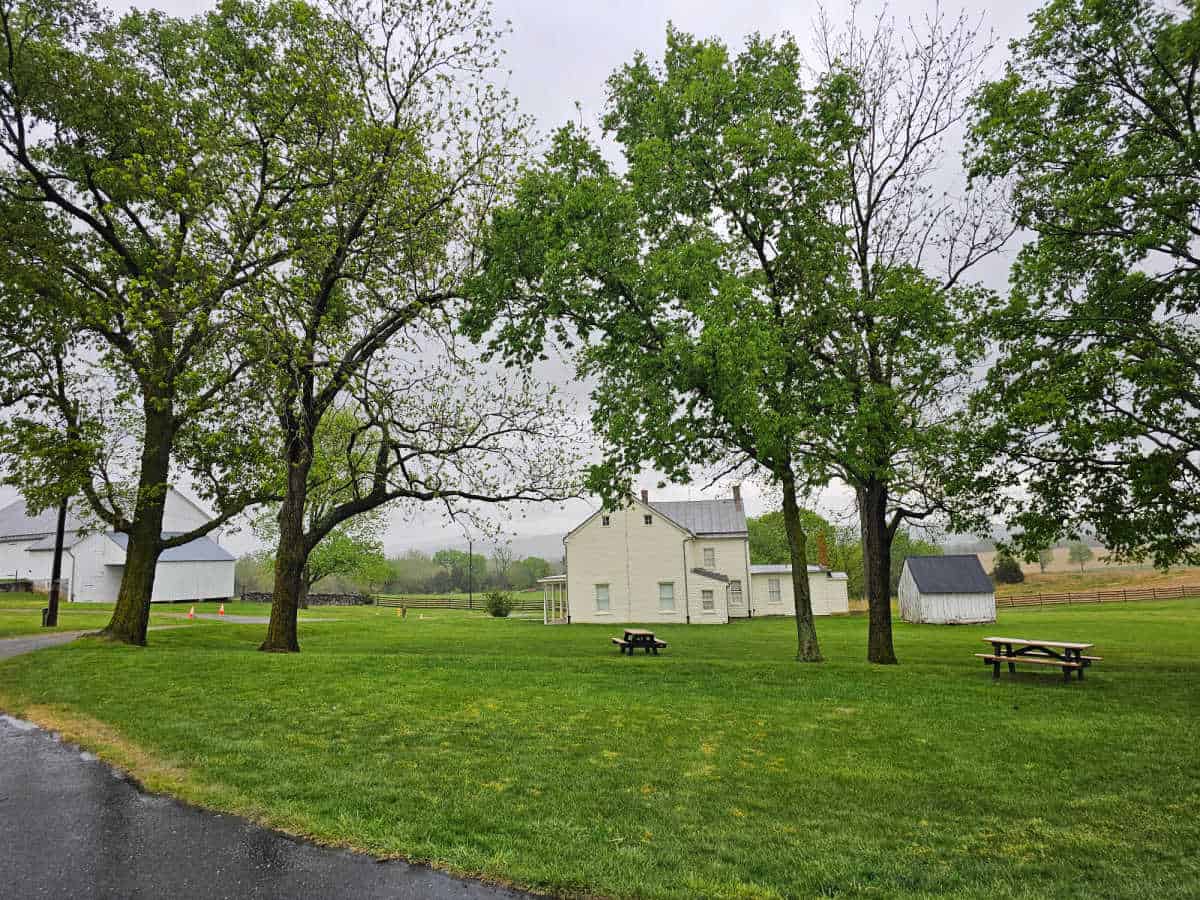 Best time to visit Antietam National Battlefield
For a unique and engaging experience, consider visiting Antietam National Battlefield during the annual living history events, typically held in September, to coincide with the anniversary of the battle.
An assembly, along with a comprehensive lineup of tours, treks, lectures, and living history demonstrations, will be facilitated by park officials, historians, and volunteers, examining the events that transpired throughout and subsequent to the Maryland Campaign of 1862.
While spring and fall remain popular due to their pleasant weather and beautiful landscapes, attending the living history events can provide an unparalleled perspective on this pivotal moment in American history.
Weather and Seasons
The hot season lasts for 3.6 months, from May 28 to September 16, with an average daily high temperature above 77 degrees.
The cold season lasts for 3.2 months, from November 30 to March 4, with an average daily high temperature below 49 degrees.
The snowiest season is from November 16 to March 31, with snowfall of at least 1 inch a month. February gets the most snow, with an average of 7.4 inches.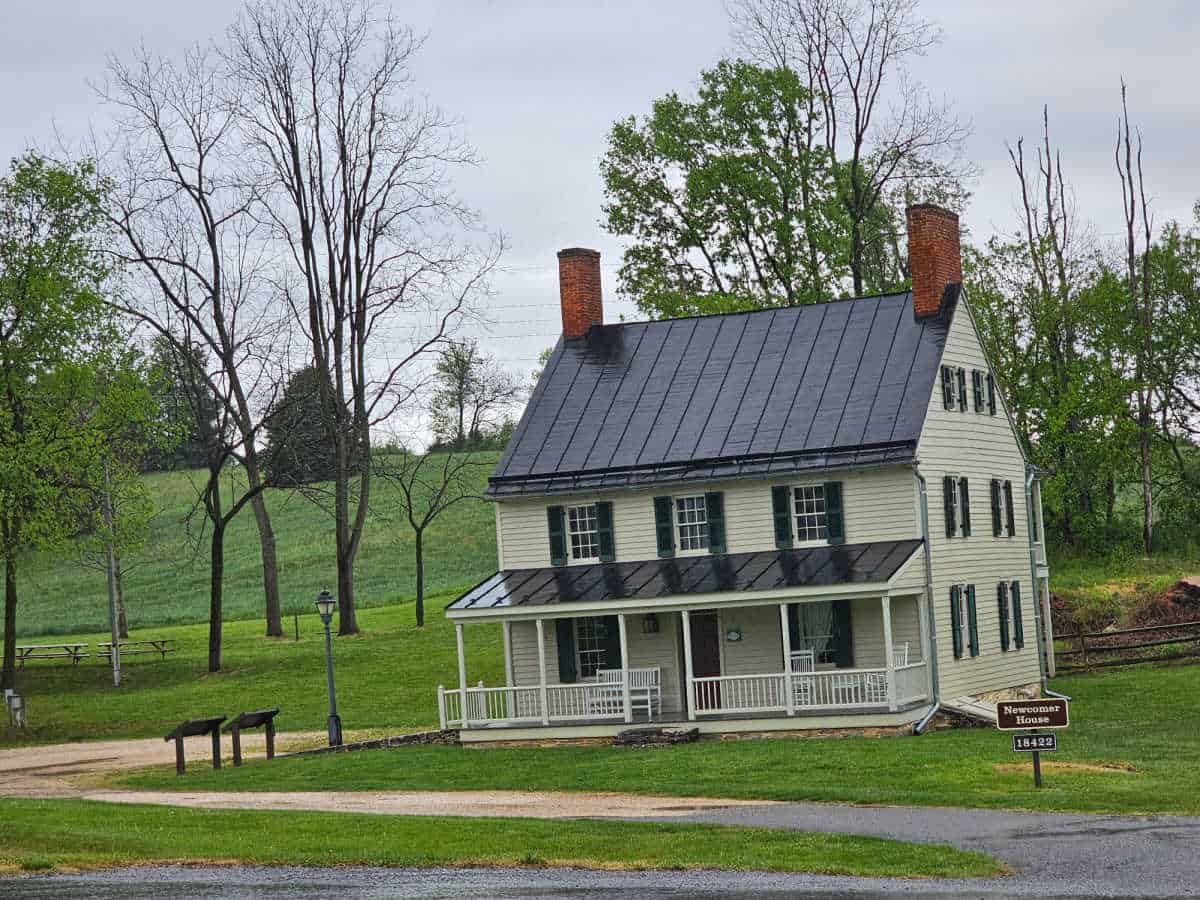 Best Things to do in Antietam National Battlefield
We suggest planning a minimum of a few hours to explore Antietam NB!
Visitor Center and Museum
Begin your visit at the Antietam National Battlefield Visitor Center and Museum. Here, you'll find a comprehensive introduction to the Battle of Antietam, its significance in the Civil War, and its lasting impact on American history.
Engage with interactive exhibits, watch a short orientation film, and explore the extensive collection of artifacts.
The Junior Ranger program is a fantastic way for visitors of all ages to learn more about the park. Pick up the program at the visitor center.
Auto Tour
Embark on a self-guided auto tour that takes you through the battlefield's key locations.
With 11 stops along the way, the Auto Tour allows you to explore at your own pace while learning about pivotal moments in the battle.
Don't forget to download or pick up a tour guide brochure at the Visitor Center to enhance your experience.
Make sure to follow the Auto Tour in order! We thought we could skip a road and ended up getting super turned around and having to backtrack to find our way onto the route.
Park Ranger Battlefield Talks and Walks
Join a Park Ranger for an informative talk or guided walk through Antietam National Battlefield. These engaging programs provide in-depth insights into the battle, its strategies, and the soldiers who fought there.
Check the park's schedule for daily program times and locations.
Pry House Field Hospital Museum
Visit the Pry House Field Hospital Museum to gain a deeper understanding of Civil War medicine and the role of field hospitals during the Battle of Antietam.
This historic house served as Union General George B. McClellan's headquarters and was a key medical facility during the battle. Exhibits showcase surgical instruments, medical supplies, and personal stories from the war.
Private Tours
For a more personalized experience, consider booking a private tour with a Licensed Battlefield Guide.
These expert guides offer customized tours tailored to your interests, ensuring a memorable and informative visit. Private tours can be arranged for individuals, families, or larger groups.
Hiking in Antietam National Battlefield
Antietam Remembered - ¼ mile loop with paved walkway
This trail near the visitor center loops past significant landmarks and monuments including the Dunker Church and Maryland State Monument.
Bloody Lane Trail - 1.6 mile loop
This trail begins at the visitor center and travels through the historic Mumma and Roulette Farms. Follow in the footsteps of Union soldiers as they advanced towards the Sunken Road.
Cornfield Trail - 1.25 mile loop
This trail begins at Auto Stop Tour 4. Walk through the area where the early morning battle attacks took place.
Final Attack Trail - 1.7 mile loop
This trail begins at Auto Tour Stop 9. Walk the field where over 8,000 Union Soldiers crossed Antietam Creek for the final advance to drive the Confederate Army out of Maryland. Only to be turned back by A.P. Hill's final Confederate counterattack.
Sherrick Farm Trail - 1.3 mile one way
This trail begins at the intersection of the Park Tour Road and State Route 34. The trail meanders through the farm fields and wooded areas. The trail ends at Burnside Bridge. Be prepared the hiking trail is hilly.
Snavely Ford Trail - 1.8 mile loop
This trail begins at Auto Tour Stop 8. Follow along Antietam Creek on a nice flat shady trail. There is one uphill climb on the trail.
Three Farms Trail - 1.6 mile one way
This is the connector trail between the north and south end trails. The trail connects to the Bloody Lane Trail in the north and the Sherrick Farm Trail in the south.
Tidball Trail - .3 miles one way
The trail begins at the historic Newcomer House and travels to a great overlook of the battlefield.
Union Advance Trail - 1 mile loop
The trail begins at Auto Tour Stop 8. Cross over Burnside Bridge and make a loop on the east site of Antietam Creek.
West Woods Trail - .9 mile loop
This trail begins at Auto Tour Stop 5. Walk to some of the key spots associated with the fighting in the West Woods.
Always carry the 10 essentials for outdoor survival when exploring.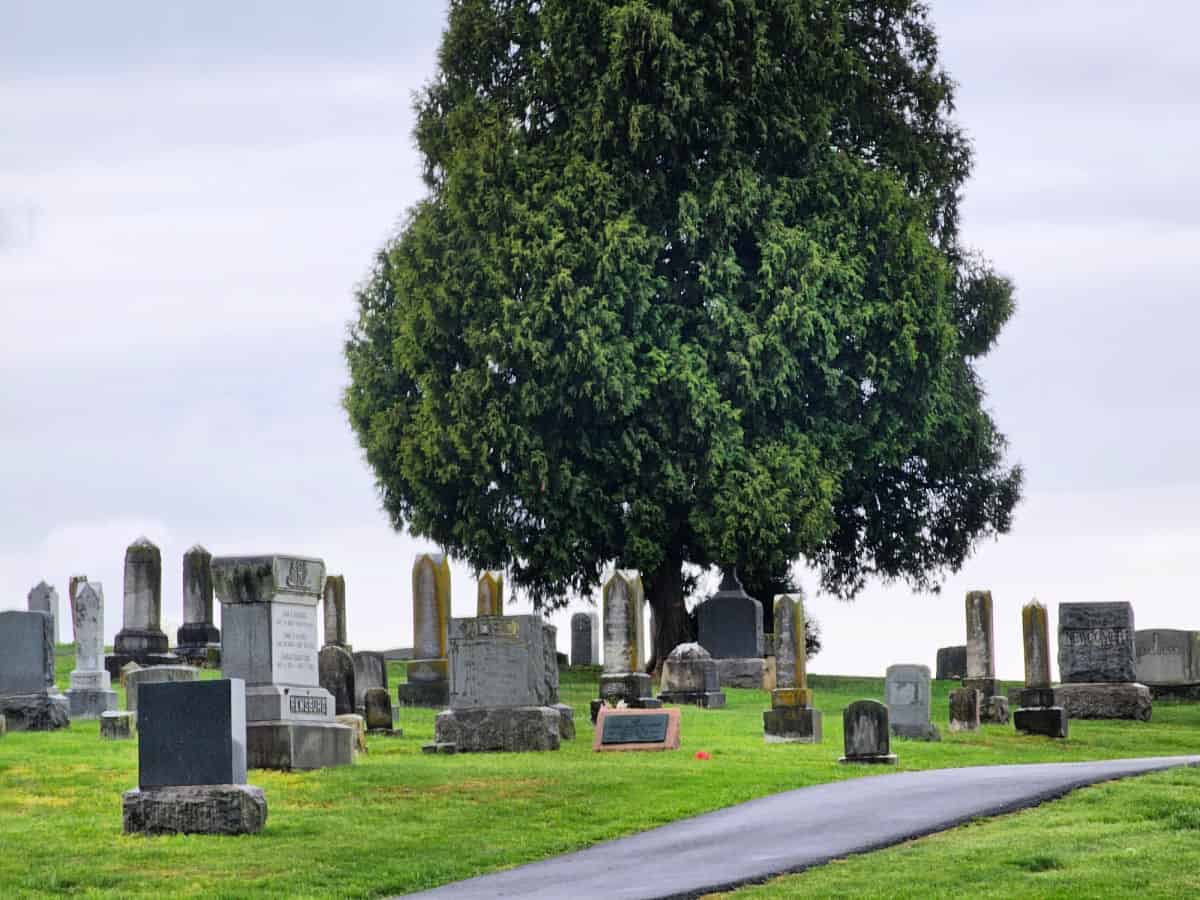 How to beat the crowds in Antietam National Battlefield ?
We suggest arriving early in the day so you have time to explore the park. The nice thing about the Auto Tour is you can maneuver through any crowds and re-visit an area if it is crowded.
Where to stay when visiting Antietam National Battlefield
There are no National Park Lodges within the park.
Nearby lodging includes:
Antietam Overlook Farm - 3.5-star bed & breakfast. At Antietam Overlook Farm, you can look forward to free full breakfast, a terrace, and a garden. Adventurous travelers may like the horseback riding, hiking/biking, and fishing at this bed & breakfast. For some rest and relaxation, visit the hot tub. Enjoy onsite activities like rowing/canoeing and rafting. In addition to a restaurant, guests can connect to free in-room Wi-Fi.
Click on the map below to see additional vacation rentals and hotels near the park.


Camping
There is no camping available within the park.
For a fun adventure check out Escape Campervans. These campervans have built in beds, kitchen area with refrigerators, and more. You can have them fully set up with kitchen supplies, bedding, and other fun extras. They are painted with epic designs you can't miss!
Escape Campervans has offices in Vancouver, Seattle, Portland, San Francisco, Las Vegas, Los Angeles, Phoenix, Salt Lake City, Denver, Chicago, New York, and Orlando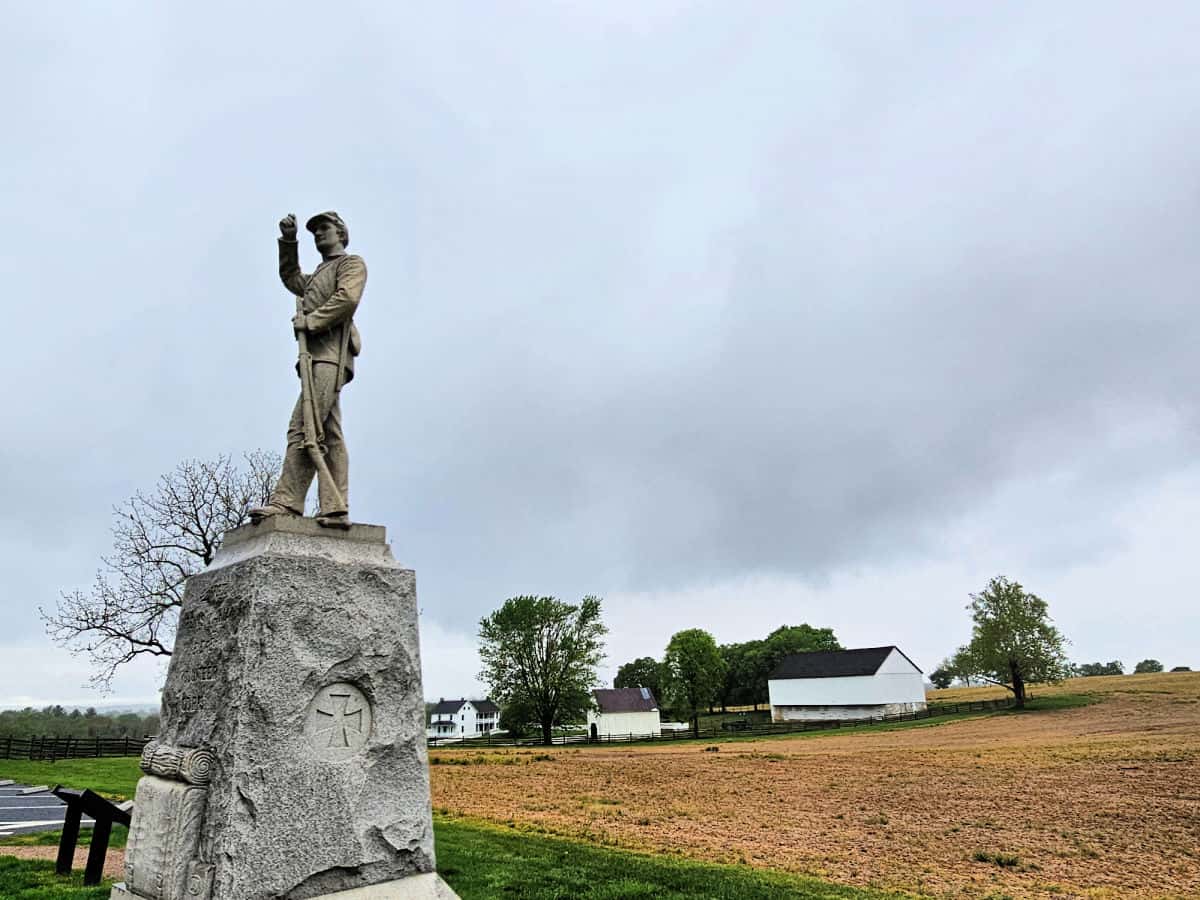 Parks Near Antietam National Battlefield
Chesapeake & Ohio Canal National Historical Park
Catoctin Mountain Park
Cedar Creek & Belle Grove National Historical Park
Gettysburg National Military Park
Eisenhower National Historic Site
Wolf Trap National Park for the Performing Arts
Manassas National Battlefield Park
Check out all of the Maryland National Parks along with neighboring Virginia National Parks, Pennsylvania National Parks, Delaware National Parks, and National Parks in West Virginia