North Gorge Campground is a small popular campground located at the North end of Lake Roosevelt NRA near China Bend. With only 12 sites this campground is small but offers amazing access to Lake Roosevelt. This campground is very peaceful and has dramatic views of Lake Roosevelt.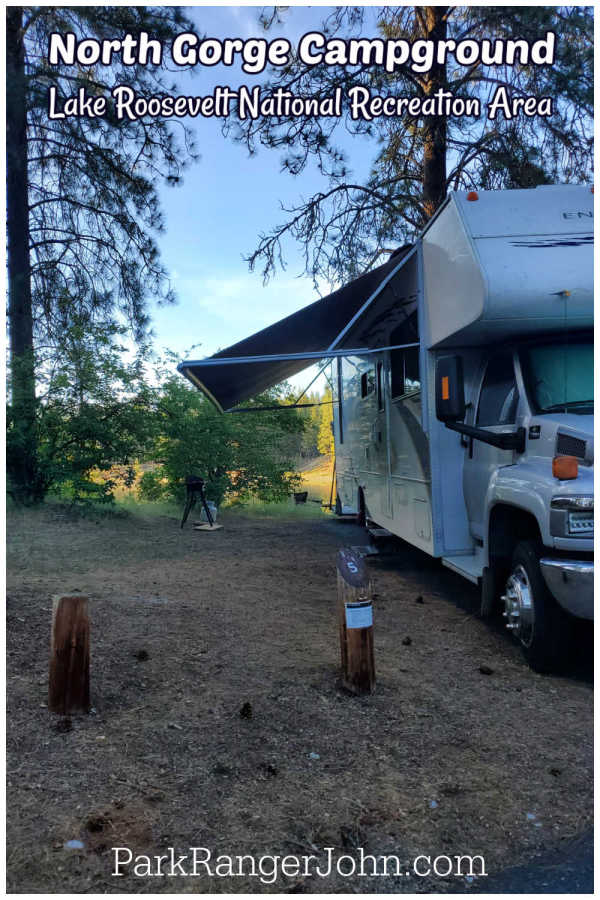 North Gorge Campground - Lake Roosevelt National Recreation Area
The campground is North of Kettle Falls on the east side of the river. For those who enjoy wine, there is a nice organic winery just across the river named China Bend Winery. You can even use your boat and stop in and pick up a nice bottle of wine to end the perfect evening at your campsite.
Just come prepared for the mosquitoes! Make sure you have plenty of bug spray with you! We found a lot of mosquitos in the campground when we visited.
If you are unable to find a campsite at North Gorge Campground, try Kettle Falls Campground. This campground is a few miles south of Kettle Falls and has 74 campsites.
For a fun unique experience, check out the Bull Hill Guest Ranch. It is pretty much straight across the river from the North Gorge Campground.
Season: This campground is open seasonally. The opening date is depending on the weather.
Number of Sites: 12
Location in the park: the northeast edge of the park
Campsite Cost: $23
Reservations: No, All campsites in the North Gorge campground are first-come, first-served.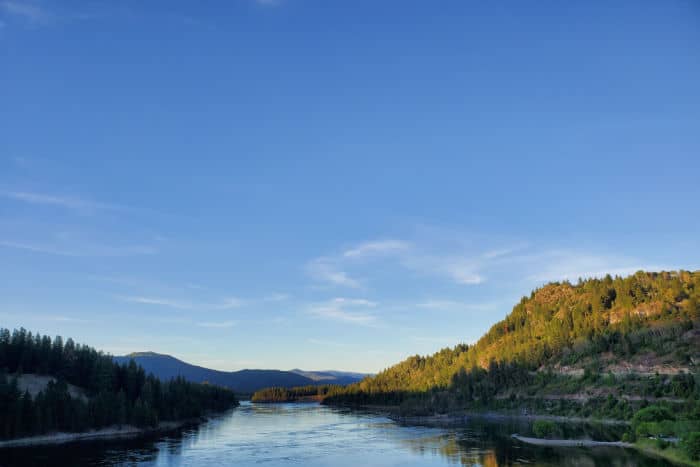 Latitude/Longitude:
Latitude
48° 47' 11.6250" N
Longitude
118° 0' 11.3126" W
Elevation: 1,279 ft
Accessible Sites: Campsite 1 is a designated ADA site with paved parking space and even ground. The closest pit toilet to Campsite 1 has a paved sidewalk pathway.
Pets Allowed: Yes, Pets must be leashed at all times.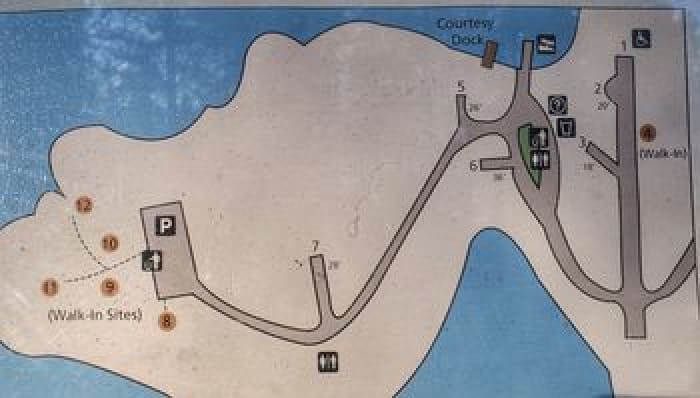 Campground Reservations
Are campground Reservations Available? No
First Come, First Served? Yes, All sites are first come first served.

Campground Amenities
Flush Toilets: No
Payphone: No
Is wifi Available? No
Is cellular Phone Service Available?
Is camp host available on site? Yes
Is firewood available for purchase? No
Amenities at each campsite:
Fire pit in the site? Yes
Picnic Table in the site? Yes
Bear Box in site/area? No
Potable Water? No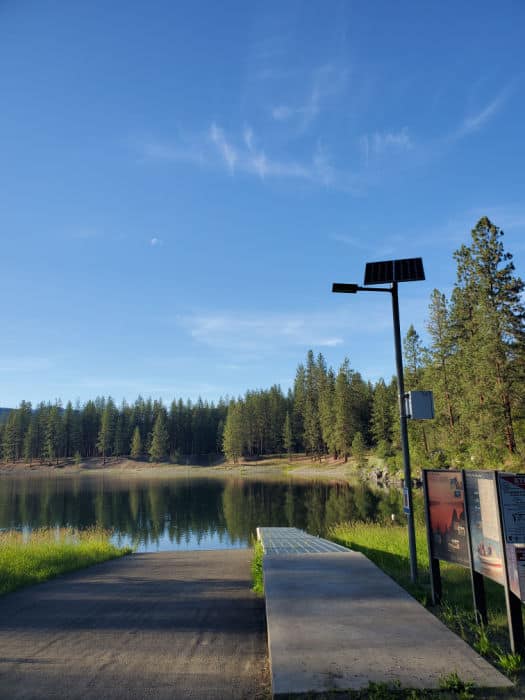 RV Camping at North Gorge Campground
RV Length: RVs and trailers are allowed at North Gorge; six campsites allow for RV parking.
Maximum lengths are: site 2 – 20 feet; site 3 – 18 feet; site 5 – 26 feet; site 6 – 36 feet; site 7 – 28 feet.
There is no designated boat/ trailer parking. Vehicles, trailers, or RVs cannot be parked on the grass or anywhere except the designated parking spot for each site.
Dump Station: no
Generators: Generators may only be used from 6 am to 10 pm.
Hookups: There are no electricity, water, or sewer site hookups

How to get to Campground
North Gorge is located off of WA-25. From Kettle Falls, drive north on US-395. Turn right onto WA-25 North. Follow WA-25 North for approximately 16.4 miles. Turn left at the North Gorge Campground sign.

Campground Regulations
The maximum number of people in a campsite: no more than ten people at each campsite
The number of cars per campsite: no more than two vehicles
Checkout time: 12 noon
Quiet Hours: Quiet hours are from 10:00 pm to 6:00 am.
Maximum Stay: Camping is limited to 14 consecutive nights per campground within a 30 day period and not more than 60 total nights per calendar year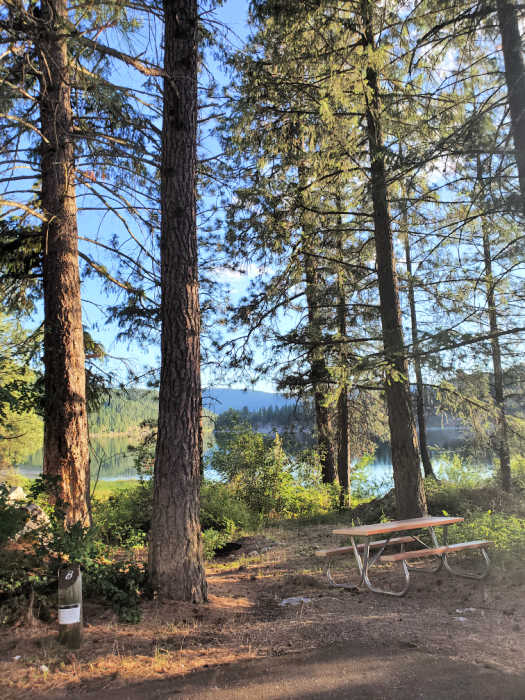 National Park Sites near Lake Roosevelt National Recreation Area
Whitman Mission National Historic Site
Manhattan Project National Historical Park - Hanford
Nez Perce National Historical Park
Check out all of the National Parks in Washington along with neighboring Oregon National Parks, and Idaho National Parks.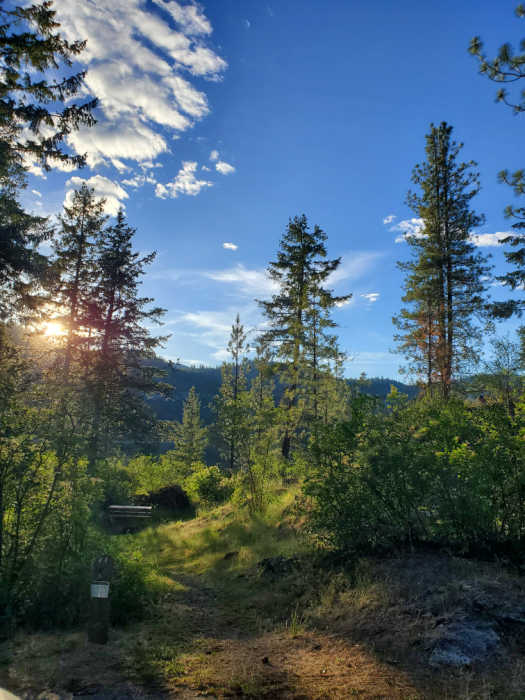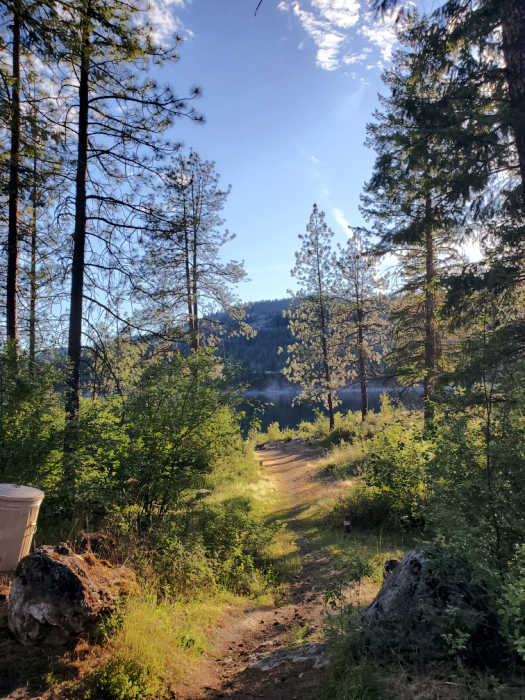 Lake Roosevelt Campgrounds