During our epic road trip to National Parks this year we had the opportunity to visit Mammoth Cave National Park. I am so glad we planned our trip around making it into the park. We are already planning a return trip to do more cave tours and explore the park that is above ground. My wife Tammilee is not a fan of caves so it takes a bit of persuading to get her excited about going down into the cave.
One of these days I will tell you about getting her into Carlsbad Cavern National Park. Let's just say that I might have skipped telling her just how far down the elevator was going. But today I am going to share what you need to know to plan a trip to Mammoth Cave National Park with these Mammoth Cave National Park Travel Tips!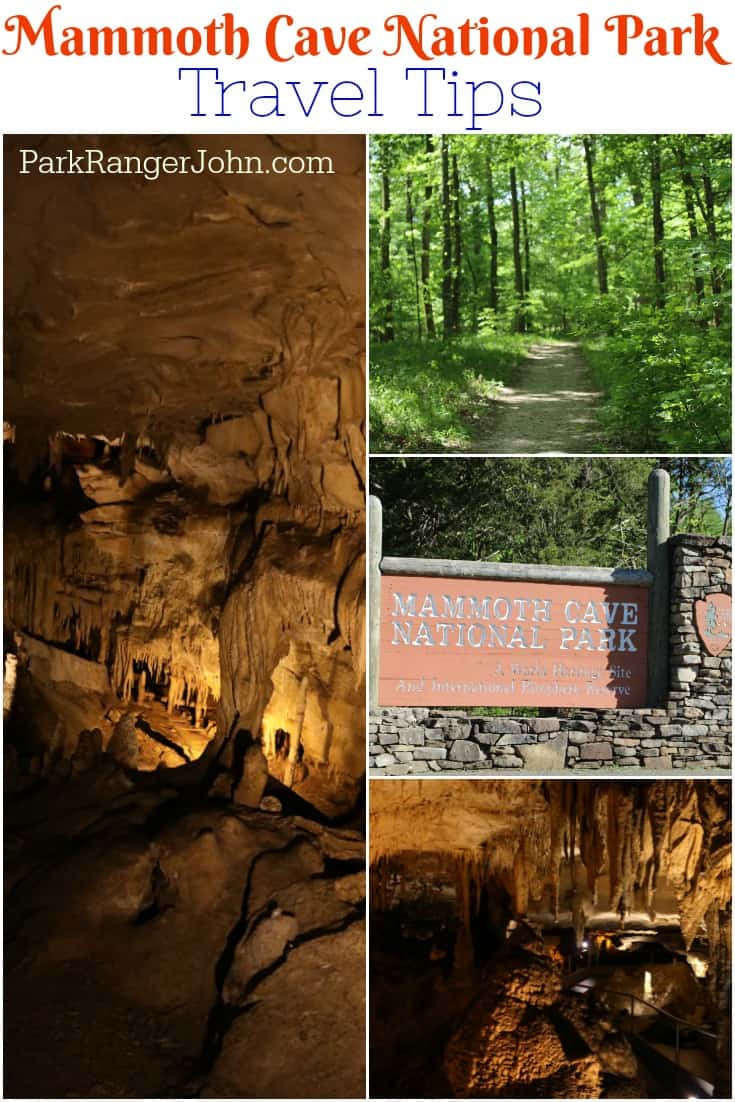 Kentucky has one national park, called Mammoth Cave National Park. Although it might not be as big as Yellowstone, Mammoth Cave is still an interesting sight to see.
Mammoth Cave National Park is located almost in the center of the state of Kentucky. It is not a very far drive from southern Indiana or from Nashville, so it's a great place to visit if you live anywhere near it.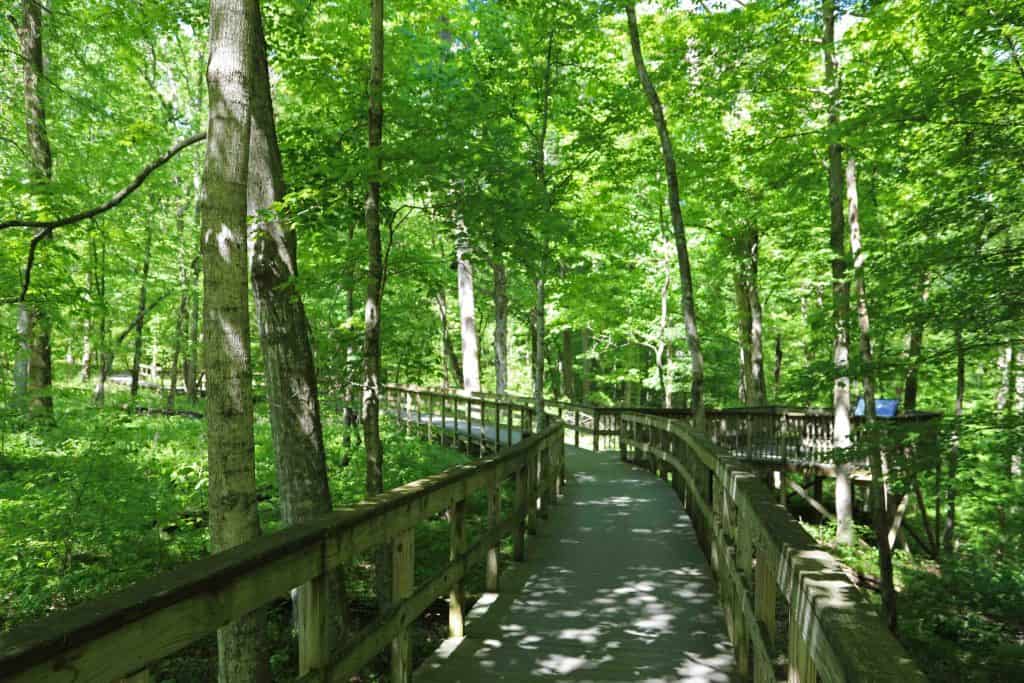 Have you visited the cave? What did you think?
Mammoth Cave National Park Travel Tips
Over 365 miles of caves have been surveyed within the Mammoth Cave National Park system. In order to experience as much as possible during a visit to Mammoth Cave, a tour is highly recommended. There are a ton of activities above ground that can be enjoyed without having to go into the cave. If you have a fear of caves don't let it stop you from visiting this great park.
The visitor center has a ton of interpretive areas to learn more above the caves without going down in them. The ice cream shop is well worth a visit just to try the local ice cream. You can also just sit and soak up the beautiful weather while looking for birds. We took a lovely walk around a pond and saw baby geese and other wildlife.
Check out this post on Things to do in Mammoth Caves for more ideas on ways to explore this great park.
The cave is only one portion of this park and while it is the part that it is best known for there truly are so many other ways to explore the park.
We did not have cell phone service is most of the park. There is free WiFi available at the visitor center.
If you are taking a tour make sure and use the restroom before you head to the cave. There are no restrooms within the cave and some of the tours take a couple of hours.
You can buy snacks, ice cream, and souvenirs at the visitor center. There are multiple gift stores selling a little bit of everything.
If you are taking a tour make sure you wear shoes that can get wet. When you exit the cave you will need to walk through a soapy water mixture with your shoes on.
This is to prevent the spread of a disease that can affect bats and other cave dwellers. Tammilee had on her favorite Birkenstocks and they were a bit damp after walking through the water.
Bring a sweater or light cover for the cave. It can be a bit cool when you are on tour.
Be careful using GPS to reach the park. Make sure you follow signs to reach the visitor center. Our GPS almost took us in completely the wrong direction.
Make sure and read the tour descriptions closely, especially if you have any mobility or physical concerns! Some of the tours include a lot of steps and are 3-4 hours long. There is no bathroom on the tour so make sure you are prepared.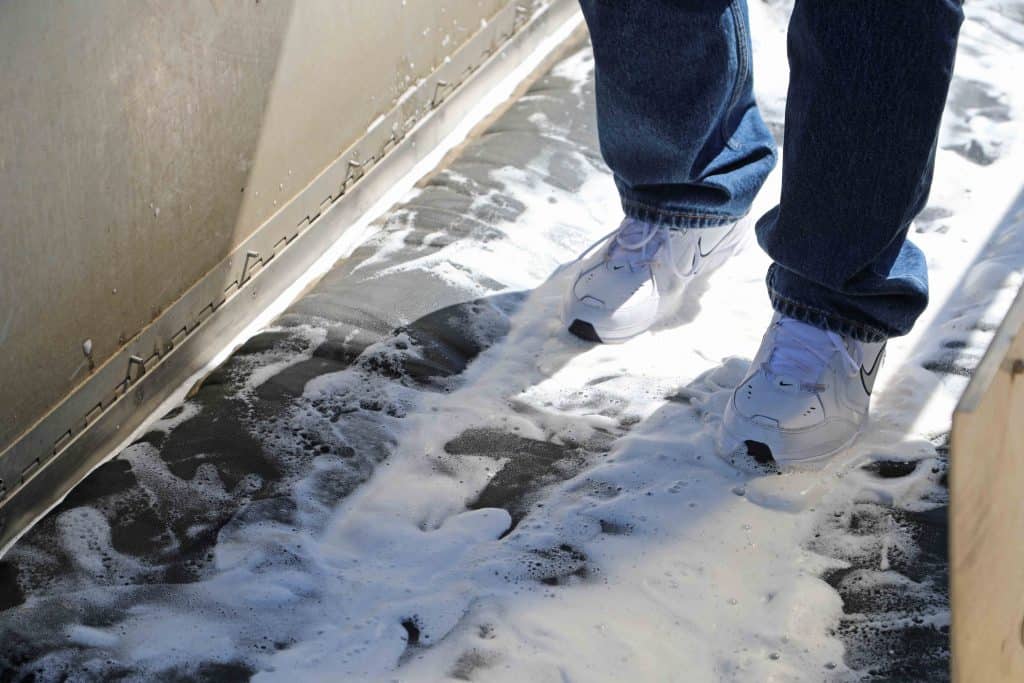 For an online schedule, tour descriptions and prices, please click below:
Reservations are not required but are recommended. Currently, reservations cannot be made the same day of a tour. Unless otherwise noted, all visitors under the age of 16 must be accompanied by an adult age 18 or over. For further cave tour restrictions click here.
Each of the tours has a different difficulty level and experiences different portions of the cave. We took a tour that did not have many steps due to my knee injury and it was great. There was one section of the Frozen Niagara Tour that included stairs but you can easily skip it if you don't want to deal with the stairs. I highly suggest looking at the cave tours and making sure they are a fit for you physically and if you are not a fan of caves.
Some cave tours include upwards of 500 stairs! Be prepared! Visit the Mammoth Cave park tour page to find out more about all of the tours that are offered.
How much does it cost to visit Mammoth Cave National Park?
There is no park entrance fee but tour fees are charged for visitors 6 and older.
Free Entrance Days
The National Park Service offers the following Entrance Fee Free Days this year:
January 21: Birthday of Martin Luther King, Jr.
April 20: First day of National Park Week
August 25: National Park Service Birthday
September 28: National Public Lands Day
November 11: Veterans Day
Other fees such as reservation, camping, lodging, tours, concession, and fees collected by third parties are not included unless stated otherwise.
How do I get to Mammoth Cave National Park? Where is Mammoth Cave?
From the North: Take Interstate 65 to Exit 53 (Cave City Exit). Turn right onto KY-70. Follow 70/255 as it becomes the Mammoth Cave Parkway in the park. Follow the Mammoth Cave Parkway to the Visitor Center.
From the South: Take Interstate 65 to Exit 48 (Park City Exit). Turn left onto KY-255 and follow 255 as it becomes the Park City Road into the park. Follow Park City Road until it joins the Mammoth Cave Parkway; turn left. Follow the Mammoth Cave Parkway to the Visitor Center.
Where are the Mammoth Cave National Park Visitor Centers?
The visitor center is located up a hill from the cave tour departure points. The visitor center is the meeting place for all tours.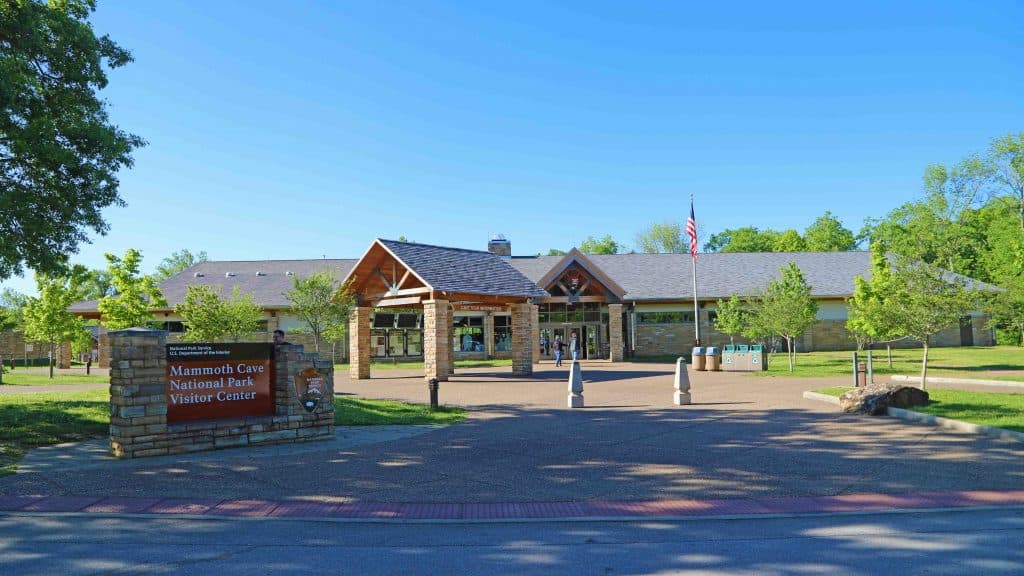 What can I bring with me into Mammoth Cave?
You can bring camera gear but no tripods into the cave. Flashlights are allowed but can not be used during tour stops. No weapons, strollers, backpack child carriers are allowed in the cave.
What should I wear in Mammoth Cave?
Sturdy shoes or hiking boots are required. No sandals or bare feet are allowed in the caverns. Cave temperatures range from freezing to up to 60 degrees so a light jacket or cover is recommended.
Is there a lodge in Mammoth Cave?
Yes! The Lodge at Mammoth Cave offers both hotel rooms and historic cottages you can stay in.
Where can I find out about Mammoth Cave Camping?
For lodging reservations call: 844-760-CAVE or go to the Mammoth Cave/Ortega Parks LLC website.
For lodging nearby the park, call (270)773-8833 or click here for information on accommodations in the Cave City area.
There are 3 developed campgrounds in Mammoth Cave National Park and more than a dozen primitive backcountry camping spots. Visit the camping page for more detailed information.
Is there a Junior Ranger Program at Mammoth Cave National Park?
Yes, the Junior Ranger program can be picked up from the park visitor center. The park also offers tours specifically for kids.
Can I bring my Dog/Pet with me to Mammoth Cave National Park?
Pets must be on a leash at all times within the park. Only designated service dogs are allowed in the caves. There is a kennel on-site for pets.
call (270)758-2225 or email for availability.
Mammoth Cave National Park Facts
130 forms of life can be found in the park!
Mammoth Cave is the most extensive cave system on Earth with over 365 miles of surveyed passageways.
Mammoth Cave was authorized as a national park in 1926 and fully established in 1941.
In 1981 Mammoth Cave was named a World Heritage Site.
Additional Resources Information
You can visit the National Park Website for Mammoth Cave here.

Do you know how many national parks you have visited? Check out this printable list of US National Parks in Alphabetical Order to count how many you have visited.
Have you ever wondered what it takes to be a park ranger? Check out this post on how to become a park ranger for more info on the training a park ranger undertakes.