Badlands National Park is one of those parks you just have to see to believe. The wide-open vistas are truly breathtaking. Badlands NP is located in southwestern South Dakota and was established as a pak in 1978. We are excited to share these Badlands National Park Travel Tips and hope that they make planning your trip to this park a little easier.
Badlands National Park is 244,000 acres and was created to protect an expanse of mixed-grass prairie where bison, bighorn sheep, prairie dogs, and black-footed ferrets live. The Badlands Wilderness Area covers 64,250 acres and helped with the reintroduction of the bison.
The Badlands Loop Road (Hwy 240) is 27-miles long and takes you through the formations of the Badlands from either direction. We suggest driving the loop in both directions so you can see as much as possible of the park.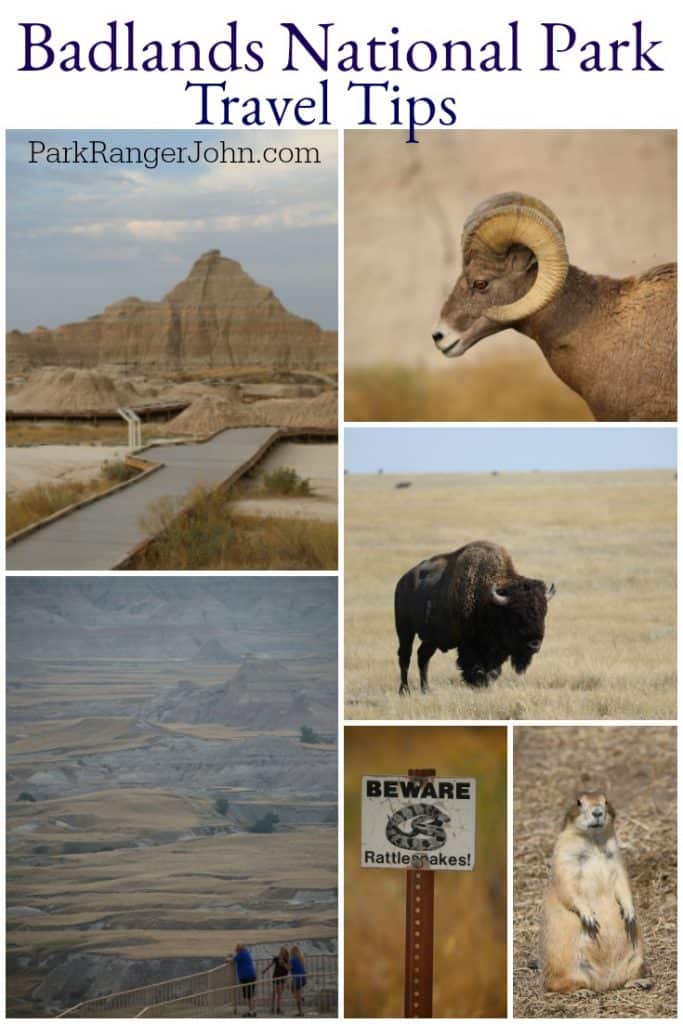 Badlands National Park Travel Tips
When you see a bathroom use the bathroom!
Plan ahead and check out all of the great things to do in Badlands National Park so you can pre-plan for your day.
Learn about the History of Badlands National Park before your visit.
Bring water bottles with you and fill them at the visitor center. Make sure you have plenty of water with you at all times.
The park is only 10 miles from Minuteman Missile National Historic Site!
The weather in Badlands NP tends towards the extremes! Summer you can expect temperatures to be over 100 degrees while in the winter it may be below freezing. Please be prepared with layers of clothes, sunscreen, bug spray, sturdy walking shoes, and lots of water.
Reader tips for Badlands National Park
Hike the Notch Trail early to beat the crowds (and the heat) for a summer visit! ~Amy
Go early in the day. It gets very hot. The visitor center has a map that identifies where you see where animals have been spotted. Leave the main road and take your time. I would not stay in Wall if I had to do it again. We also enjoyed the Minuteman missile visitor center and site nearby. Make reservations early if you want to go into the site. ~Cheryl
Be there at sunrise and/or sunset to see the march of the Bighorn Sheep. ~Tim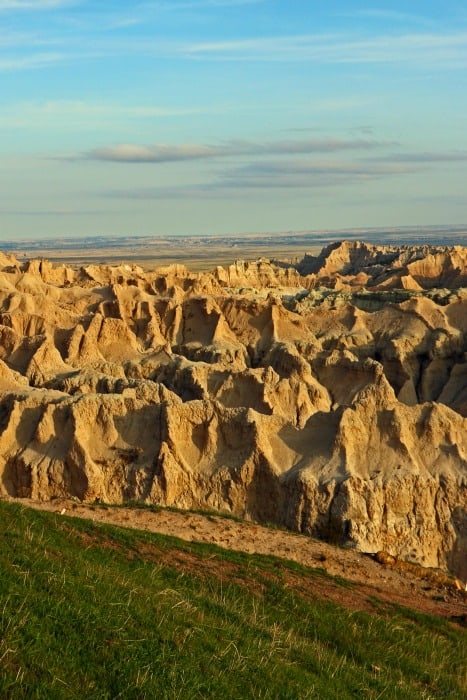 How much does it cost to visit Badlands National Park?
$25 -private vehicle for 7-days
$15 - Motorcycle for 7-days
$12 - per person 16 years and older, valid for 7 days
$50 - Badlands National Park Annual Pass
See all of the US National Park Passes that are valid for entrance fees!
Free Entrance Days
The National Park Service offers the following Entrance Fee Free Days this year:
January 21: Birthday of Martin Luther King, Jr.
April 20: First day of National Park Week
August 25: National Park Service Birthday
September 28: National Public Lands Day
November 11: Veterans Day
Other fees such as reservation, camping, lodging, tours, concession and fees collected by third parties are not included unless stated otherwise.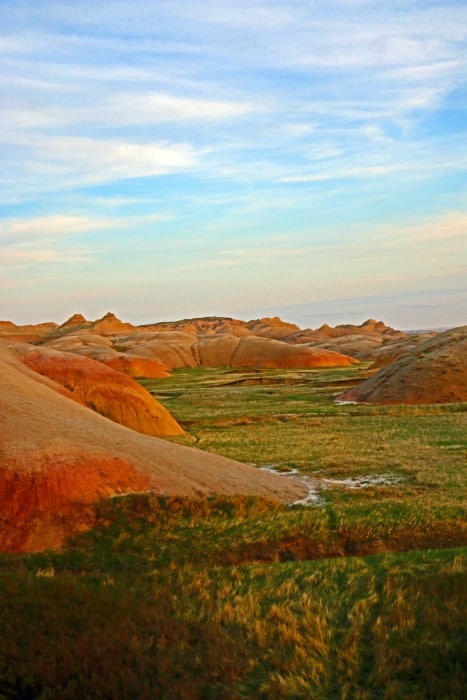 How do I get to Badlands National Park?
Badlands National Park is located 75 miles east of Rapid City, South Dakota.
The easiest way to get to Badlands NP is off of I-90 at exit 131 (Cactus Flats) or at the Wall exit. Drive south to the park entrance stations from the exit.
How far is Badlands National Park from Mount Rushmore?
Badlands National Park is located 114 miles or 1.5 - 2 hours from Mount Rushmore National Memorial and only an hour from Rapid City.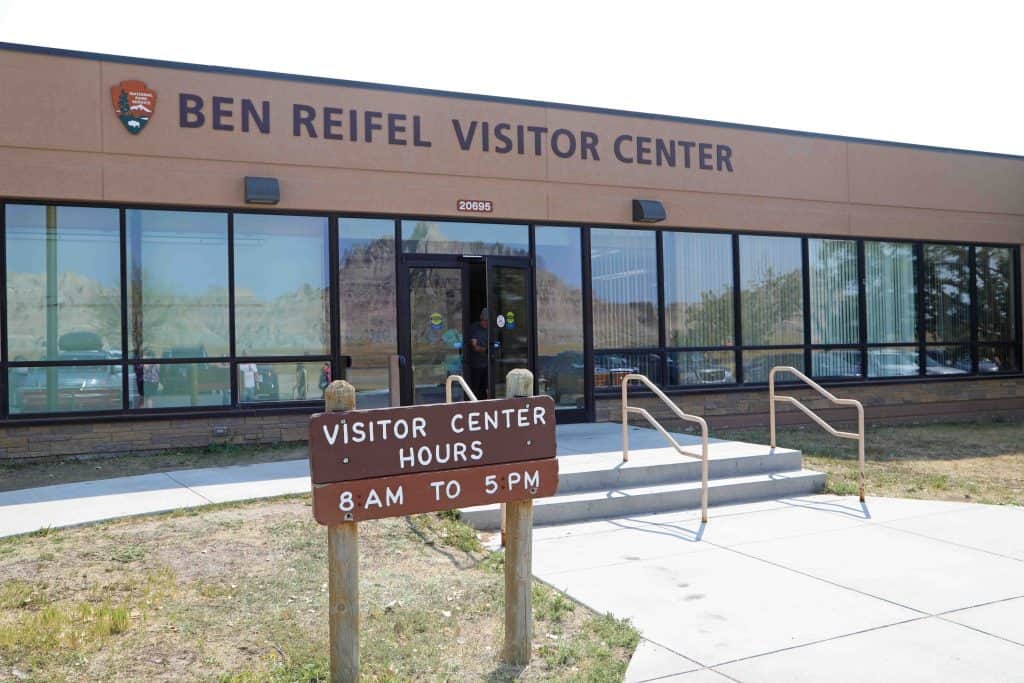 Where are the Badlands National Park Visitor Centers?
The Ben Reifel Visitor Center is located on the Cedar Pass "Badlands Loop Road" Hwy 240. The visitor center has a 95-seat air-conditioned theater showing the new film, Land of Stone and Light. You can also pick up park maps, brochures and ask a ranger any questions you have about the park.
Ben Reifel Visitor Center
Hours of Operation - Mountain Time Zone
8 a.m. - 4 p.m. (Winter Hours)
8 a.m. - 5 p.m. (April & May)
7 a.m. - 7 p.m. (Summer Hours)
8 a.m. - 5 p.m. (early September to late October)
CLOSED on Thanksgiving, Christmas Day, and New Year's Day
The White River Visitor Center is open seasonally. The White River Visitor Center is located on Pine Ridge Indian Reservation in the South Unit of Badlands NP. The visitor center has a bookstore, restroom, interpretive exhibits, and park movies.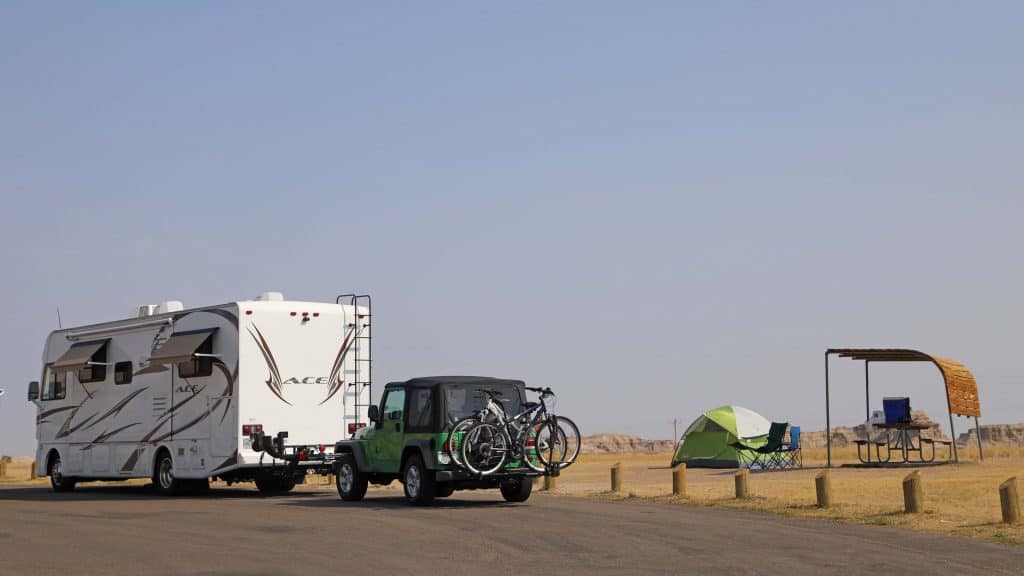 Where can I find out about staying/camping in Badlands National Park?
Check out this post on Badlands National Park Camping for information on planning your trip.
Badlands Inn is located right outside of the park and offers really easy access to the visitor center and scenic drive.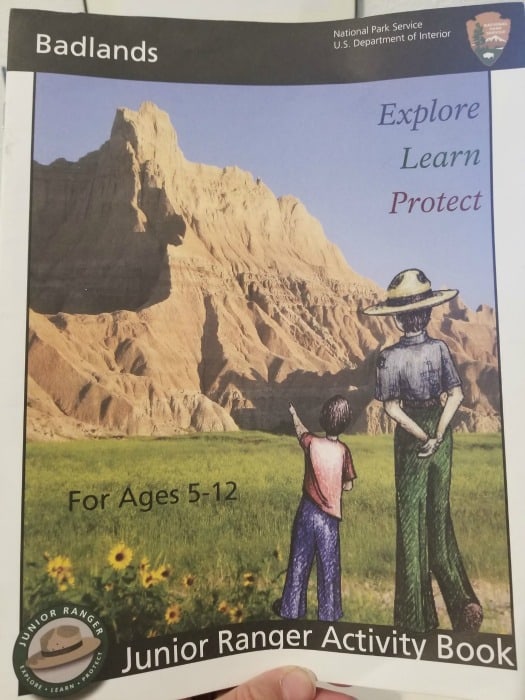 Is there a Junior Ranger Program at Badlands National Park?
There is a great Junior Ranger program for Badlands National Park available at the visitor center. You can also print the program ahead of time if you want to start working on it before your trip.
Also, check with the visitor center for the Night Sky Junior Ranger Program.
From June through August the park offers specific Junior Ranger programs and interpretive sessions. Check with the visitor center for current times.
Can I bring my Dog/Pet with me to Badlands National Park?
Pets are allowed in the park but must be on a leash less than 6 feet in length. Pets are not allowed on trails, backcountry areas, or inside buildings. If your pet needs more room to walk, consider visiting the trails managed by US Forest Service, Buffalo Gap National Grassland, located adjacent to Badlands National Park, where pets are permitted (with some exceptions). For more information contact the Buffalo Gap Visitor Center which is located in Wall at (605) 279-2125.
National Park sites near Badlands National Park
Minuteman National Historic Site - 8 miles
Mount Rushmore National Memorial - 99 miles
Wind Cave National Park - 132 miles
Jewel Cave National Monument - 148 miles
Devils Tower National Monument - 189 miles
Agate Fossil Beds National Monument - 210 miles
Scotts Bluff National Monument - 247 miles
Fort Laramie National Historic Site - 285 miles
Pipestone National Monument - 325 miles
Theodore Roosevelt National Park - 332 miles
Little Bighorn Battlefield National Monument - 318 miles
Check out all of the South Dakota National Parks and National Parks in North Dakota.
Additional Resources Information