Fort Laramie National Historic Site is located in the Southeast corner of Wyoming between the cities of Casper and Cheyenne. In 1834 Fort Laramie evolved as a private fur trading fort. This fur-trading post evolved into the largest and best known military post on the Northern Plains before its abandonment in 1890.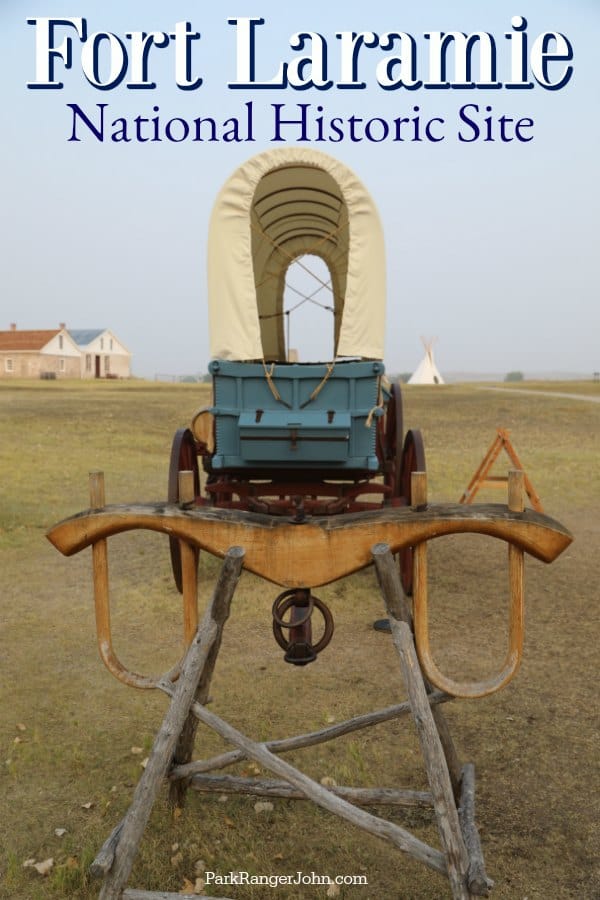 Fort Laramie National Historic Site
Fort Laramie also saw the sweeping saga of America's western expansion and Indian resistance to encroachment on their territories. Today, park visitors simply drive along Highway 26 to the park's cutoff on state highway 160. From here you will run into the Army Iron Bridge and Confluence Trail before driving right up to the entrance of the park.
It is a short walk from the parking lot to the main grounds of Fort Laramie. There is ADA parking a little bit closer to the main grounds.
There is a gravel path that loops around the "Parade Grounds" where you can walk through several reconstructed and historic buildings that are spread out in a large rectangle. You will want to plan 30-90 minutes minimum to walk all the way around the buildings and check them out.
There are great interpretive panels describing not only the buildings but the covered wagons, Mormon carts, and ox carts that can be found on the grounds. There is also an audio tour that can be rented at the visitor center to learn more about the park.
Many of the historic buildings can be walked through and explored. If you love interpretive panels and history you will want to plan a few hours to explore this park.
The land that would become Fort Laramie was originally established as a stockade established by fur traders as a trading fort in 1834 known as Fort Williams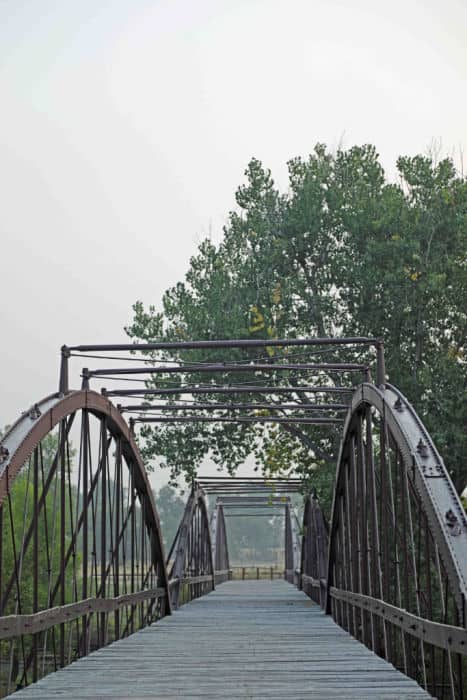 Army Iron Bridge
On your way to Fort Laramie, one of the first sites you will see is the Iron Army Bridge. This historic bridge was a permanent bridge over the North Platte River making crossing a lot easier.
The 1.6-mile Confluence Trail starts next to the Army Iron Bridge. It follows along the North Platte River and is gorgeous. While we were looking at the river a Bald Eagle flew over along with a ton of other birds.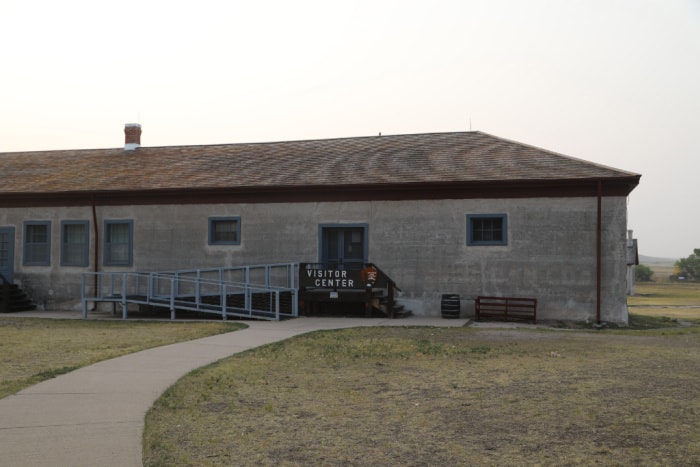 Visitor Center
The visitor center is housed in an 1884 commissary building. This building would have been divided into two rooms for the storage of meat in one room and then flour, rice, and beans in the other room.
Smaller rooms would have been used for offices, and canned goods. This building even had a hand-cranked elevator that went down to the small cellar. From this building rations and other official Army food items would have been dispensed.
Make sure to watch the park's 18-minute film to help you get the most of your visit.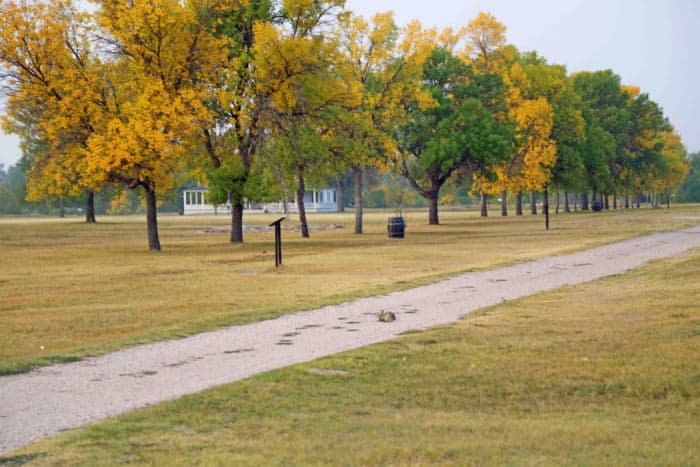 Historic weapons demonstrations
Historic weapons demonstrations can be seen Friday through Sunday, including firing the 12-Pounder Mountain Howitzer.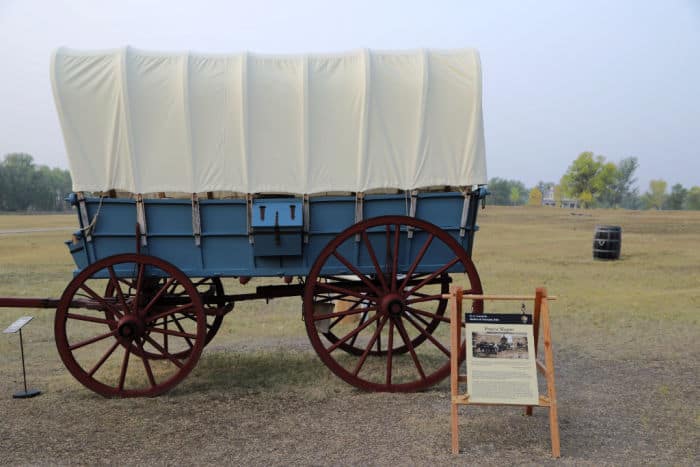 Prairie Wagon
These Prairie Wagons were built tough to withstand the five-month, 2000 mile trip west. They carried up to 2500 pounds of supplies to get them started once they found a place to settle.
Emigrants typically did not ride in the wagon but walked beside them as every pound of cargo they carried with them was precious and vital to get settled into their new homes.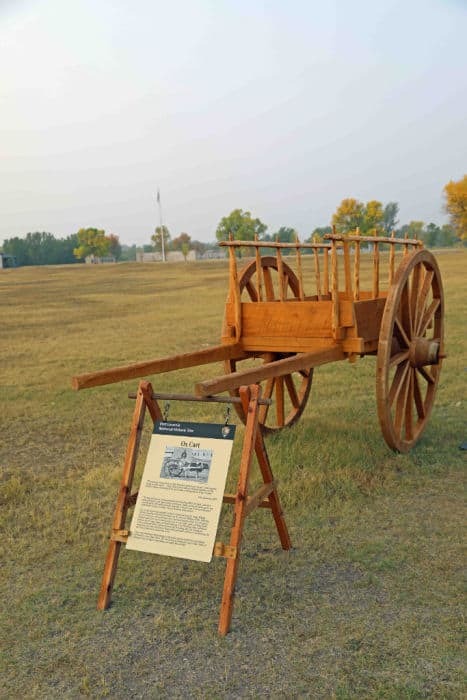 Ox Cart
The Ox Cart proved to be an invaluable tool for fur traders. A horse or ox could haul this cart with up to 1000 pounds of furs! These carts were also used to carry other valuable supplies like coffee, lead, guns, clothing, tobacco and sugar.
Walk the Parade Grounds and Tour Fort Laramie
This is by far the best way to get to know Fort Laramie! It's an easy walk and you can walk through several of the buildings which have several interpretative panels giving the history of each building.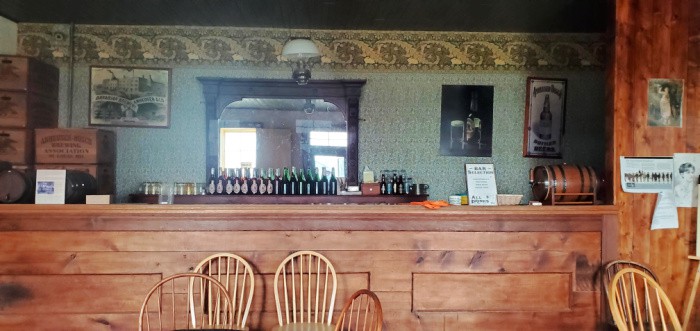 Post Trader's Store
Built and operated by a civilian licensed by the United States Army. The store made a profitable business with numerous customers including soldiers, Indians, gold seekers, and emigrants.
An 1883 addition included the Officer's Club and an enlisted men and civilian's bar.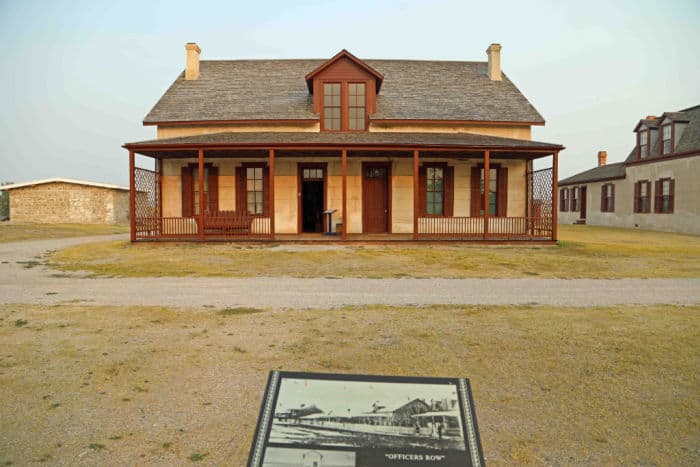 Officers Quarters
There were Officers Quarters on both sides of Old Bedlam.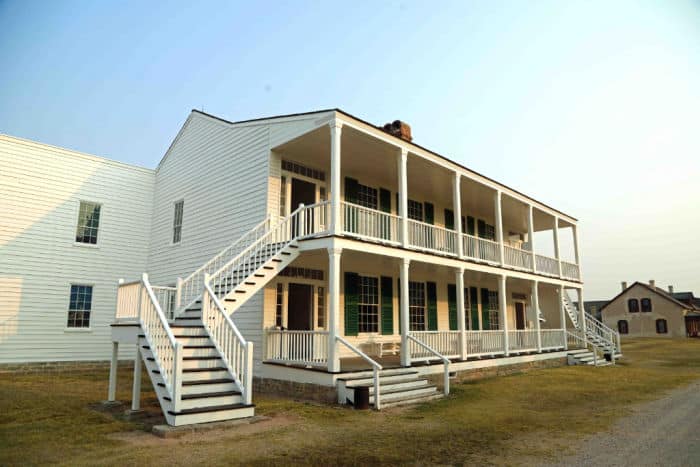 Old Bedlam
Old Bedlam was built in 1849 and is the oldest standing military building in Wyoming. Fort Laramie was established when the military came to the state to protect emigrants traveling on the Mormon Trail, Oregon Trail, and the Overland Trail. Old Bedlam is known for its role as the post's headquarters, but its original designation was for officer quarters.
Old Bedlam has been classified as a National Historic Site and the National Park Service does a fantastic job maintaining this historical building!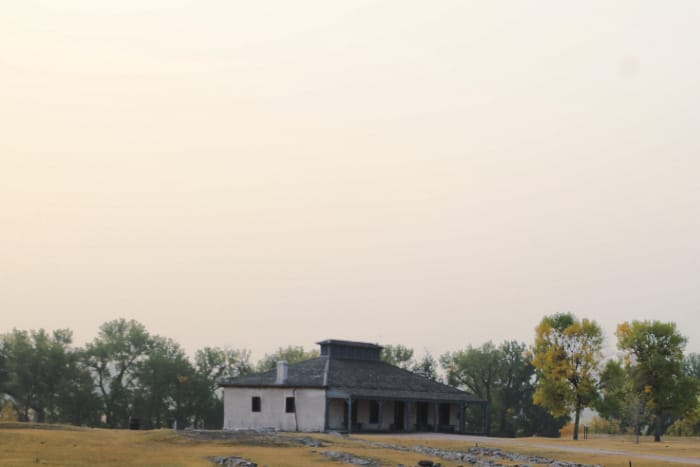 New Guard House
After many complaints by the post surgeon, this new guardhouse replaced an unhealthy, overcrowded older one. It held both major and minor offenders.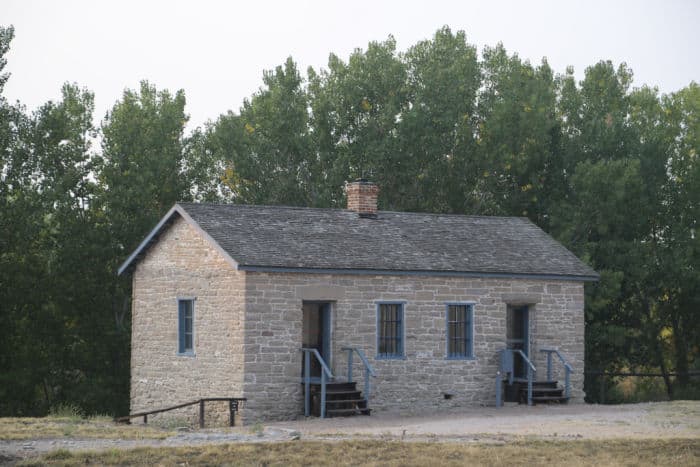 Old Guard House
The Old Guard House was the second guardhouse. It was built to hold 40 prisoners but oftentimes it held more.
Captain's Quarters
Was originally planned to be the Commanding Officer's Quarters became a duplex for company-grade officers.
Picnic Area
Make sure to pack a lunch with you and enjoy this gorgeous picnic area just down from the main grounds that has a super clean bathroom, barbecue braziers, and picnic tables. There is plenty of tree cover for shade on a hot summer day.
Travel Tips
Closest Town – Laramie, Wyoming
There is a small RV park near the turnoff to the park. In town, there is a Haystack Trading Mart with ice cream, a police station, and a hungry cowboy restaurant.
The town is really small! We did not see many amenities for visitors who may want to stay near the park.
The closest larger towns include Casper, Wyoming.
You will want to have water and snacks packed with you for your visit to the park. There is no food or concessions available within the park.
Be prepared for sun and warm weather if visiting in the summer. There is a bit of shade from trees but a large part of the park is open walkways so you will want a hat, sunglasses, and sunscreen.
Where to stay near Fort Laramie NHS
Click on the map below to check out current rates for hotels and vacation rentals near Fort Laramie. You will most likely have to stay in Guernsey, Torrington, or Wheatland area.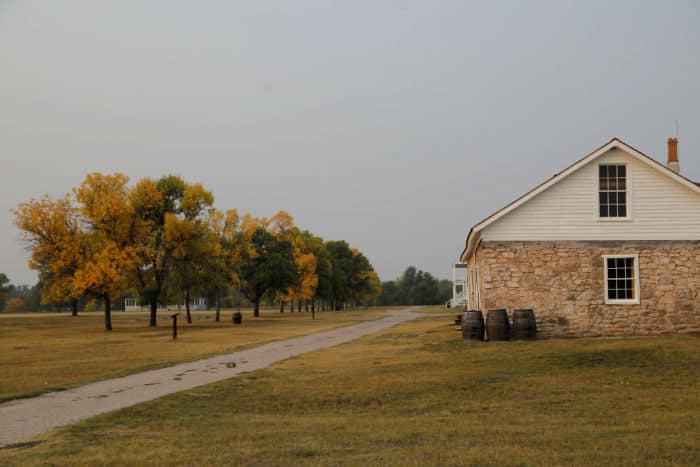 Things to know when planning a trip to Fort Laramie NHS
Park Address - 965 Gray Rocks Road, Fort Laramie, WY 82212
Entrance Fees - $0.00, there is no entrance fee to visit the park.
Lodging - There is no lodging or camping at Fort Laramie National Historic Site.
Camping - RV, and camping are available in the town of Fort Laramie and nearby Guernsey State Park.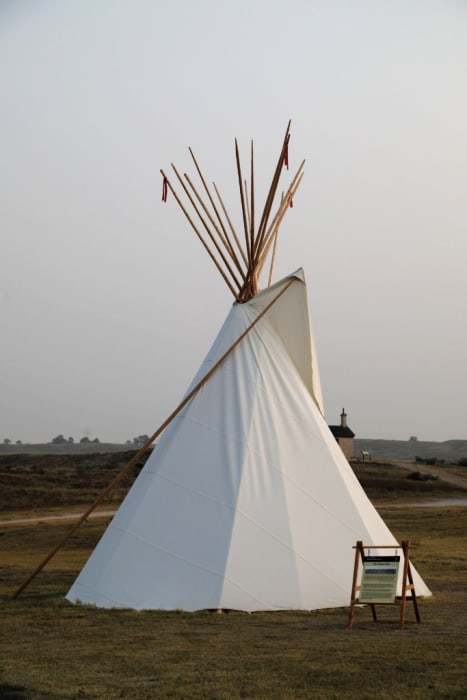 National Park Sites near Fort Laramie NHS
Scotts Bluff National Monument - 52 miles
Agate Fossil Beds National Monument - 78 miles
Wind Cave National Park - 154 miles
Jewel Cave National Monument - 165 miles
Mount Rushmore National Memorial - 184 miles
Rocky Mountain National Park - 184 miles
Devils Tower National Monument - 212 miles
Badlands National Park - 263 miles
Little Bighorn Battlefield National Monument - 340 miles
Check out all of the Wyoming National Parks and neighboring Montana National Parks, Colorado National Parks, Idaho National Parks, South Dakota National Parks, Utah National Parks, and National Parks in Nebraska
If you are road tripping south make sure to check out all of the epic things to do in Cheyenne, Wyoming!