Complete Guide to Fort Laramie National Historic Site in Wyoming, including history, things to do, hours, directions, and so much more.

Fort Laramie National Historic Site
Fort Laramie National Historic Site is located in the Southeast corner of Wyoming between the cities of Casper and Cheyenne.
In 1834 Fort Laramie evolved as a private fur trading fort. This fur-trading post evolved into the largest and best-known military post on the Northern Plains before its abandonment in 1890.

About Fort Laramie National Historic Site
Fort Laramie, the" Grand Old Post" also saw the entire sweeping saga of America's western expansion and Indian resistance to encroachment on their territories.
Today, park visitors simply drive along Highway 26 to the park's cutoff on state highway 160. From here, you will run into the Army Iron Bridge and Confluence Trail before driving right up to the entrance of the park.
It is a short walk from the parking lot to the main grounds of Fort Laramie. There is ADA parking a little bit closer to the main grounds.
There is a gravel path that loops around the "Parade Grounds," where you can walk through several reconstructed and historic buildings that are spread out in a large rectangle. You will want to plan 30-90 minutes minimum to walk all the way around the buildings and check them out.
There are great interpretive panels describing not only the buildings but the covered wagons, Mormon carts, and ox carts that can be found on the grounds. There is also an audio tour that can be rented at the visitor center to learn more about the park.
Many of the historic buildings can be walked through and explored. If you love interpretive panels and history you will want to plan a few hours to explore this park.
The land that would become Fort Laramie was originally established as a stockade established by fur traders as a trading fort in 1834 known as Fort Williams.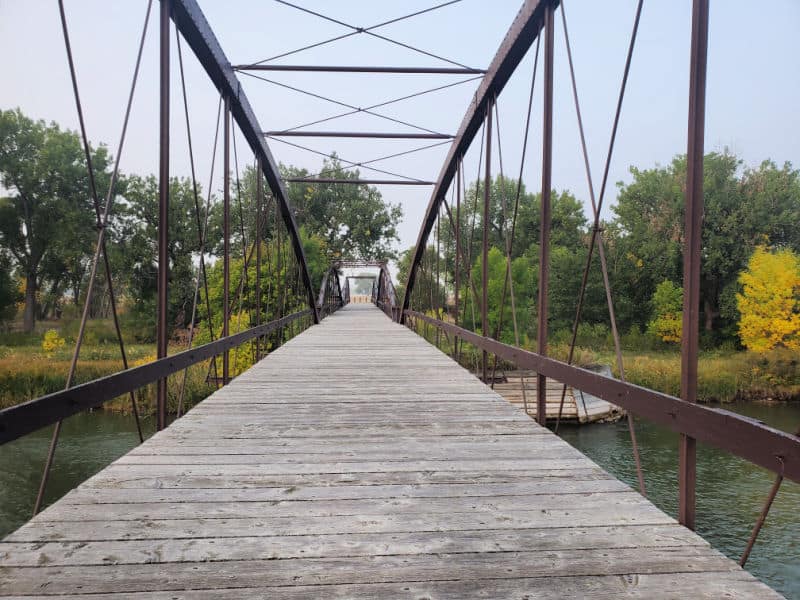 Is Fort Laramie National Historic Site worth visiting?
Yes, This National Historic Site is well preserved and you can wander around the grounds to get a feel of what life was like at the Fort.
Explore and learn more about on of America's most important locations in the history of westward expansion.
History of Fort Laramie National Historic Site
The Fort Laramie National Historic Site, built in 1834, is one of the most famous forts in the American west. Fort Laramie was initially used as a private fur trading post and was called Fort William. The fort was a major hub for traders and emigrants traveling along the Oregon Trail.
Fort Laramie was operational from 1834. Initially, the fort was a place to trade fur with the Native Nations tribes of the Northern Plains. The fort operated until 1870. The fort was named Fort William, then Fort John, until eventually, it became a military fort called Fort Laramie.
Fort Laramie not only hosted emigrants making their way to Oregon, but it was the scene of several treaty negotiations between the U.S Army and the Native Nations tribes of the Northern Plains.
Fort Laramie as a Fur Trading Post
The original fort, constructed on the site that is now Fort Laramie National Historic Site, was built by William Sublette and Robert Campbell in 1834 as a fur trading outpost. The pair chose the site due to its proximity to the steamboat landings on the Upper Green River and the Missouri River.
The beaver fur trade was dwindling by the time Fort William was built. Fur traders began trading Buffalo hides, which Native Nations tribes of the Northern Plains used for robes. Fort William, which became Fort John, was the main fur trading outpost in the Northern Plains and along the Oregon Trail.
In the spring, Fort John became a hub of activity, as caravans would arrive to conduct trade with the Native Nations tribes. Buffalo hides were exchanged for manufactured goods. Hundreds of buffalo hides were sent to the East in winter.
In the 1840s, the Buffalo hide trade with the tribes of the Northern Plains began to dwindle. More people started using the Oregon Trail to emigrate during the gold rush of 1848. This increase in people meant a disruption to the life of the Northern Plains tribes.
Tensions between the emigrants and the Northern Plains tribes increased, and in 1849, the U.S Army bought Fort John. They renamed the fort, Fort Laramie. With tens of thousands of emigrants now using the Oregon Trail, the U.S Army needed a base of operations on the trail.
Fort Laramie as a Military Post
When the army bought Fort John for $4,000 in June 1849, they added to the forts existing structures. They built officers' and soldiers' quarters, a bakery, stables, and a place to store gunpowder.
The Oregon Trail became one of the main transport routes used by those who wished to settle in the west. The garrisons stationed at Fort Laramie protected the travelers along the Oregon, Mormon, and California trails.
Fort Laramie became the main base for the U.S Army in the Northern Plains. In 1849 the first Sioux War broke out in the area. This first confrontation was the beginning of many between the settlers and the Native Nations tribes.
Fort Laramie During the Plains Wars
In 1854 war erupted on the Great Plains between the Americans and the Native Nations tribes who lived in the region. Fort Laramie played a vital role during this period of conflict.
Fort Laramie became a stop on the now famed Pony Express riders route in 1860. The fort was also one of the main stops for emigrants and stagecoaches traveling west. As tensions with the Native Nations tribes increased, the fort served as a base for military campaigns against the Native Americans tribes.
During the Plains Wars, Fort Laramie hosted many treaty negotiations between the U.S government and the tribes of the Northern Plains. In 1851, the Horse Creek Treaty was negotiated at the fort, as was the controversial Treaty of Fort Laramie in 1868.
The Treaty of Fort Laramie was signed between the U.S government and the Sioux and Arapaho Nations in April 1868. The validity of the treaty continues to be contested. The nations agreed not to attack travelers or settlers and to relocate to the Black Hills region of Dakota.
What Happened to Fort Laramie?
As with many of the frontier forts that protected travelers, once the transcontinental railroad was completed, and the Native Nations tribes were relocated, the fort was abandoned. What was once a frontier hub for communication, trade, and transportation, was auctioned off and left derelict.
Fort Laramie was used by homesteaders in 1890, which meant that the area surrounding the fort was used for farming and ranching. Many of the buildings that made up the historic fort were demolished by the homesteaders.
The remaining 214 acres of Fort Laramie were transferred to the National Parks Service in 1938 by President Franklin D. Roosevelt.
Today, Fort Laramie serves as a National Historic Site consisting of 536 acres. The National Historic Site tells the story of frontier life in the 19th century.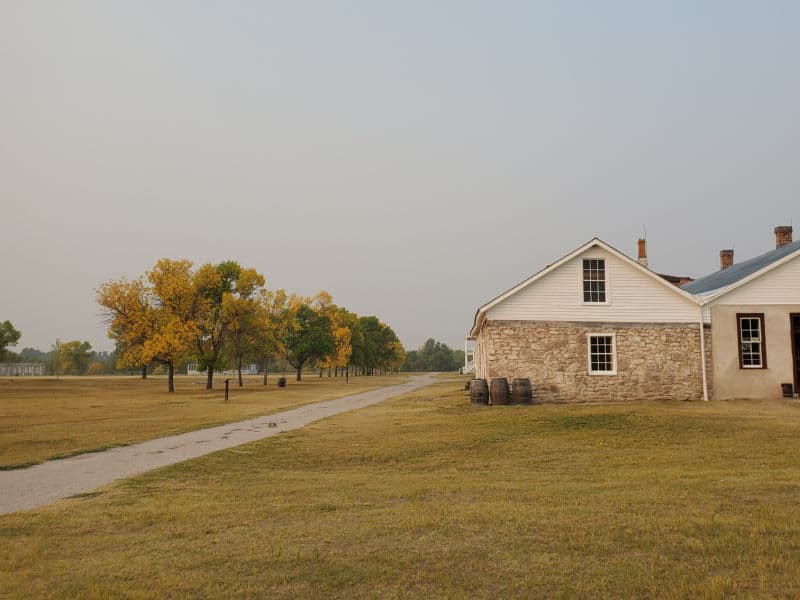 Things to know before your visit to Fort Laramie National Historic Site
Entrance fee
$0.00, there is no entrance fee to visit the park.
Planning a National Park vacation? America the Beautiful/National Park Pass covers entrance fees for an entire year to all US National Park Sites and over 2,000 Federal Recreation Fee Sites.
The park pass covers everyone in the car for per vehicle sites and for up to 4 adults for per-person sites.
Buy on REI.com and REI will donate 10% of pass proceeds to the National Forest Foundation, National Park Foundation and the U.S. Endowment for Forestry & Communities.
Learn more about National Park Passes for parks that have an entrance fee.
Free Entrance Days -Mark your calendars with the five free entrance days the National Park Service offers annually.
Time Zone
Mountain Time
Pets
Pets are welcome, but they must be under control at all times. This means that they should be either carried or kept on a leash with a maximum length of six feet.
Pets are allowed on the historic grounds of the park, but they are not allowed inside park buildings. It is also important to note that pets should not be tied to any objects and left unattended while visiting the park.
Cell Service
The cell phone service may vary depending on the carrier and location within the park.
Park Hours
The park is open from Sunrise to Sunset.
Wi-Fi
There is a public Wi-Fi available in the visitor center and surrounding area.
Insect Repellent
Insect repellent is always a great idea when outdoors, especially if you are around any body of water.
We use Permethrin Spray on our clothes before our park trips.
Water Bottle
Make sure to bring your own water bottle and plenty of water with you. Plastic water bottles are not sold in the park.
Parking
There is a nice size parking area available for the park.
Food/Restaurants
There are no restaurants within the park.
Gas
There are no gas stations within the park.
Drones
Drones are not permitted within National Park Sites.
National Park Passport Stamps
National Park Passport stamps can be found in the visitor center.
Make sure to bring your National Park Passport Book with you or we like to pack these circle stickers so we don't have to bring our entire book with us.
Fort Laramie NHS is part of the 2009 Passport Stamp Set
Electric Vehicle Charging
There are EV Charging stations in Laramie, Gillette, Cheyenne, Casper, Riverton, Sheridan, Jackson, and Evanston, Wyoming.
The state of Wyoming is working to expand EV charging accessibility.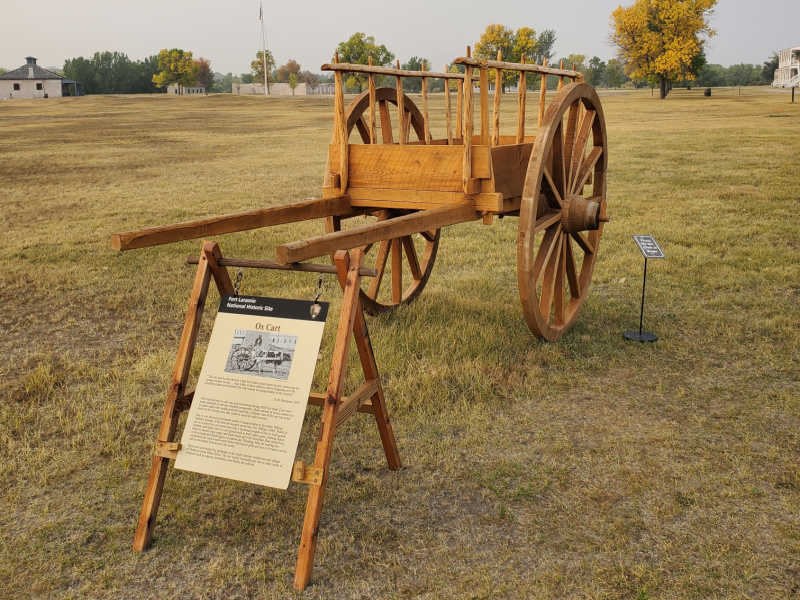 Details about Fort Laramie National Historic Site
Size - 833 acres
Check out how the park compares to other National Parks by Size.
Date Established
March 4, 1931 - Franklin Roosevelt declared Fort Laramie a National Monument and placed it under the protective stewardship of the National park Service.
April 16, 1960 - Congress revised the boundaries and changed the name from a National Monument to a National Historic Site.
November 10, 1978 - The National park and Recreation Act of 1978 revised the boundaries of the park.
Visitation
In 2021, Fort Laramie NHS had 42,904 park visitors.
In 2020, Fort Laramie NHS had 26,066 park visitors.
In 2019, Fort Laramie NHS had 42,904 park visitors.
Learn more about the most visited and least visited National Parks in the US
National Park Address
965 Gray Rocks Road, Fort Laramie, WY 82212
National Park Map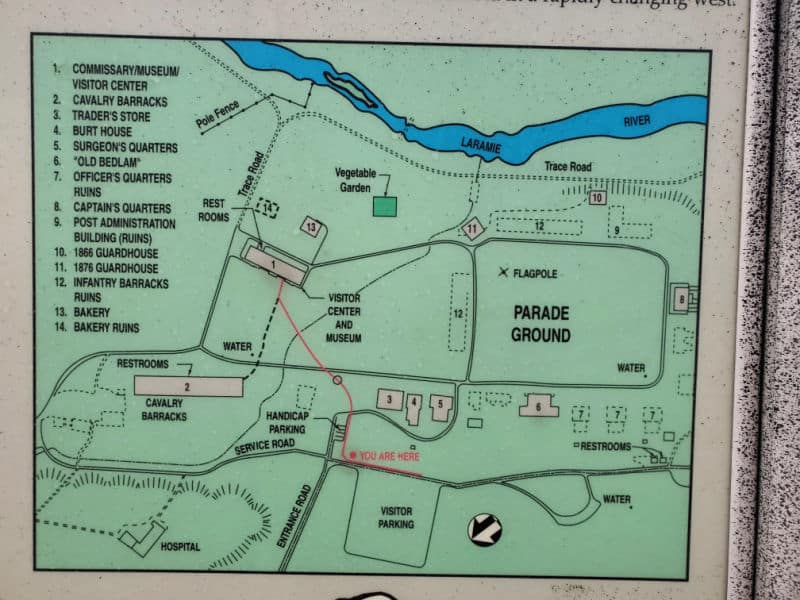 Where is Fort Laramie National Historic Site?
Fort Laramie National Historic Site is located in South Eastern Wyoming, approximately 125 miles southeast of Casper, 100 miles north of Cheyenne, and 55 miles west of Scottsbluff, Nebraska.
Estimated distance from major cities nearby
Aurora, CO - 210 miles
Denver, CO - 240 miles
Colorado Springs, CO - 280 miles
Lincoln, NE - 450 miles
Omaha, NE - 510 miles
Wichita, KS - 620 miles
Albuquerque, NM - 660 miles
Estimated Distance from nearby National Park
Wind Cave National Park - 161 miles
Rocky Mountain National Park - 202 miles
Badlands National Park - 210 miles
Grand Teton National Park - 372 miles
Yellowstone National Park - 424 miles
Great Sand Dunes National Park - 445 miles
Black Canyon of the Gunnison National Park - 458 miles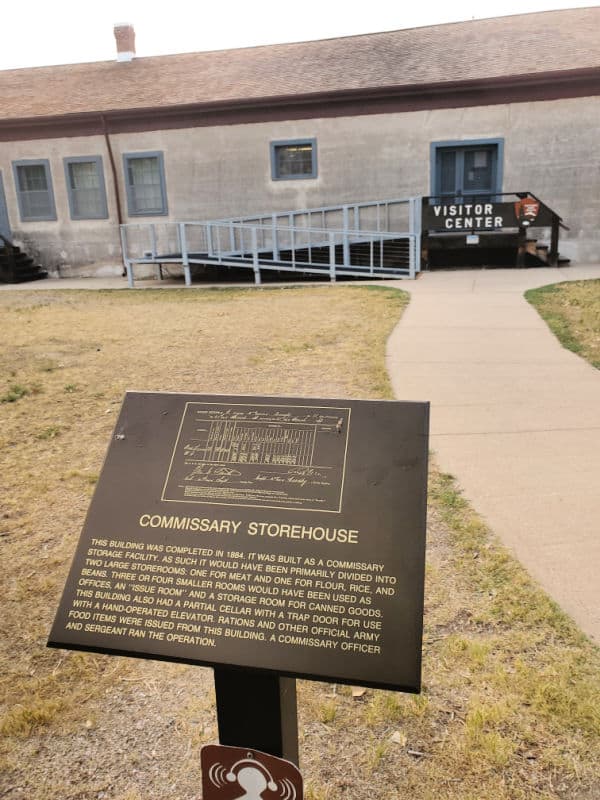 Where is the National Park Visitor Center?
It is located in the restored 1884 Commissary Storehouse.
Getting to Fort Laramie National Historic Site
Closest Airports
Western Nebraska Regional Airport - 60 miles
International Airports
Denver International Airport - 206 miles
Regional Airports
Cheyenne Regional Airport - 107 miles
Laramie Regional Airport - 115 miles
Driving Directions
From Interstate-25, take exit 92 to U.S. Highway 26, proceed east to the town of Fort Laramie; turn right on State Route 160 and travel 3 miles to the park entrance.
From U.S. Highways 26/85, proceed west from the town of Lingle on Highway 26 to the town of Fort Laramie; turn left on State Route 160 and travel 3 miles to the park entrance.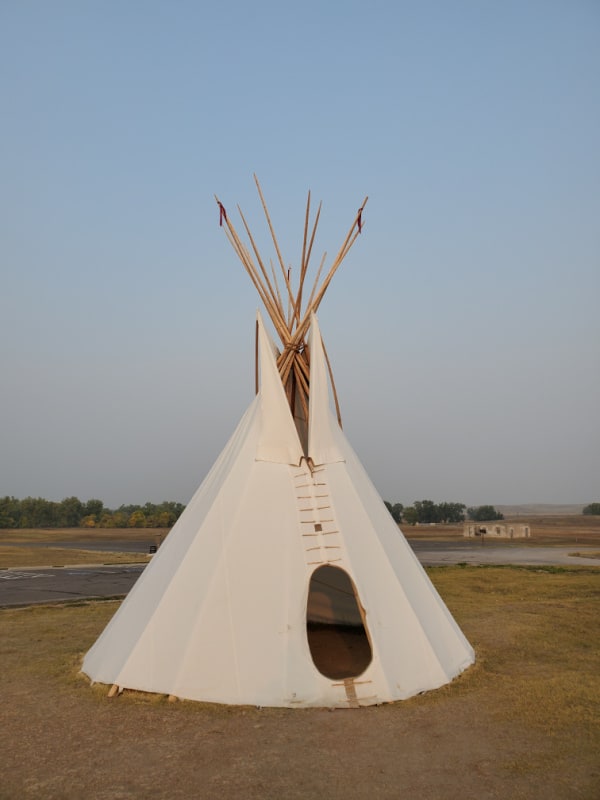 Best time to visit Fort Laramie National Historic Site
You can enjoy the natural beauty and rich history of Fort Laramie National Historic Site any time of the year.
Weather and Seasons
The warmest weather is from June 11 to September 13, with an average daily high temperature above 80 degrees.
The coldest weather is from November 18 to March 4, with an average daily high temperature below 50 degrees.
The snowiest weather usually occurs between November 23 to April 22, with an average of at least 1 inch a month. March gets the most snow with an average of 1.7 inches.
Best Things to do in Fort Laramie National Historic Site
We suggest planning at least a few hours to fully explore Fort Laramie and wander the park grounds.
Visitor Center
The visitor center is housed in an 1884 commissary building. This building would have been divided into two rooms for the storage of meat in one room and then flour, rice, and beans in the other room.
Smaller rooms would have been used for offices, and canned goods. This building even had a hand-cranked elevator that went down to the small cellar. From this building rations and other official Army food items would have been dispensed.
Make sure to watch the park's 18-minute film to help you get the most of your visit.
The Junior Ranger program can be picked up at the visitor center. This is a great way for visitors of all ages to learn more about the park.
Army Iron Bridge
On your way to Fort Laramie, one of the first sites you will see is the Iron Army Bridge. This historic bridge was a permanent bridge over the North Platte River making crossing a lot easier.
The 1.6-mile Confluence Trail starts next to the Army Iron Bridge. It follows along the North Platte River and is gorgeous. While we were looking at the river a Bald Eagle flew over along with a ton of other birds.
Historic weapons demonstrations
Historic weapons demonstrations can be seen Friday through Sunday, including firing the 12-Pounder Mountain Howitzer.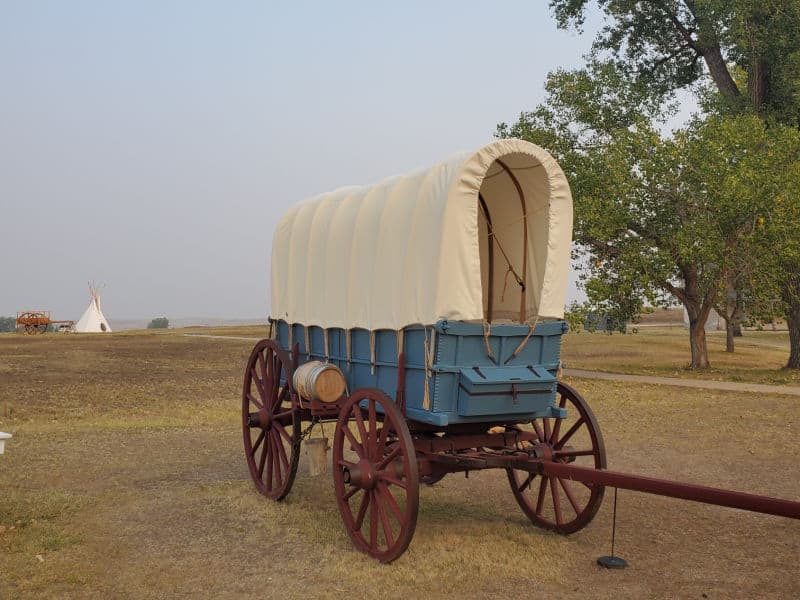 Prairie Wagon
These Prairie Wagons were built tough to withstand the five-month, 2000 mile trip west. They carried up to 2500 pounds of supplies to get them started once they found a place to settle.
Emigrants typically did not ride in the wagon but walked beside them as every pound of cargo they carried with them was precious and vital to get settled into their new homes.
Ox Cart
The Ox Cart proved to be an invaluable tool for fur traders. A horse or ox could haul this cart with up to 1000 pounds of furs! These carts were also used to carry other valuable supplies like coffee, lead, guns, clothing, tobacco and sugar.
Walk the Parade Grounds and Tour Fort Laramie
This is by far the best way to get to know Fort Laramie! It's an easy walk and you can walk through several of the buildings which have several interpretative panels giving the history of each building.
Post Trader's Store
Built and operated by a civilian licensed by the United States Army. The store made a profitable business with numerous customers including soldiers, Indians, gold seekers, and emigrants.
An 1883 addition included the Officer's Club and an enlisted men and civilian's bar.
Officers Quarters
There were Officers Quarters on both sides of Old Bedlam.
Old Bedlam
Old Bedlam was built in 1849 and is the oldest standing military building in Wyoming. Fort Laramie was established when the military came to the state to protect emigrants traveling on the Mormon Trail, Oregon Trail, and the Overland Trail.
Old Bedlam is known for its role as the post's headquarters, but its original designation was for officer quarters.
Old Bedlam has been classified as a National Historic Site and the National Park Service does a fantastic job maintaining this historical building!
New Guard House
After many complaints by the post surgeon, this new guardhouse replaced an unhealthy, overcrowded older one. It held both major and minor offenders.
Old Guard House
The Old Guard House was the second guardhouse. It was built to hold 40 prisoners but oftentimes it held more.
Captain's Quarters
Was originally planned to be the Commanding Officer's Quarters became a duplex for company-grade officers.
Picnic Area
Make sure to pack a lunch with you and enjoy this gorgeous picnic area just down from the main grounds that has a super clean bathroom, barbecue braziers, and picnic tables. There is plenty of tree cover for shade on a hot summer day.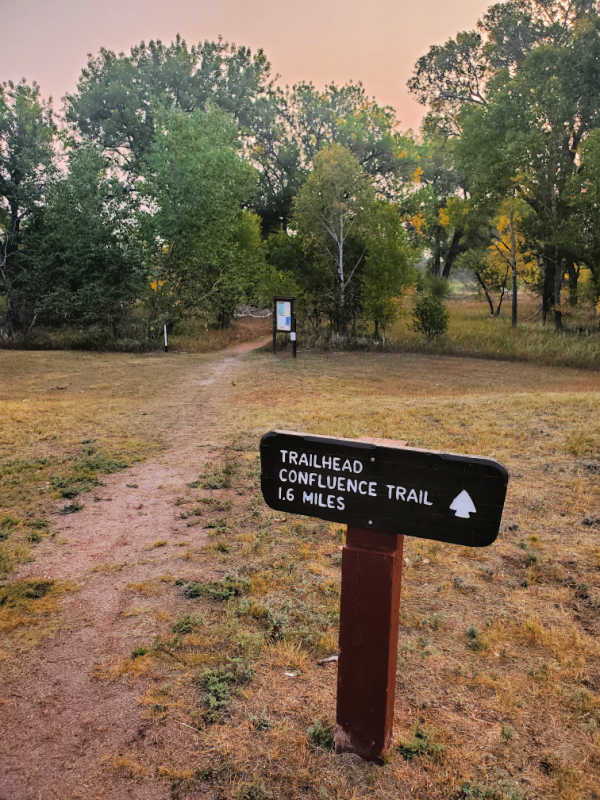 Hiking in Fort Laramie National Historic Site
Always carry the 10 essentials for outdoor survival when exploring.
Confluence Trail
This 1.6 mile loop trail takes you from the Old Iron Bridge to the confluence of the Laramie River and North Platte Rivers.
Travel Tips
Closest Town – Laramie, Wyoming
There is a small RV park near the turnoff to the park. In town, there is a Haystack Trading Mart with ice cream, a police station, and a hungry cowboy restaurant.
The town is really small! We did not see many amenities for visitors who may want to stay near the park.
The closest larger towns include Casper, Wyoming.
You will want to have water and snacks packed with you for your visit to the park. There is no food or concessions available within the park.
Be prepared for sun and warm weather if visiting in the summer. There is a bit of shade from trees but a large part of the park is open walkways so you will want a hat, sunglasses, and sunscreen.
How to beat the crowds in Fort Laramie National Historic Site?
We did not experience any crowds in the park.
Where to stay when visiting Fort Laramie National Historic Site
There are no National Park Lodges within the park.
Cobblestone Inn & Suites - Guernsey - look forward to a grocery/convenience store, a terrace, and a garden. Stay connected with free in-room Wi-Fi, and guests can find other amenities such as laundry facilities and a fireplace in the lobby.
Bunkhouse Motel - Guernsey - free continental breakfast and a library. Guests can connect to free in-room Wi-Fi.
Americas Best Value Inn - Torrington - free continental breakfast, shopping on site, and laundry facilities, and free in-room Wi-Fi.
Cobblestone Hotel and Suites - Torrington - free breakfast buffet, laundry facilities, and a bar at Cobblestone Hotel and Suites Torrington. In addition to a gym and a 24-hour business center, guests can connect to free in-room Wi-Fi.
Holiday Inn Express Hotel & Suites - Torrington - A free breakfast buffet, a free roundtrip airport shuttle, free in-room Wi-Fi, and dry cleaning/laundry services are just a few of the amenities provided.
Click on the map below to check out current rates for hotels and vacation rentals near Fort Laramie. You will most likely have to stay in Guernsey, Torrington, or Wheatland area.


Camping
RV, and camping are available in the town of Fort Laramie and nearby Guernsey State Park.
For a fun adventure check out Escape Campervans. These campervans have built in beds, kitchen area with refrigerators, and more. You can have them fully set up with kitchen supplies, bedding, and other fun extras. They are painted with epic designs you can't miss!
Escape Campervans has offices in Vancouver, Seattle, Portland, San Francisco, Las Vegas, Los Angeles, Phoenix, Salt Lake City, Denver, Chicago, New York, and Orlando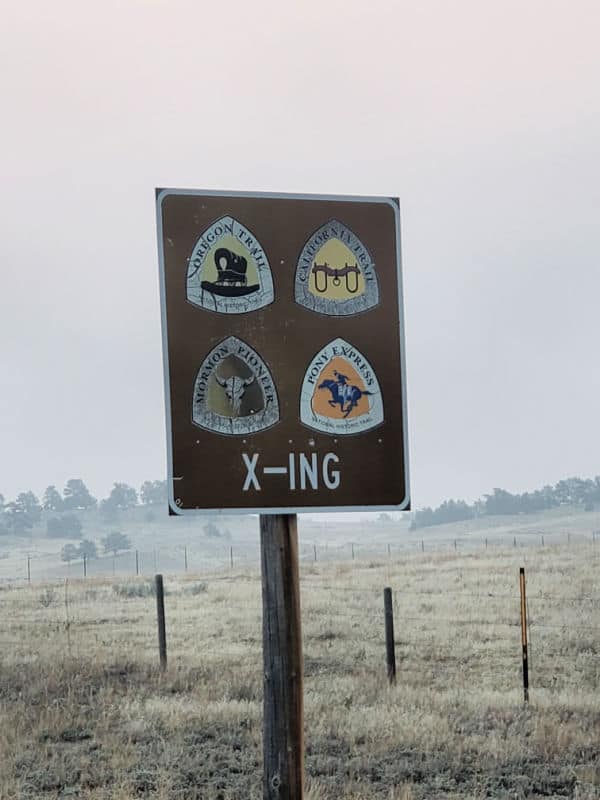 Parks Near Fort Laramie National Historic Site
Scotts Bluff National Monument - 52 miles
Agate Fossil Beds National Monument - 78 miles
Jewel Cave National Monument - 165 miles
Mount Rushmore National Memorial - 184 miles
Devils Tower National Monument - 212 miles
Little Bighorn Battlefield National Monument - 340 miles
The following historical trails cross near or in the park.
Oregon Trail National Historic Trail
California National Historic Trail
Mormon Pioneer National Historic Trail
Pony Express National Historic Trail
Check out all of the Wyoming National Parks and neighboring Montana National Parks, Colorado National Parks, Idaho National Parks, South Dakota National Parks, Utah National Parks, and National Parks in Nebraska
Nearby Wyoming State Parks include Guernsey State Park, Oregon Trail Ruts State Historic Site, Register Cliff State Historic Site, Glendo State Park, Fort Fetterman State Historic Site, and Fort Phill Kearny State Historic Site.
If you are road tripping south make sure to check out all of the epic things to do in Cheyenne, Wyoming!
Check out all of the US National Historic Sites managed by the NPS