Mesa Verde National Park – the only park dedicated to preserving the villages and structures hand-built by ancient civilizations – boasts more than 80 square miles to explore. Approximately 600 of the over 5,000 archaeological sites found in Mesa Verde National Park are cliff dwellings.
Other sites include mesa-top pueblos, farming terraces, towers, reservoirs and check dams. Today we are sharing our best Mesa Verde National Park Travel Tips! What you need to know to plan your trip and have the best time in the park.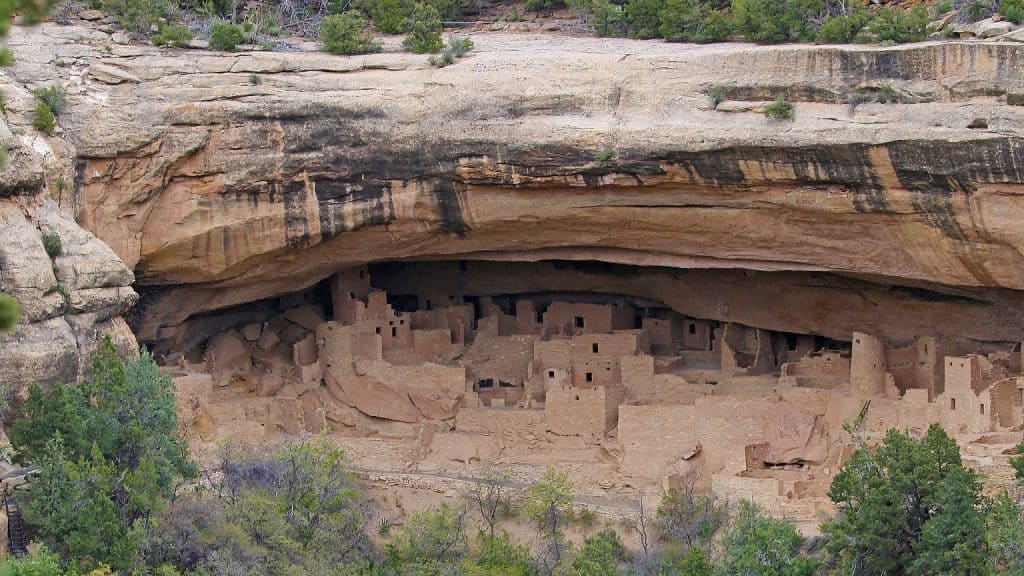 Mesa Verde National Park Travel Tips
I say this every time we talk about National Park Travel Tips so this is probably not a surprise but...when you see a bathroom use it. Bathrooms can be spread out in the park so if there is a chance you will need one make sure and stop.
Side roads and overlooks in the park close at sunset. Give yourself enough time to drive the 21 miles back out of the park.
The visitor center is fantastic! They have individual brochures on different cliff dwellings and things to see within the park. Well worth making time for a visit.
If you plan on taking a cliff dwelling tour make sure you have on sturdy shoes and are prepared to climb ladders depending on the tour you are on.
Bring snacks and water with you!
Layers are your friend! It can get windy on the top looking over at the cliff dwellings.
Interested in taking a Cliff Dwelling Tour? Head to this National Park page for information on each of the guided tours. Visit this page for tour tickets information. Tickets must be purchased in person. Tour tickets sell out quickly but can be purchased up to two days in advance. Tour tickets cost $5 a person. The best selection of times for ranger-guided tour tickets are available at the Visitor and Research Center, Morefield Ranger Station, or the Colorado Welcome Center
If you have any fears of tight spaces, cliffs, ladders, heights or anything along those lines you may want to watch these videos to help you choose which tour is right for you.
If you are feeling really brave you can book the Cliff Palace Twilight Tour. Tickets cost $20.00 per person. Tickets can be purchased in advance, online at www.recreation.gov or by phoning the call center at 1-877-444-6777
I highly suggest checking this page for current conditions within the park before your visit. This will let you know if there are any areas that are currently closed, inclement weather and road conditions. Currently, Spruce Tree House remains closed due to unstable rocks.
You can download the Mesa Verde National Park visitor guides ahead of time here. This is a great way to plan out your trip and maximize your time in the park.
Visitor Information is also available by calling 970-529-4465
Cell phone coverage is limited within the park. We had coverage at the top of the mountain area but not many other places within the park. There is FREE Wi-Fi at the visitor center.
Be prepared to drive at least 50 miles while within the park. Make sure you have more than enough gas. You never know when a deer jam or other animal sighting will happen and you will be stuck in traffic. Gas is available at Morefield Campground village.
Pick up a Junior Naturalist Activity Booklet and check out a Discovery Pack available at Morefield Campground Ranger Station and the Junior Ranger Station in the museum for a great family activity.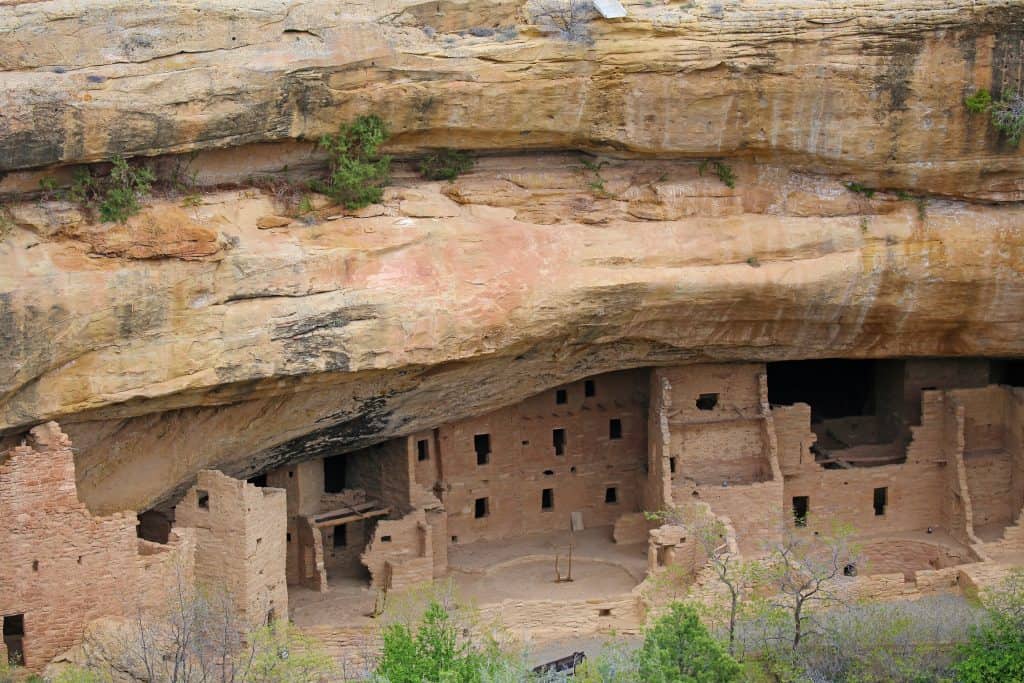 How much does it cost to visit Mesa Verde National Park?
Mesa Verde National Park entrance fee:
January 2 - April 30th - $15.00
May 1 - October 31 - $20.00
November 1 - December 31 - $15.00
The fee is good for entrance to Mesa Verde National Park for up to 7 days.
Free Entrance Days in 2019
The National Park Service offers the following Entrance Fee Free Days this year:
January 21: Birthday of Martin Luther King, Jr.
April 20: First day of National Park Week
August 25: National Park Service Birthday
September 28: National Public Lands Day
November 11: Veterans Day
Other fees such as reservation, camping, lodging, tours, concession and fees collected by third parties are not included unless stated otherwise.
How do I get to Mesa Verde National Park?
The Park entrance is along Highway 160 between the towns of Mancos and Cortez, Colorado and about 35 miles west of Durango, Colorado.
In order to reach the first cliff dwellings, you must drive 21 miles up a windy mountain road. This takes approximately 45 minutes on a good day. If you get car sick plan on stopping a few times along the way.
The nearest airports are Cortez, Colorado; Durango, Colorado; and Farmington, New Mexico
Where is the Mesa Verde National Park Visitor Center?
The Mesa Verde National Park visitor center is the first thing you come to when heading into the park. The visitor center has a gift store, bathrooms, interpretive exhibits, and free Wi-Fi! This is a great place to start your visit to Mesa Verde. We found the staff to be extremely helpful! They helped us map out our time in the park and maximize what we were able to see while there.
Mesa Verde National Park Visitor Center Hours:
January to early April, 8:30 am - 4:30 pm*
Early April to late May, 8:00 am - 5:00 pm
Late May to early September, 7:30 am - 7:00 pm
Early September to early November, 8:00 am - 5:00 pm
Early November to late December, 8:30 am - 4:30 pm*
*The visitor center is closed on Thanksgiving, Christmas, and New Year's Day.
For specific hours of operation during the time you are visiting, please go to Operating Hours & Seasons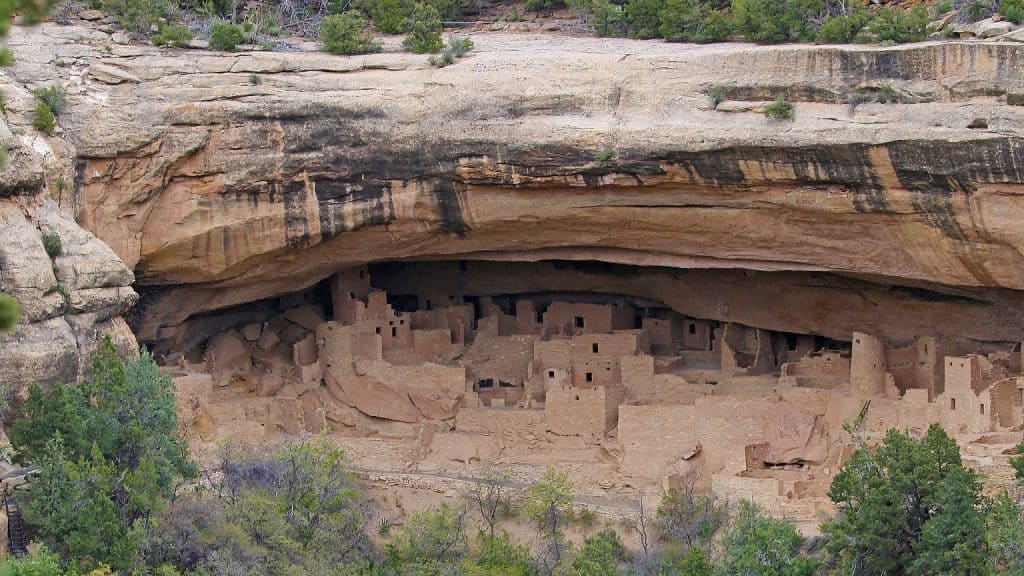 Where can I find out about staying/camping in Mesa Verde National Park?
Mesa Verde National Park Camping is available at the Morefield Campground. Located 4 miles inside the park the campground offers 267 sites including 15 full hookup RV sites (these require reservations). There is a full-service village at the campground that offers a gas station, RV Dumping station, coin-operated laundry, a gift shop, grocery store and best of all...Complimentary Showers!!!! The campground is scheduled to be open until October 18, 2017!
You can find full information about Camping in Mesa Verde on the National Park website
Mesa Verde camping reservations can be made on the Visit Mesa Verde Page
Is there a Junior Ranger Program at Mesa Verde National Park?
Yes! The Junior Ranger program was recently updated at Mesa Verde National Park. You can find the pamphlet and information at the visitor center. You can also download the Junior Ranger program ahead of your trip here.
Visit the Mesa Verde Junior Ranger Station at the Chapin Mesa Archeological Museum for some extra Junior Ranger fun.
Can I bring my Dog/Pet with me to Mesa Verde National Park?
Yes, but there are not a ton of spaces for pets within the park. Pets are not allowed on trails, in archeological sites, or in buildings (service animals, excepted). Pets may be walked along paved roads, in parking lots, and at the campground. Pets must be leashed at all times when outside a vehicle.
Please do not leave your pet in your vehicle!!!!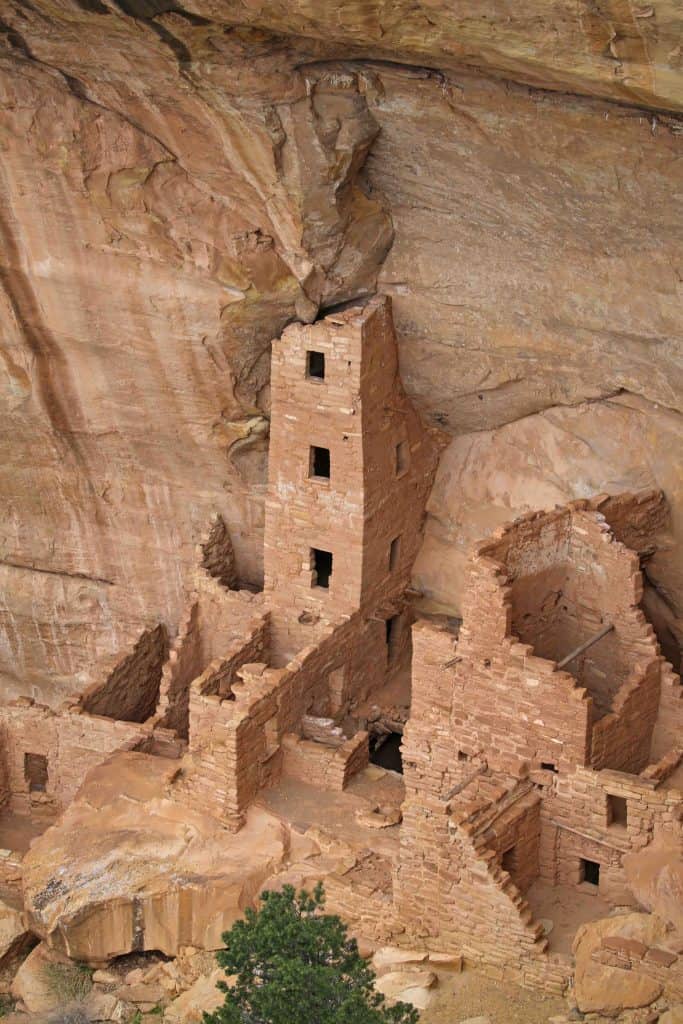 Mesa Verde National Park Facts
Mesa Verde became a National Park in 1906
The Cliff Palace is the largest and most famous dwelling at Mesa Verde
'Mesa' is the Spanish word for a table while 'Verde' is the Spanish word for green.
Mesa Verde NP protects over 4700 archaeological sites.
52,400 acres of land in the Mesa Verde National Park
1978 the Mesa Verde National Park was named a World Heritage Site.
Mesa Verde National Park was the first site in the world to be protected for its archeological significance.
Approx. 600,000 people visit Mesa Verde National Park every year.
74 mammal species can be found living in Mesa Verde National Park
200+ species of birds living in the park
Nearby Attractions
The Canyons of the Ancients National Monument is a rugged and breathtaking 176,000-acre landscape that contains the highest known density of archaeological sites in the U.S. Lowry Pueblo is the only developed recreation site within the monument. It features 40 rooms, eight kivas and a Great Kiva.
Hovenweep National Monument includes six prehistoric villages built between A.D 1200-1300. A variety of structures include the multistory towers perched on canyon rims and balanced on borders. Experts think these were used as celestial observatories, defensive structures, storage buildings, homes or a combination of these things.

The 125,000-acre Ute Mountain Tribal Park offers tribal member-guided tours of the pictographs, cliff dwellings, surface ruins and artifacts. This park was named by National Geographic Traveler as one of the "80 World Destinations for Travel in the 21st Century" – one of only nine U.S. destinations to receive the designation.
At the Crow Canyon Archaeological Center, travelers can play archaeologist for the day! Experiences include visiting a current excavation site, touring a working archaeology lab, and exploring the fascinating history of the Ancestral Puebloans. New in 2017, participants can be among the first to excavate at the Haynie site near Cortez and help researchers understand the Chaco influence in the Mesa Verde region. The new multi-year study features two Chaco-period Great Houses.
The visitors center for Crow Canyon is the remarkable Anasazi Heritage Center, which is also a museum of the Native cultures in the Four Corners Region. Many of the exhibits – like weaving on a loom, grinding corn into metate and handling real artifacts – are interactive.
Mesa Verde Country is home to two wineries, four breweries, one distillery, and an array of exceptional restaurants – many of which take advantage of the rich agriculture in the area to offer creative farm-to-table fare. Guy Drew Vineyards and Sutcliffe Vineyards are both located near the Canyons of the Ancients National Monument.
For those more interested in a cold beer, there are two options in Cortez – Main Street Brewery or J. Fargos. The Dolores River Brewery in downtown Dolores and the Mancos Brewing Company in the heart of Mancos are other options. There is also Ian's Alley Artisanal Rum, which offers rum that is double-distilled in small batches, for those who prefer spirits to suds.
Ancient Voices Audio Driving Tour
Help work up an appetite for one of these culinary delights by exploring Mesa Verde's archaeology wonders with the new-this-summer "Ancient Voices" audio driving tour. The downloadable podcast will share information about the many archaeological attractions in Mesa Verde Country, as well as local history, Western stories, botany, cosmology, music, and life in ancient Puebloan times.
Cortez Cab - Don't feel like driving to a restaurant to grab a bite to eat after an adventurous day in Mesa Verde Country? Cortez Cab will now deliver restaurant food to area hotels and lodges. It's simple – just call 970-565-6911 to set up delivery with a debit or credit card.
National Parks Near Mesa Verde National Park
Arches National Park - 130 miles (Check out our post on 7 epics hikes in Arches National Park)
Canyonlands National Park-Needles District - 100 miles
Canyonlands National Park - Island in the Sky District - 157 miles
Great Sand Dunes National Park - 220 miles
Grand Canyon National Park - 255 miles
Monument Valley Tribal Park - 153 miles
Pueblo-related Destinations
Anasazi Heritage Center/Canyons of the Ancients National Monument - 20 miles
Aztec Ruins National Monument- 75 miles
Canyon de Chelly National Monument - 152 miles
Chimney Rock National Monument - 81 miles
Chaco Culture National Historic Park - 141 miles
Hovenweep National Monument - 46 miles
Additional Resources Information
For more information on archaeology, après activities, dining and lodging in Mesa Verde, call 800-530-2998 or visit www.mesaverdecountry.com

Have you ever dreamed of being a Park Ranger? Check out my post on How to become a Park Ranger!