Arches National Park is one of the most popular National Parks in the United States! This is a park that takes your breath away and is truly awe-inspiring. With the park being so popular we wanted to share these Arches National Park Travel Tips to help you enjoy the park as much as possible. This is a park that can get crowded quickly and you will want to be prepared for it. Getting the park at sunrise is one of the best ways to get in and see things before the huge crowds arrive.
Even if the park is crowded it is still amazing and so worth it.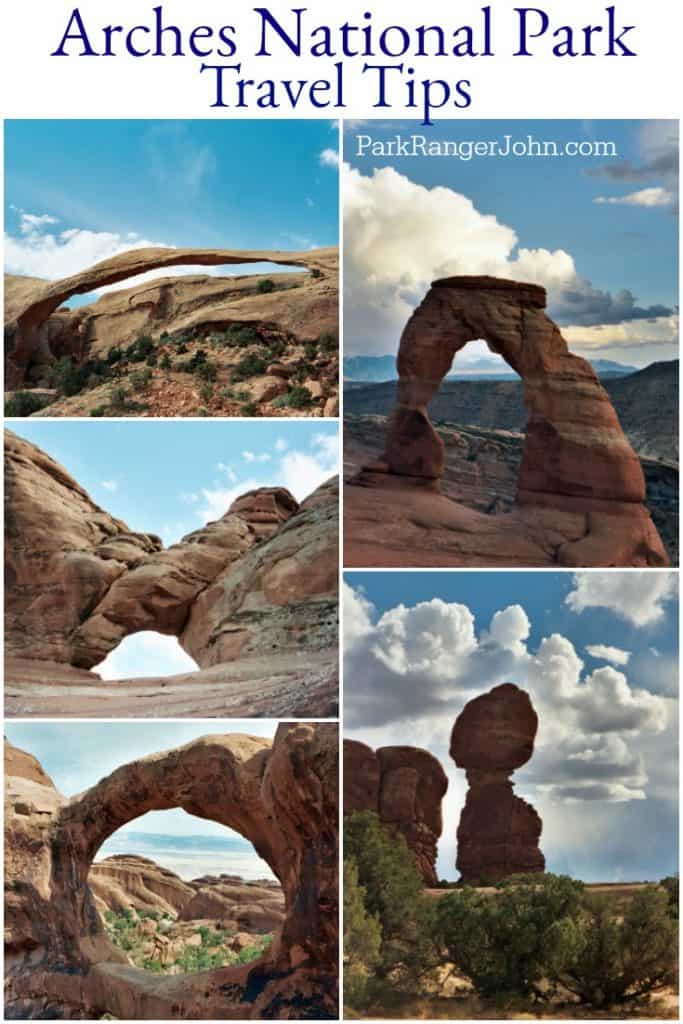 Arches National Park Travel Tips
Be prepared for crowds and lines to get into the park!
Give yourself a lot of time to explore the park
Have a must do list prepared so you can see everything you want to see
Pack snacks and water. There are no restaurants within the park
Be prepared for no cell service in the park.
Pack extra socks especially after hiking to Sand Dune Arch you may get a ton of sand in your shoes/socks
Dress in layers, the weather can heat up quickly during the day
Plan ahead so you can fit in as many of these things to do in Arches National Park as possible.
Know your physical limits!
Be patient!!!!
Check the weather often! If you see lightning head back to your car ASAP!
Don't miss out on these epic Arches National Park Hikes! They are some of the best in all of our national parks.
Reader tips for visiting Arches National Park
Go at sunrise. Stay for the sunset. ~ Deb
Pack your water... and then double it! ~ Diana
Go in October - fabulous weather and no crowds. ~ Elizabeth
Go in the off-season and get there early. ~ Kathi
We were there in Mid July this past year and it was pretty hot each day. We stayed at Moab Rim RV park in Moab got up early each day (before sunrise) to start our hikes. We finished our hikes by 1-2pm. Worked out great as we had no problems with traffic or finding parking. Take lots of water and drink it. ~ Robin
Snag tickets for the ranger-guided hike through the Fiery Furnace. Devil's Garden Loop is a great hike as well. ~Dan
Hike to the delicate arch! Be ready for the hike, it's so worth it!! ~Louanne
Get there early wear the proper footwear, make sure to have lots of water n best part have fun ~ Debby
Wear comfy ankle supporting hiking boots and take water. Do Not Litter! ~Ellen
Don't go in the summer. Very crowded and couldn't find a camping spot in the park ~Travis
Best use of a few hours - go to the Windows area....lots of arches in a small area, plenty of places to explore, good views at sunrise and sunset. ~Angie
HYDRATE! ~Caleb
Depends on time of yr. if summer take tons of water if hiking. More than you think you need. ~Jon
Have plenty of water! ~Donna
Arrive as early as possible. ~ John
Wear sunscreen and drink water ~Steve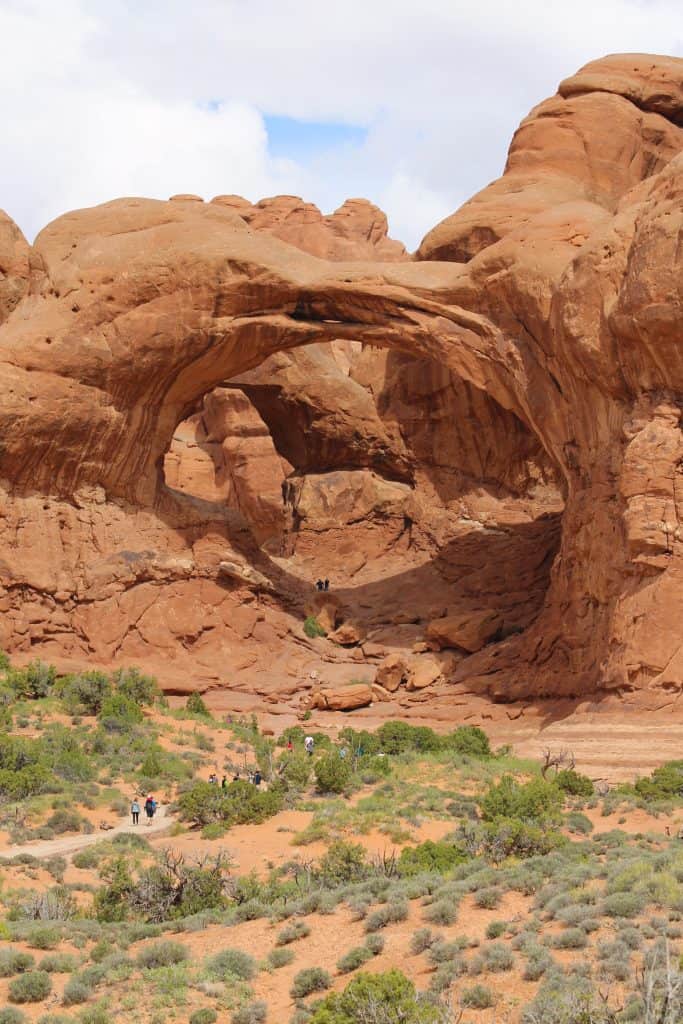 How much does it cost to visit Arches National Park?
$30 - private vehicle
$25 - motorcycle
$15 - per person entering on foot or on a bike
$55 Southeast Utah Parks annual pass, this pass works in Arches and Canyonlands national parks, and Natural Bridges National Monument.
Free Entrance Days in 2019
The National Park Service offers the following Entrance Fee Free Days this year:
January 21: Birthday of Martin Luther King, Jr.
April 20: First day of National Park Week
August 25: National Park Service Birthday
September 28: National Public Lands Day
November 11: Veterans Day
Other fees such as reservation, camping, lodging, tours, concession and fees collected by third parties are not included unless stated otherwise.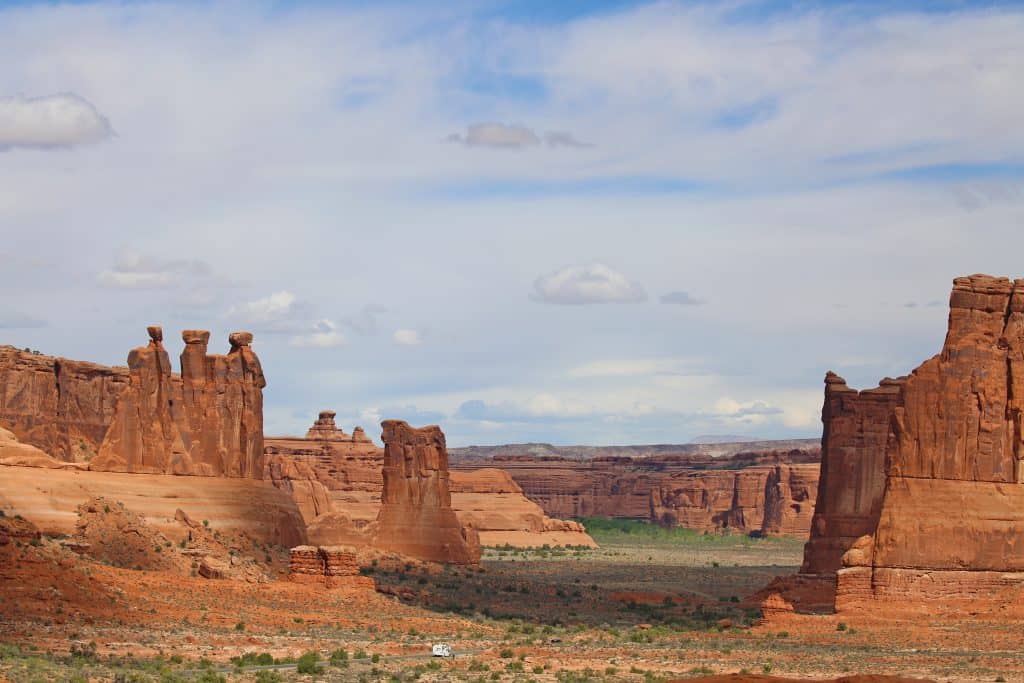 How do I get to Arches National Park?
Arches NP is located five miles from Moab, Utah.
How far is Arches National Park from Salt Lake City?
It is approximately 235 miles from Salt Lake City to reach Arches National Park. Plan for at least three hours and fifty minutes to reach the park entrance.
Airport near Arches National Park?
The closest small airport is in Moab, Utah
For a larger airport the closest airport is in Salt Lake City, Utah
Where are the Arches National Park Visitor Centers?
The Arches National Park Visitor Center is located right after the main entrance to the park. There is a large parking lot near the visitor center. The visitor center is open daily from 9 am to 4 pm.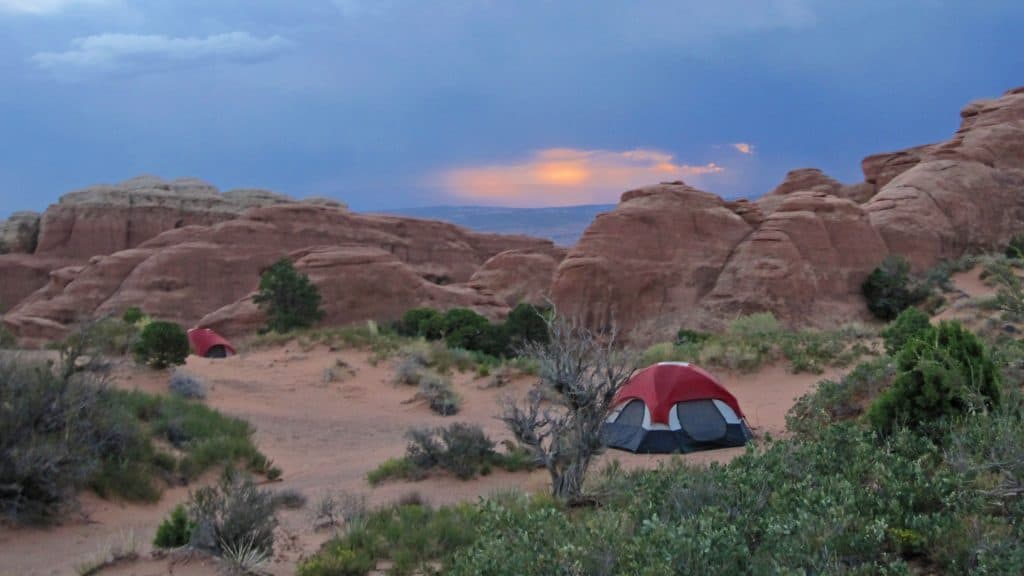 Where can I find out about staying/camping in Arches National Park?
We have a post on Arches National Park Camping with what you need to know to plan a great camping trip!
For hotels check in Moab, Utah for the closest hotels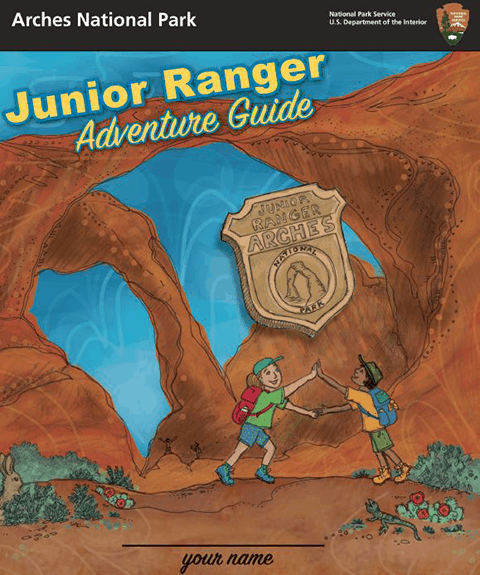 Is there a Junior Ranger Program at Arches National Park?
There is a junior ranger program that can be picked up at the visitor center. You can print the Arches Junior Ranger booklet ahead of your trip if you want to work on it before arriving at the park.
Families can also check out explorer backpacks with great activities for exploring the park.
Can I bring my Dog/Pet with me to Arches National Park?
You can bring your dog with you to Arches but the number of activities they can do with you is limited. Pets need to be on leashes at all times. Pets are not allowed on trails, overlooks or inside the visitor center.
Additional Resources Information