Mount Rainier National Park Travel Guide including travel tips, lodging, camping, hiking, and what to expect when visiting the park.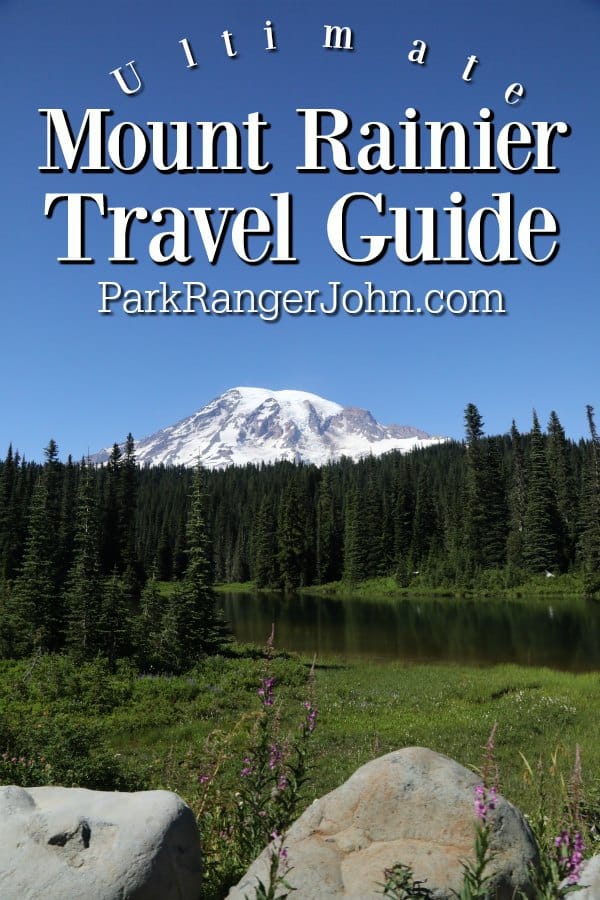 Mount Rainier National Park Travel Guide
The smallest of Washington's national parks, Mount Rainier National Park contains the active stratovolcano Mount Rainier, the highest point in the Cascade Range, and its immediate surroundings, including the two largest glaciers by area and volume in the continental United States.
It was given National Park status in 1899, making it Washington's oldest national park and the fifth oldest in the United States.
The centerpiece of Mount Rainier National Park is Mount Rainier itself, the tallest volcano in the continental United States and its fifth tallest peak. Because Mount Rainier has the 21st highest topographical prominence in the world (13,210 feet), it is distinct from its surrounding range, which makes it the dominant landmark for the Seattle-Tacoma-Bellevue metropolitan area. On clear days, it can be seen as far away as Victoria, Canada.
New research has found Mount Rainier to be much more active than previously thought. Although no eruption is imminent, Mount Rainier has erupted as recently as 1854, and in the past, its lahars ( destructive mudflow on the slopes of a volcano) have reached all the way to Puget Sound.
Even today, its ongoing geothermal heat is sufficient to keep both its craters free of ice in the midst of surrounding glaciers. The combination of geothermal heat and glaciation has formed a glacial crater lake in part of the western crater, which is only accessible through the world's largest glacier cave network.
Park authorities warn that there are geological risks associated with visiting this volcano, even though it may seem currently dormant.
Mount Rainier is completely circumnavigated within park boundaries by the Wonderland Trail. This strenuous trail consists of 93 miles of continual climbs and descents. Because of this, the trail is almost never completed in less than 10 days during the best weather.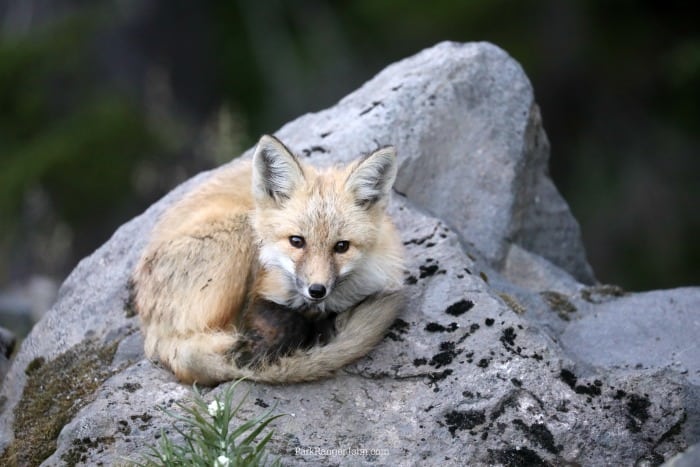 Hikers should be prepared for precipitation and sudden changes in weather. Like most parts of Washington state, the western slopes of Rainier are very much wetter than its eastern slopes.
In particular, Paradise is notorious for its 126 annual inches of rain and snowfall that has never been less than 26 feet. In 1971-72, it set a world record for snowfall with 93.5 inches. The driest time of year is high summer from July to September, during which Paradise is usually snow-free.
Park entrance fees for a single visit are $30 per car or larger vehicle and $15 for an adult pedestrian or arriving on a bicycle, motorcycle, or horseback. Children aged 15 and younger are admitted free of charge. Single-visit fees are valid for up to 7 consecutive days. Climbing passes are $30 and are good for one year from the month of purchase.
Mount Rainier Campground fees are $20 a night. Wilderness camping permits are $20 for the reservation request.
The Wonderland Trail is so popular that backcountry permits are only available by lottery before May. Wilderness camping reservations are $20 for the hiking group and are valid for up to 14 days. However, booking the entire Wonderland Trail route during July and August is virtually impossible.
Mount Rainier National Park can be reached from the west by SR 706, and from the east by SR 123 and 410. In the northwest, SR 165 also gives access to the park, but vehicle access is limited to the ranger station, with only bicycles and pedestrians permitted on the Carbon River Road. This access point is summer only.
The park is open all year, although emergency conditions such as flooding or fire may require temporary closing of some areas. Some roads, campgrounds, and visitor facilities also close in winter.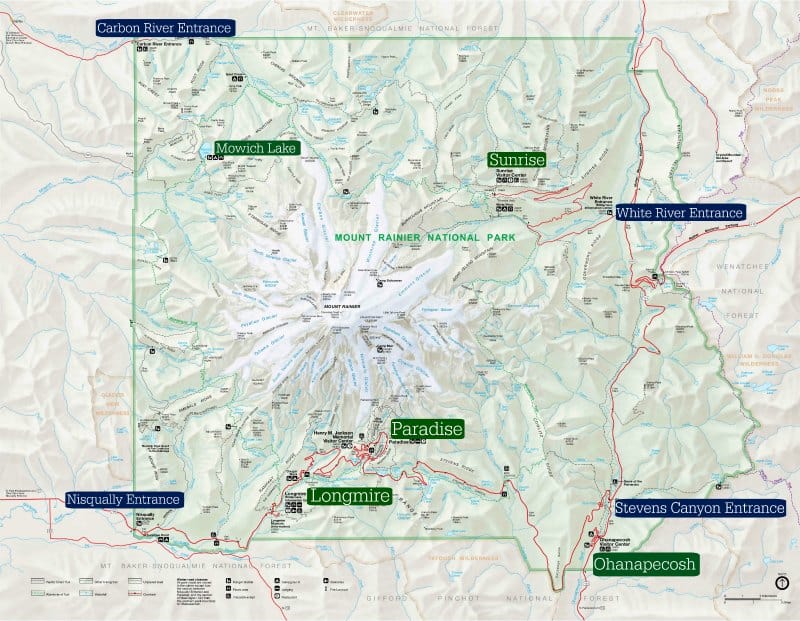 Travel Tips
Dress in layers and bring extra clothes. It can rain/snow when you least expect it. Having extra clothes will prevent having to drive in clothes that are damp.
Give yourself time to get to the park. It can take a while longer than what the GPS says due to construction and crowds.
Check Facebook for wildflower updates and on Instagram to see what is blooming.
Be bear aware!
Carry the ten essentials even on a short sightseeing hike!
Stop at the visitor centers to learn more about the park.
Bring binoculars to look for hikers who are on top of the mountain.
The proper spelling = Mount Rainier, we have seen it spelled Mt. Rainier, Mt Rayner, Mt. Rainer, and so many other versions.
Most locals just call it The Mountain. If you hear someone mention the Mountain is out they are talking about Mount Rainier.
You can't just hike to the top! Know your physical abilities and if you plan to hike to the top talk with the backcountry visitor guides for assistance.
Don't miss all of the top things to do at Mount Rainier National Park!
Don't forget to enjoy a Rainier Beer at Mt. Rainier! It is a great National Park inspired beer moment!
While limited recreational use of marijuana is now legal in Washington State, possession of any amount of marijuana or other illegal drugs remains illegal in Mount Rainier National Park.
When is Mount Rainier open?
Mount Rainier is open year-round though not all portions of the park are open.
Portions of the park are closed in the winter due to snow levels. In the winter the only entrance station is the Nisqually entrance in the southwest corner of the park on the way to Paradise.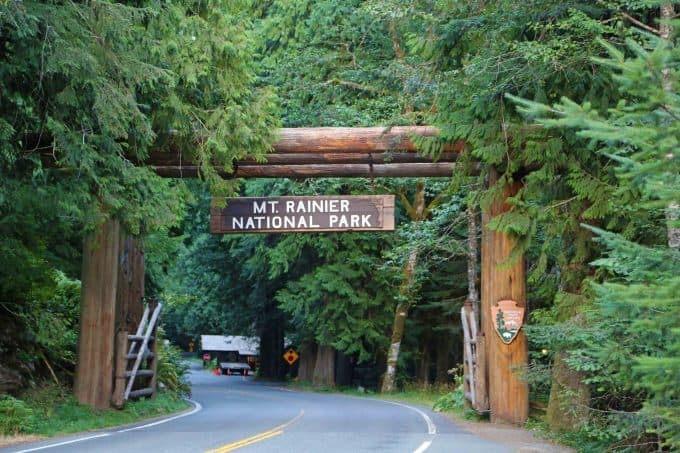 How much does it cost to visit Mount Rainier National Park?
7-day single-vehicle park pass - $30
7-day individual park pass - $15
7-day motorcycle park pass - $25
Mount Rainier Annual Park Pass - $55
You can also use your current National Park Pass for entrance to the park.
Free Entrance Days -Find the five free entrance days the National Park Service offers annually.
Other fees such as reservation, camping, lodging, tours, concession and fees collected by third parties are not included unless stated otherwise.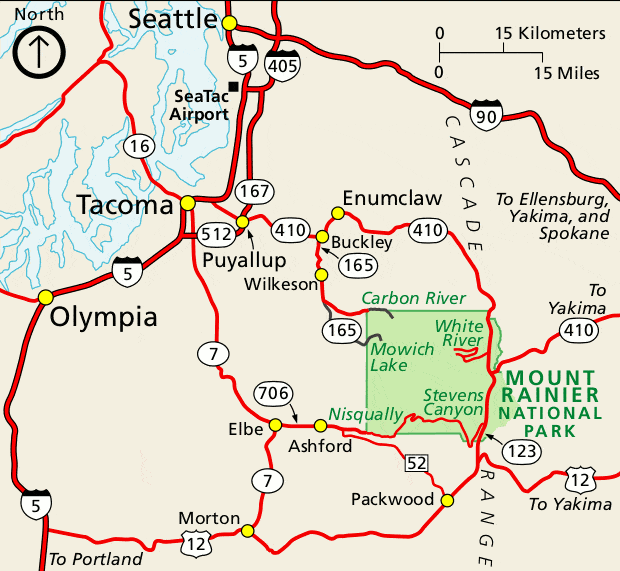 How do I get to Mount Rainier National Park?
Mount Rainier National Park is located in Washington State.
Closest Airports - The closest major airport is Sea-Tac (Seattle-Tacoma International Airport) which is approximately 85 miles away.
The closest regional airport is Yakima Air Terminal which is approximately 100 miles away.
Portland International Airport (PDX) is approximately 150 miles away.
From Seattle - Travel south on I-5 to State Route 512 (Exit 127) then go east on State Route 512 to State Route 7. South on State Route 7 (Pacific Avenue exit) to State Route 706 in Elbe. Travel east on State Route 706 through Ashford to the Nisqually Entrance.
From Tacoma - Travel east on State Route 512 to State Route 7. South on State Route 7 (Pacific Avenue exit) to State Route 706 in Elbe. Travel east on State Route 706 through Ashford to the Nisqually Entrance.
From Yakima - Travel west on U.S. 12 to State Route 7 in Morton. Travel north on State Route 7 to Elbe. Travel east on State Route 706 through Ashford to the Nisqually Entrance.
From Portland - Travel north on I-5 to State Route 12 (exit 68) Travel east on State Route 12 to State Route 7 in Morton. Travel north on State Route 7 to State Route 706 in Elbe. Travel east on State Route 706 through Ashford to the Nisqually Entrance.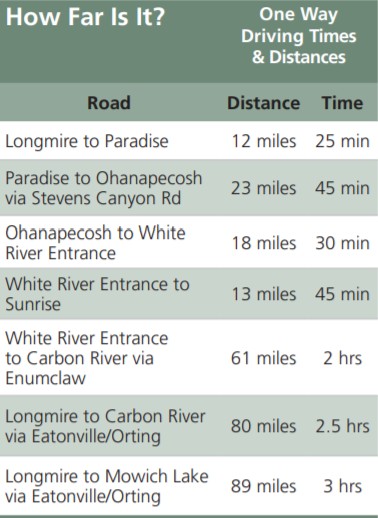 Driving Distance to Mount Rainier
Seattle to Nisqually Entrance - 85 miles
Tacoma to Nisqually Entrance - 57 miles
Olympia to Nisqually Entrance - 51 miles
Portland to Nisqually Entrance - 149 miles
Yakima to Nisqually Entrance - 100 miles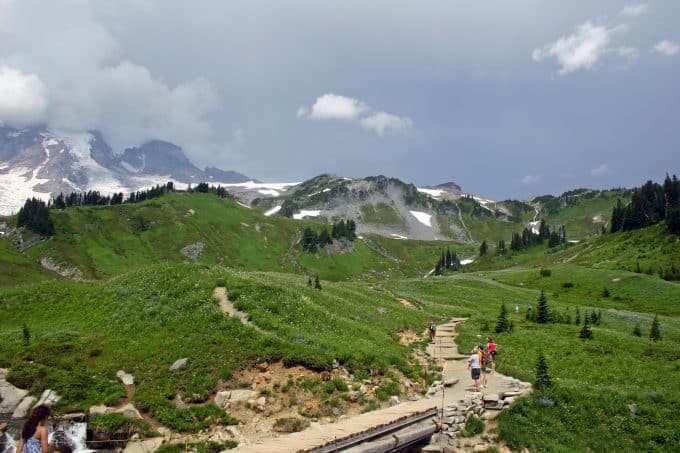 When is the best time to visit?
The best time to visit depends on what activities you enjoy! Most visitors visit during the summer once most of the snow has melted.
The busiest times in the park are from July - October, especially while the Wildflowers are blooming.
If you can visit mid-week you will escape some of the crowds that hit the park on the weekends. Mount Rainier is an easy drive from Seattle and Portland which brings in a lot of visitors on the weekend.
Wait times at the Nisqually, Sunrise, and White River Entrances can be over an hour on the very busiest summer weekends and holidays.
Entering the park before 10:00 am or after 2:30 pm can help avoid delays when visitation is heavy.
Over 2 million visitors and 948,000 vehicles visited Mt. Rainier in 2019 making it one of the most visited National Parks in the United States.
Five main areas of Mount Rainier
There are five major visitor areas in the park:
• Longmire (southwest)
• Paradise (south side)
• Ohanapecosh (southeast)
• Sunrise/White River (northeast)
• Carbon River/Mowich Lake (northwest)
Longmire
Longmire was the park's headquarters when it was established in 1899. Prior to this, it was James Longmire's homestead, lodging, and mineral springs resort. The Longmire Historic District is 6.5 miles from the Nisqually Entrance.
Longmire includes the National Park Inn, a museum, wilderness center, and small store.
The Longmire Museum is the starting point for the self-guided walking tour of the Longmire Historic District.
Picnic tables and restrooms can be found at Kautz Creek, Longmire, and three miles up the road at Cougar Rock Picnic Area.
Paradise is located 19 miles east of the Nisqually Entrance. You will find the gorgeous Paradise Jackson Visitor Center here. Along with the Paradise Inn, the Guide House, and Paradise Ranger Station.
There is a large parking lot for the visitor center and heading out on the trails. This is where you want to park to head up and see wildflowers.
Paradise WIC is the one-stop-shop for climbing and backcountry camping permits, and hiking and climbing information. Stop by to view the climbing exhibits or to talk with a ranger.
Cougar Rock Campground is the closest campground to Paradise.
Ohanapecosh
Ohanapecosh is located in the Southeast corner of Mt. Rainier NP. This area includes the Ohanapecosh Campground, Grove of the Patriarchs trail, and a park visitor center.
Picnic among the big trees at the Ohanapecosh Picnic Area, or stop at the picnic area west of Box Canyon.
Sunrise is the highest point you can reach with a vehicle in Mount Rainier NP. Sunrise sits at 6,400 feet in elevation. Washington's highest paved highway ends at the Sunrise Visitor Center.
From Sunrise you can enjoy epic views of the mountain, Emmons glacier, and the Cascade Range. There is a visitor center, day lodge with foods and gifts, and great trails.
Sunrise is approximately 60 miles northeast of the Nisqually Entrance and 14 miles northwest of the Sunrise/White River turnoff of Highway 410.
The White River Campground is located at the intersection of White River Road and Sunrise Road.
Carbon River and Mowich Lake
Carbon River and Mowich Lake can be reached via State Route 165. This area receives a high amount of rainfall that creates a temperate rainforest.
Mowich Lake is the largest and deepest lake within the park. The Mowich Lake Campground is a hike in tent-only campground.
The Carbon River Entrance is the least visited entrance to the park.
Where are the Mount Rainier National Park Visitor Centers?
Longmire Museum - Open year-round
Henry M Jackson Memorial Visitor Center at Paradise - Open year-round, but weekends only in winter (generally October-May).
Ohanapecosh Visitor Center - Generally open late June through mid-September.
Sunrise Visitor Center - Generally open July through mid-September.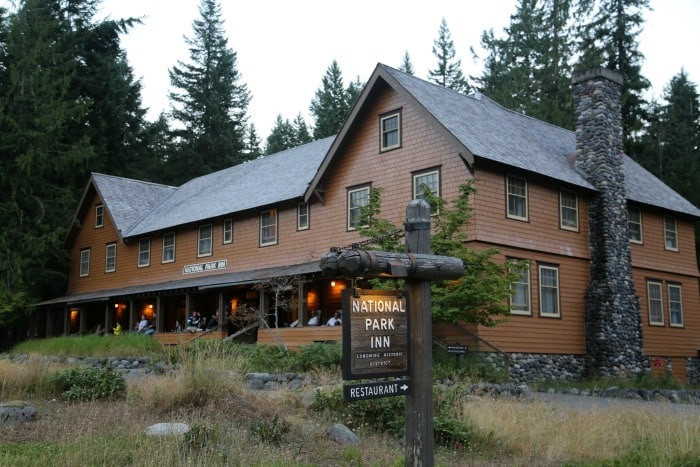 Lodging and Camping in Mount Rainier National Park
There are two lodges and 4 front country campgrounds within the park.
You can check out the Paradise Inn Lodge for an amazing place to stay within the park. The National Park Inn is located in the Longmire Historic District and is open year-round.
Check out our Mt. Rainier Camping Guide for information on all four campgrounds and backcountry camping.
Buy firewood near where you will burn it! The wood should be cut within 50 miles of where you'll have your fire. Never bring wood from home, even if you think the firewood looks fine. Aged or seasoned wood is
still not safe.
Is there a Junior Ranger Program at Mount Rainier National Park?
Yes! Mount Rainier Junior Ranger programs can be picked up at the visitor centers.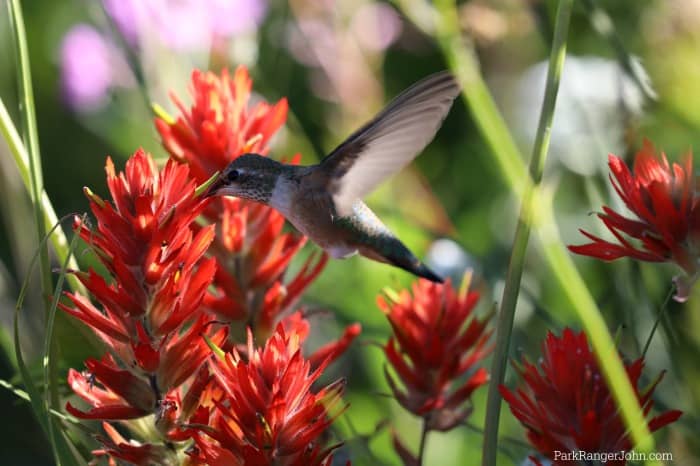 Can I bring my Dog/Pet with me to Mount Rainier National Park?
Pets are welcome at Mount Rainier but you will need to follow the following regulations. Pets are permitted in parking lots, campgrounds, and on paved roads.
Pets must be on a leash not more than six feet in length
Pets must be with and under the control of their owners at all times.
Owners must pick up and dispose of all pet waste.
Pets are not allowed in the following areas of the park: on trails, wilderness areas, off-trail areas, inside buildings, in amphitheaters,
Dogs are allowed on the Pacific Coast Trail as long as they are on a leash.
There are no kennels available within Mount Rainier NP.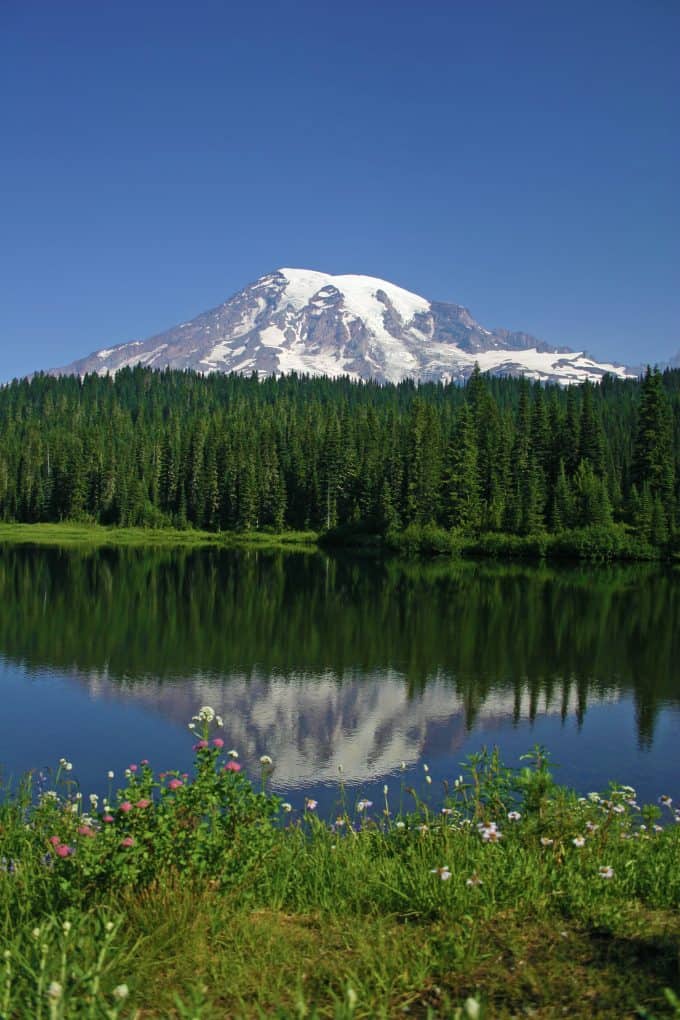 Accessibility
Most restrooms, visitor centers, picnic areas, amphitheaters, and designated campsites are accessible or accessible with help by wheelchair.
Accessible lodging is available inside the park and in local communities.
At the Sunrise and Paradise visitor centers, the audiovisual programs are captioned; audio described tours of the exhibits are available, and the exhibits are accessible by wheelchair.
Assistive listening devices are available for the park film at the Paradise Visitor Center.
The dining rooms in the National Park Inn and the Paradise Inn, and the deli in the Jackson Visitor Center at Paradise are fully accessible. The Sunrise Lodge snack bar is accessible by ramp.
Picnic areas offering accessible tables and restrooms are located at:
• Kautz Creek
• Paradise
• Grove of the Patriarchs
• White River
• Paul Peak
• Mowich Lake
You can view the Accessibility Information online.
Additional Resources Information
Mount Rainier National Park (National Geographic Trails Illustrated Map)
Day Hike! Mount Rainier, The Best Trails You Can Hike in a Day
A Landscape Photographer's Guide to Mount Rainier National Park
Hiking Mount Rainier National Park: A Guide to the Park's Greatest Hiking Adventures