The state of Wyoming has some spectacularly beautiful landscapes to view and one of the top locations to take in the scenery is the Grand Teton National Park.
Located in the northwest region of the state, the park offers visitors opportunities to enjoy the outdoor life in a majestic setting. This makes it a top tourist attraction in Wyoming and anyone who has the chance to visit the park should certainly take the opportunity to do so. Today we are excited to share our Grand Teton National Park Travel Tips!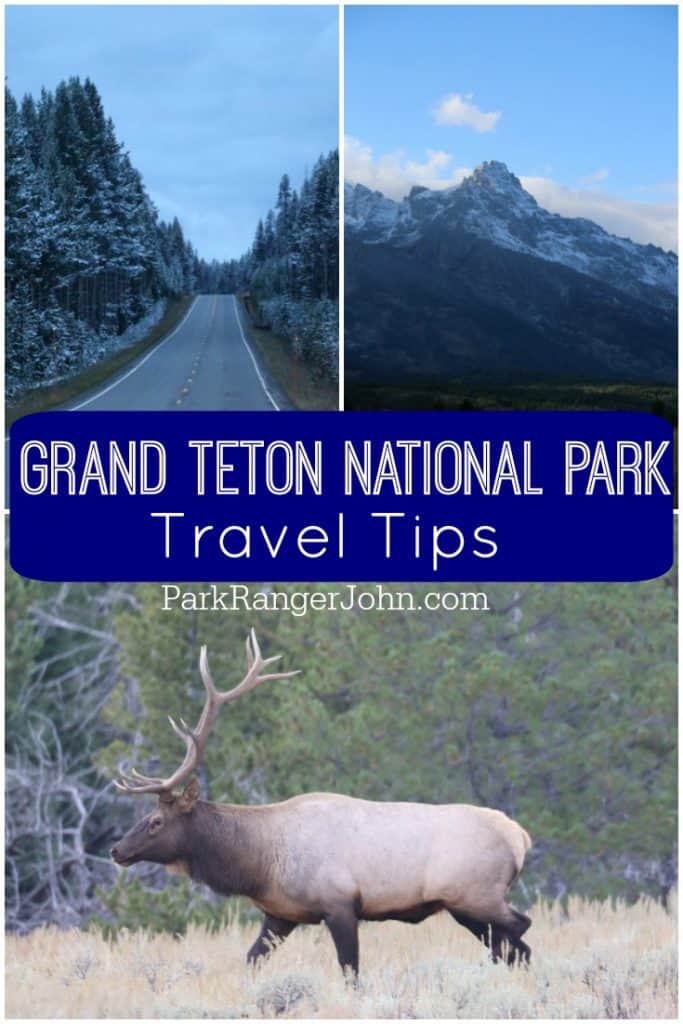 Grand Teton National Park Travel Tips
The park remains open to the public year-round, with the operating hours for the visitor centers depending on the time of the year.
The core hours are 9 a.m. to 5 p.m., although earlier opening and later closing will generally be in operation during the warmer months of the year.
Park history
The history of Grand Teton National Park dates back to the late 1800s when the idea for a national park in the area was first raised. However, the establishment of the park did not come about until the 1920s, with John D. Rockefeller helping in its creation.
He bought a huge parcel of land in the area and donated it to the National Park Service, with this becoming part of the original layout. The park was created in 1929, with a bill signed by President Calvin Coolidge making this official.
The original park included the Teton Mountain Range and a number of glacial lakes. This was enlarged in 1950 when President Harry S. Truman ratified the merging of the original park area and the nearby Jackson Hole National Monument.
This created the Grand Teton National Park as it stands today and since the 1950s the park has welcomed millions of visitors to enjoy its attractions.
Size - 310,000 acres
Visitors - 2,791,392 in 2014
Park Ranger John Reader Tips!
Slow down and enjoy it. ~ Sabrina C
Get your affairs in order and put the house up for sale because you won't want to leave ~Melissa H
Remember to keep a safe distance from Grand Teton wildlife. ~ GeriLynn
Bring binoculars, camera. Sunglasses, good walking shoes, and water bottles. Have fun! ~ Kathi W
Get up early and take reflection photos at the Oxbow bend. ~ Pat. S
Stay safe and obey the rules and respect the wildlife ~ Randi B
Take the boat ride across the lake(I think it's Jenny lake) to get to some amazing trails to hike! Also...it's not in the park, but go up to Teton Village and take the tram up to the top right behind it - great hiking trails!~ Terri G
Take a river raft trip ~ Dave S
For your first (non-winter) trip, take a float trip down the Snake River, visit Schwabacher Landing (esp. at sunrise), Jenny Lake, Oxbow Bend (esp. at sunset) and Mormon Row; hike Leigh Lake and String Lake... ~ Jennifer M
Bear spray and common sense go far ~ Craig H
Be prepared for what you want to do...I spent so much time planning on our trip to Yellowstone that I was blindsided by the crowds and unprepared of what we were doing...I just knew I wanted to go to Mormon row...we definitely need to go back ~ Theresa O
I think practical stuff is good but even living near the other parts of the Rockies don't prepare you for how small you feel. Helping people learn to enjoy feeling small in nature rather than being afraid of it. It grounds you. It helps you realize your place in the vastness of it all. ~Jason V
Get up early for animal sighting. There are ranger walks that you have to preregister weeks in advance. Rockefeller preserves and Phelps lake has great hikes. Really had to research all the different ranger programs offered because parking was difficult and traveling time took longer than expected. ~Jessica F
Cascade Canyon and or the Paintbrush Canyon. SIX-foot tall wildflowers!!!! Oh, and if you can, raft the Snake River, one of the most fun rafting experiences I've ever had. MadRiver was a good company ~Serena R
Enjoy an ice-cold huckleberry soda on the porch of the Menor's Ferry Store. Chapel of the Transfiguration was nice. The Menor's Ferry area was a fun little stop. Fish the Snake. Snake River rafting. The Signal Mountain Summit has spectacular views! Enjoy the frequent early-afternoon showers; look for some gorgeous rainbows afterward.~ Jen K
Paintbrush Canyon. Best campsite is the last one in...spectacular sunrise. Also, take the tram in Teton Village up for some amazing hiking and views. As for the hotel...Jackson Lake Lodge. ~Teddi O
Research your shot locations and plan on shooting early morning to 11 a.m. Most importantly, enjoy the park! See Brookover Gallery and some awesome Jackson restaurants. Travel light--too much gear will hamper your ability to "get the shot." Most importantly, have fun and enjoy! ~ Joseph F
Bundle up and go early. Hike for the good views. Bring better binoculars than you think you'll need. Pack more food and water than usual. ~ Deb S
Go on a tour with a biologist. Worth every penny ~Susan N
If coming down steep roads freak you out, come in from the Wyoming side. Go in mid to late September when the Yellowstone crowds are gone. ~Jason D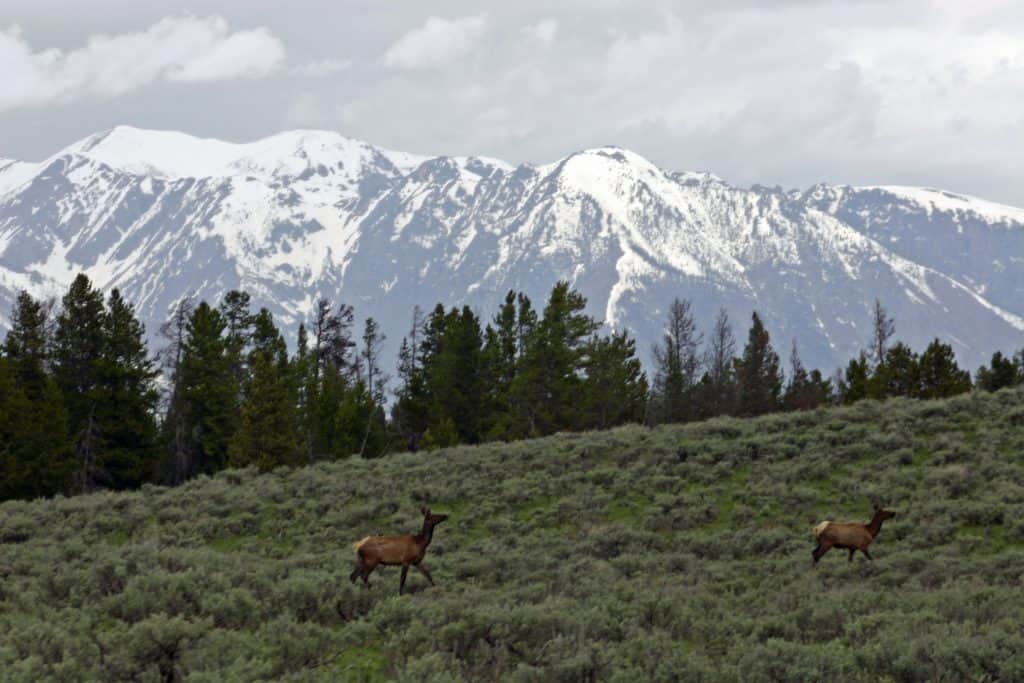 How much does it cost to visit Grand Teton National Park?
A fee is charged for entry to the park, with a 7-day permit available. The fee will typically depend on the method of gaining entry. The permit provides access to all areas of Grand Teton National Park, as well as nearby Yellowstone National Park.
Grand Teton Entrance Fee - Private Vehicle - $35.00
Grand Teton Entrance Fee - Motorcycle - $30.00
Grand Teton Entrance Fee - Hiker/Biker - $20.00
Grand Teton Annual Pass - $70.00
Free Entrance Days in 2019
The National Park Service offers the following Entrance Fee Free Days this year:
January 21: Birthday of Martin Luther King, Jr.
April 20: First day of National Park Week
August 25: National Park Service Birthday
September 28: National Public Lands Day
November 11: Veterans Day
Other fees such as reservation, camping, lodging, tours, concession and fees collected by third parties are not included unless stated otherwise.
How do I get to Grand Teton National Park?
Grand Teton National Park lies in the northwest area of Wyoming, around 10 miles to the south of the famous Yellowstone National Park and 8 miles to the north of Jackson. Interstates 25 and 90 lie to the east of the park, with Interstate 80 situated to the south.
Access to the park can be gained by U.S. 26, 89, and 191 to the south and US 26 and 287 to the east. For those looking to travel by air to the area, there are airports located in Jackson (Jackson Hole Airport) and Idaho Falls (Idaho Falls Regional Airport).
Where are the Grand Teton Visitor Centers?
Grand Teton NP has multiple visitor centers depending on which part of the park you are visiting.
Craig Thomas Discovery & Visitor Center
Jenny Lake Visitor Center
Laurance S. Rockefeller Preserve Center
Jenny Lake Ranger Station
Where can I find out about staying/camping in Grand Teton?
Stay tuned for an entire post on Grand Teton National Park Camping and Lodges!
Is there a Junior Ranger Program at Grand Teton National Park?
Yes! Junior ranger programs can be picked up and turned in at the visitor centers.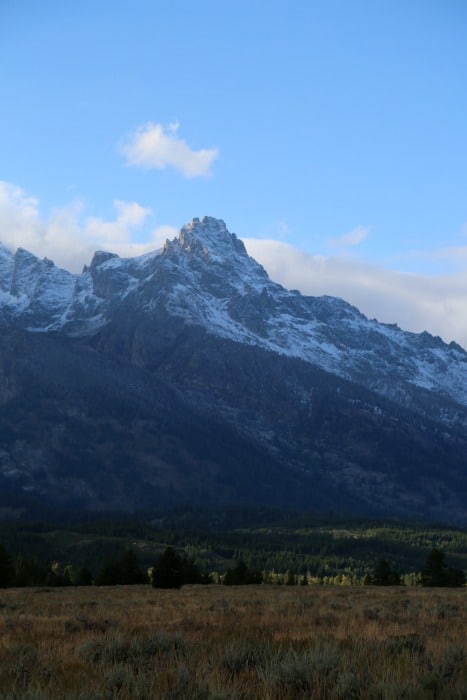 Can I bring my Dog/Pet with me to Grand Teton?
Pets are allowed in Grand Teton NP but they must be on a leash at all time. Please remember that there is a ton of wildlife in Grand Teton and they may be attracted to your pet. Keeping your pet on a leash helps to keep them safe during your visit.
Leashes cannot be longer than 6 feet in length. You are responsible for cleaning up after your pet.
Check out all of our Grand Teton National Park posts and resources!
Yellowstone Camping Guide – Breakdown of every campground in Yellowstone with site photos, reservations, and more.
Top things to do in Yellowstone – All the things you don't want to miss during your trip.
Grand Teton Camping Guide – Check out all of the campgrounds in Grand Teton.
Make sure to check out more great articles about Grand Teton National Park.
Also, make sure to check out my articles about Yellowstone National Park.